In the clamor of music blogs, online zines, and end-of-year publications, there's absolutely no good reason for me to chime in with my meager list of favorite releases of 2007. But hey, that's what blogs are for. This year, I managed to dig three whole albums (that aren't Wilco's
Sky Blue Sky
). Here they are: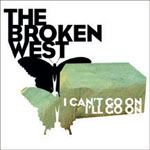 1. The Broken West,

I Can't Go On, I'll Go On
Hey, did you hear that one about that jangly guitar band out of Los Angeles? Yeah, so have I, but this one is actually good.
As a music fan, I'm ridiculously transparent and boring. Jangly guitars, multipart harmonies, and sweet, strong melodies comprise my holy trinity, but few bands pursuing that harmonic convergence make an impression on me. The Broken West manages to hit that magical formula wherein these disparate elements come together to create gorgeous, hook-laden tunes that aren't boring and have me singing to myself for weeks and months afterward. I can't wait to hear more from these guys.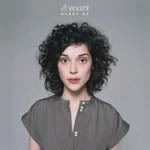 2. St. Vincent,

Marry Me
I don't like many female singers, but something about St. Vincent grabbed me the first time I saw her in concert, and I made a point of picking up her album when it came out later that year. The cool stuff she does onstage in her solo incarnation is pretty impressive, but the album's striking production and uncommon arrangements add another dimension to her sound. Also, it doesn't hurt that she brings to mind the magnificent Kate Bush in terms of talent, vision, and sheer ambition (minus the freaky dance moves).
3. Richard Hawley,

Lady's Bridge
When Richard Hawley was in the Longpigs, I was into the singer, of all people. Man, how embarrassing--and what a cliche! I've been trying to think of another example of a favorite band splitting up, leading to the revelation that the singer was a bit of a sham and that an entirely unexpected band member was the unheralded talent held back by the group's limited scope, but the only example I can think of is Duran Duran and Power Station. So nix that.
I've been meaning to dig up Richard's single contribution to the Longpigs oeuvre, just to prove that I had every reason to be surprised that he'd turn out to be such an amazing solo artist. Ultimately, though, the only thing that matters is the music itself, and you can hear it in every gorgeous, atmospheric detail of
Lady's Bridge
.
=============================
Gigs, however, are more my milieu, and I indulged in them shamelessly in 2007. Whittling down that list to 10 concerts wasn't easy, but it was sure fun piling up the shows in the first place. Per usual, I have to exempt
this year's private show with Jeff Tweedy
, as well as Jon Brion's last shows of the year. Regardless, plenty of pickings remain:
1. Jeff Tweedy, Liberty Hall, January 21, 2007:
I'm unlikely to forget any aspect of this concert and road trip soon: Ciudad Juarez, the West Texas landscape, the Prada storefront, and the dark, rabbit-infested interstate roads, to name just a few. Then there was Marfa itself, especially the Hotel Paisano, the community party we missed, and our keys taped to the door. It's just too bad we didn't see the Marfa lights! The show had a lot to live up to, and it delivered. Of course, it wouldn't have been a fraction as fun without the company. Let's do it again, friends!
2. Jon Brion, the Hideout, March 11, 2007:
Largo is a magical place that nurtures all sorts of musical dreams, and I always look forward to seeing Jon Brion play there. But I gotta say that another side of Jon comes out when he plays in different cities. Often, he's set to impress, which is what he did to jaw-dropping effect at the Hideout. What I liked best about this gig is that it was pure Jon, with no friends or other guests dropping in, but plenty of charisma and inspiration to go around.
3. Jarvis Cocker, the Fillmore, April 28, 2007:
Posterity is not usually one of my concerns when I listen to music, but it's nice to see some old favorites reemerge and prove that they're still as great as you remember. The cult of Cocker lives!
4. Daft Punk, Greek Theater, July 27, 2007:
It's official--I've become that insufferable prat usually overheard saying, "I saw [
insert name of band
] in [
insert year, preferably from before the turn of the century
] at [
insert name of club, and all the better if it's now closed, especially under unsavory circumstances
]."
Yawn.
But thank god for great bands who continue to excite and inspire years on, especially through the use of huge, pulsating pyramids! Why didn't anyone think of that during the rave years?!
5. Elvis Costello and Clover, Great American Music Hall, November 8, 2007:
An awesome album performed in its entirety, my favorite club in San Francisco, a great cause, and oh yeah, none other than Elvis Costello himself made for an amazing night.
6. Wilco, Kesselhaus, May 24, 2007:
Singling out just one gig among all the Wilco shows I saw this year isn't easy (cry me a river), but this is the one my brain goes back to again and again. Not only was it the farthest I've traveled to see Wilco, it was my first time in Berlin, which I now urge everyone to visit. What an amazing city!
7. Jon Brion, Largo, June 8, 2007:
To be fair to all the other concerts I saw this year, I have to limit myself to one Largo show, but in my heart of hearts, Largo could easily claim another five spots on this list. This particular gig rose to the top for a lot of reasons, but let's just say David Rawlings and his gorgeous suit helped seal the deal.
8. Richard Hawley, Cafe du Nord, December 12, 2007:
Shows later in the year don't tend to make it on my list, but this concert has been haunting me for the last few weeks. I was skeptical of all the praise and adulation before the gig, but I soon became a believer afterward.
9. Badly Drawn Boy, the Metro, March 10, 2007:
It was great to see Damon Gough back at his best: still cocky, but also joyful. I shouldn't have been surprised that the Chicago crowd would bring it out in him. Then I got to see him
a month later at Largo
!
10. The National/The Broken West, Bimbo's 365 Club, June 27, 2007:
This was a great year for the National, and I'm just glad I got to see them in a reasonable venue. I suspect a lot of people feel the same way about Wilco that I feel about the National; that is, they pick up on the band's integrity and dedication, even if the music isn't entirely their thing. Still, it was exciting to witness that collective adulation, albeit a step or two removed.
See also:
»
top 10 concerts of 2006
»
top 5 albums of 2006
»
top 10 concerts of 2005