In my most dedicated years as an Anglophile, I remained untouched by many of the biggest U.S. musical trends. Were you listening to hair metal in the late '80s? I was stuck on Madchester's comings and goings. Grunge? It was all about shoegaze to me. Nu metal? Those were the golden years of Britpop, baby! Not that the stuff I listened to was necessarily better--for Pete's sake, I knew the words to songs by Ned's Atomic Dustbin! And I missed out on a lot of great hip-hop. Regardless, for this installment of Obscurity Knocks, I'm turning back the clock to 1993 to reminisce on Adorable, hailing from Coventry, England.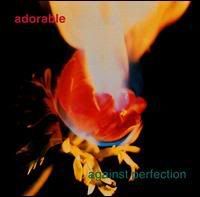 Adorable,

Against Perfection
There's a reason I kicked off this series with
the Chameleons
: Their signature guitar sound would become the musical trope that I subconsciously followed for many years--until I finally made the connection and consciously sought out bands reminiscent of their sound. Adorable, for me, were one of the first bands to emerge after the Chameleons who exhibited this crucial feature, which is why they're the second band in this series.
Before the spread of the Internet and file sharing, I bought nearly every used copy of
Against Perfection
I came across--not because it was a collector's item or valuable by any monetary measures. Rather, I truly believed that I would be able to find it a good home, if not alongside multiple copies of the exact same CD on my own shelves, then with someone who would fall under its spell as soon as they heard the wonderful riffs on the record. Fortunately, I didn't stumble upon the disc
that
often because I could never really convince anyone to give this CD much of a listen.
Adorable came up during the shoegaze era, not quite 10 years after the Chameleons, during which the phrase "sonic cathedral" (or, if you prefer, "cathedral of sound") was popularized and, eventually, lapsed into cliche. Guitars were prominent--or, at least, more notable since the vocals were buried so deep--during this movement, and Adorable wasn't alone with a sound that could be traced back, in part, to the Chameleons and their contemporaries. In Adorable's case, that inspiration came from Echo and the Bunnymen.
I was a fan of many bands housed under this umbrella, but Adorable was the only group to incite such a Pavlovian response in me. Simply, they were one of the only ones who came close to anything approaching pop music. (Catherine Wheel is one of the others, but their preening performance in concert turned me off.) Sure, the others turned up their effects pedals and erected a wall of sound in which you could lose yourself, but Adorable had honest-to-god choruses and hooks to complement those massive musical constructs.
For better or worse, the vocals can make or break a band for me, and Piotr Fijalkowski's voice reeled me in. At times, he sounded steely and accusatory ("Favourite Fallen Idol"), other times melancholic and resigned ("Still Life"--and by the way, the guitar on that song has to be an ode to the Smiths' "Back to the Old House"), and on my favorite tunes, unabashedly exuberant ("Sunshine Smile" and "Glorious").
Singling out guitars and vocals has to be the music blogger's equivalent of shooting fish in a barrel, so I'll add that the bass lines (supplied by Piotr's brother Wil) may be the most underrated aspect of
Against Perfection
. In fact, I'm pretty sure those rubbery notes initially caught my ear when I heard Adorable's semi-hit "Homeboy" on American radio. The bass makes an impact on the mellower songs too, such as the aptly titled "Glorious."
I don't recall being particularly struck by the lyrics, but I know that a friend recently got married, and Adorable's "Breathless" figured in the ceremony. Also, I never got to see Adorable live, though I remembered they played my hometown of San Jose, Calif., in some free radio event--too bad I had moved away for college by then.
I didn't know much about the band when they were together, and it was long after they broke up that I found some interviews and learned that they were somewhat reviled among the U.K. music press for, ironically, their cockiness. This blackballing probably didn't help their case, but regardless, they lasted for only one more album,
Fake
. Piotr and Wil formed another band called Polak, in reference to their heritage; last I heard, Piotr had his own bookstore in Coventry. Update: A quick Google search says a solo career may be in the offing.
Apparently, we may soon see a shoegaze revival. My Bloody Valentine has reformed and is playing dates across the United Kingdom, though the usual suspects in the U.K. music press continue to bitch and moan about it. And if you've been in the clubs, you may have heard the sound echoed by newer bands. Wherever this resurgence may lead, I'm pretty sure Adorable won't be one of the groups caught in the upswing, but I strongly suspect I'll continue to listen to them for many more years to come.
Listen:
»
Adorable: "Glorious"
»
Adorable: "Homeboy"
»
Adorable: "Sunshine Smile"
See also:
»
Obscurity Knocks: The Chameleons U.K., "Strange Times"