I did, in fact, make it to both Jon Brion shows over Easter weekend (though I'm sitting out this weekend's shows--someone else will have to holler back about them), but work got in the way of filing this report earlier. Also, I'm trying to stretch out these dispatches, as the next two weeks will be a ghost town around these parts. But never fear--the Coachella overflow is due to arrive at the end of April, preceded by the usual flights of rock tourism. In other words, stay tuned!
Jon Brion, Largo, March 22, 2008:
Our Largo expedition tonight carried more than one goal. In addition to the usual agenda, there was also the matter of a shark to be loaned back to the office. In case any Cousteau Society members are reading, I'd like to report that Sharkie reached safe harbor.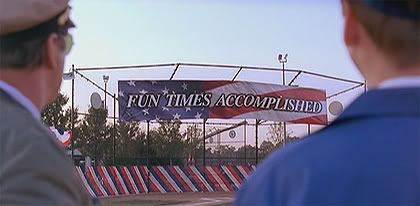 These days, summoning the Largo reservation mojo hasn't been an issue, but filling those seats has, what with many of my normal concert companions less likely to travel and/or simply being predisposed. And maybe I'm just greedy. Though I'm usually game for picking people out of the no-reservations line, they can be oddly reluctant to accompany a couple of complete strangers into a dark club, even when it saves them the trouble of standing another four-plus hours (if they're lucky). Thus was the case this evening, but thanks to a little advance warning the night before, we slid into our seats next to a friendly, familiar face. I assume our four-top went to a good cause.
On
Friday
, our table directly bordered the stage, which always simultaneously thrills and unnerves me. It's amazing how much of the banter and discussions between the musicians you're privy to at this post, but there's a price for this proximity; in certain lighting, you feel like you're part of the show. Anyway, Largo and its PA being what it is, the conversation was not as audible this evening. All I know is that Flanny told us to put our knickers on, there were more murmurs by the stage, Jon issued one of his hearty laughs, and what I thought would be an amorphous piano piece suddenly sounded stately and familiar. I also picked out a bit of Dylan, but I wouldn't be surprised if a dozen other songs snuck in as well.
Jon kicked off with a bunch of originals and/or collaborations, as well as a couple of completely off-the-cuff improvs. He circulated around the stage, starting out on the keys, then paying two separate visits to the guitar for two completely different improvs (one at first feeling jaunty and Western before morphing into a heavy distorted stream; the other all fuzz pedal, all the time), with a stop at the drums for a song build in between. The semi-abridged version: "Someone Else's Song" needed no embellishment; "Over Our Heads" began and ended with the pitter-patter of the analog synth and relied less on the vocoder than typical; Jon pulled out all stops for "Further Along"; and he doubled back on "Excuse to Cry," revisiting the main melody in the song's bridge.
Jon invited the requests, and the audience obliged. Prince provided the launchpad, as "Controversy" oozed out, all whispery, minimal, and funky. Scott in the soundbooth added an enticing beat, and Jon went on a tear, plucking out Queen, the Jackson 5, Portishead, and Cream. The Portishead selection put a big grin on my face, as their impending Coachella appearance and new album have made them a topic of conversation among friends recently. Also, it won out for the "who'd have thunk Jon knew it" factor.
Jon's instincts took over for the rest of the set, first with a song build of "Girl I Knew" that flirted briefly with "Peter Gunn," then on to an all-instrumental rendition of what turned out to be "You Don't Know What Love Is." Someone with ears sharper than my own could probably pick it out earlier, but I never know whether he's going to play this or "Someone to Watch Over Me" until well into the song--often when the vocals start.
The breezy "Knock Yourself Out" gave way to "I Believe She's Lying," for which Jon called on the 12-string guitar, the analog synth, the piano, and of course the drums to build it in all its sprawling glory. With this, he bade the first set adieu.
The second set got off to a promising start when Jon picked up some vibe from the reverb feedback and mentioned that it sounded like Pink Floyd. That was pretty much all the direction he needed to fashion the prog atmospherics. Toward the end, he asked the stage lights be dimmed so that he could create his own light show. He did so by turning the little light attached to the piano on and off--not exactly a college planetarium on any given Saturday night, but you get the idea.
I think Jon asked for requests again, and bounding across the room came a hearty call for "Tom Waits doing Van Halen," which Jon dispatched jauntily, though his comments might've led you to believe it wreaked some karmic damage along the way. That same voice tried to get in another tune, yelling out for "Van Halen doing Tom Waits," but it was back in Jon's hands by then as Tom Waits, plain and simple, won out.
Jon struck a familiar pose, poised at the mic with the guitar hung over his frame, and asked for requests. But rather than steadfastly waiting for the exact song that lit his fire or taking note of the titles bandied about so that he could create a mega-medley of all of them, Jon took a new tack: He truly went into human jukebox mode and served up a snippet of just about every challenge presented to him.
I believe Evonne's appeal for "California Man" kicked off the proceedings, but soon we were careening through a laundry list of great tunes. I make no claims about logging them all, but I know we heard the Zombies, the Hollies, the Kinks, the Nazz, Bowie, and Adam and the Ants, among others. I finally managed to get out my request for "Our Lips Are Sealed," and I loved it when he did Aztec Camera too. Ahh, the '80s!
Apart from the awesome cavalcade of titles, what Jon chose to do with the songs was the real show. For some, he would do nothing more than play a familiar riff; for others, he might drop in a line. Evonne mentioned that she thought I might've broken through, as he sang a verse
and
the chorus of my request, but alas, that's where it ended. "Oblivious," too, sounded like it might have cracked the code, but he cut that one short as well.
Jon had started a glam-inflected guitar riff when he decided to bring Tom Biller to the stage to play some T. Rex-style drums. After some consultation, the two ripped into "The Slider."
After that, it was all Jon again, as he hunkered down for a lengthy keys-based improv that brought to mind Rube Goldberg but gave way, to all things, Chicago's "Saturday in the Park," followed by Pink Floyd and "Over the Rainbow."
Then for his final number, he promised something from a "moody fucker" and set the scene with Fleetwood Mac's sultry and languid "Albatross." Normally, I'd be at a loss with this instrumental tune, but fortunately, I recognized it from
an earlier performance
, and it beautifully capped off this night as well.
Set 1
--Le Marseillaise
--Positively 4th Street/piano improv
--Someone Else's Problem Now
--Over Our Heads
--guitar improv
--Further Along
--Excuse to Cry
--fuzz guitar exercise
--Controversy/Another One Bites the Dust/I Want You Back/Nobody Loves Me/Strange Brew
--Girl I Knew
--You Don't Know What Love Is [instrumental]
--Knock Yourself Out
--I Believe She's Lying
Set 2
--Pink Floyd experience
--Running with the Devil [Tom Waits style]
--In the Neighborhood
--California Man/She's Not There/Our Lips Are Sealed/Oblivious/Bus Stop/Sorry Suzanne/Open My Eyes/Waterloo Sunset/Moonage Daydream/Fuck the Police + many others!
--The Slider *
--Saturday in the Park/Bike/Over the Rainbow
--Albatross
* = with Tom Biller
See also:
»
the end is near
»
like a dream in the night