From my earliest visits to Chicago, the Hideout has been pegged as
the
spot for live music (after the demise of Lounge Ax, of course), where secret shows, rock star visits, and general good times are common occurrences--magic words to the rock tourist. To no one's surprise, it also turned out to be the ideal venue for Jon Brion.
Jon Brion, the Hideout, March 11, 2007:
Jon's Steppenwolf performance
was nothing less than exhilarating, but our expectations ran high for his show at the Hideout, the perfect analog to Largo. Steppenwolf may have the beautiful, comfortable room, but I'll take my live music up-close and personal any day of the week.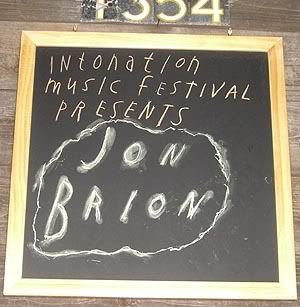 Jon got a bona fide Chicago-style welcome from Tim Tuten, who, in turn, introduced Thax Douglas, armed with one of his signature, free-form poems written especially for the show. Jon was so smitten with Chicago's indie rock poet laureate that he requested "more Thax." As the poet shuffled through his papers before locating the perfect composition, Jon furnished the soundtrack, playing around with the Hideout's upright piano (which looked like it could tell even more stories than its Largo equivalent), as well as his own celeste and keyboards. Thax didn't stay on for much longer, leaving Jon to himself. The tune sounded familiar, but Jon let the instrumental preamble linger before he picked up on the vocals on the Billie Holiday classic.
Jon asked for requests almost immediately, and the crowd wasn't shy with their responses. In this small room, it was a lot easier to hear them, too, so Jon strung together snippets of four different songs, all submitted by the audience. I can't tell you which one I liked best, but those opening notes of "The Good, the Bad, and the Ugly" sure are hard to resist in any form.
Jon built "Girl I Knew" in the usual manner, starting with a visceral, emphatic turn on the drums. A broken guitar strap momentarily derailed the song, leading Jon to fill the time on the chamberlain and other keyboards while Sami patched up the instrument. When it was fully repaired, Jon picked it up again for a small tribute to Illinois's favorite sons in the form of a rocking segue into "Everything Works Out if You Let It."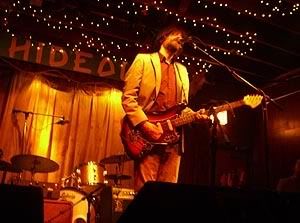 For the next selection, Jon returned to the piano and slowly built up the required loops. He tweaked at the piano's guts and picked out a few ethereal layers before unveiling the finished product: "Strings That Tie to You" from the
Eternal Sunshine
soundtrack. (Sorry, friends, for the confusion with "Stop the World" on Friday!)
Sooz got her request for Bowie with the next song, "Life on Mars," a grand singalong that needed only a little encouragement from Jon himself. "Pipeline" (with a tiny injection of Les Paul, maybe?) also came from the audience, but "Why Do You Do This to Yourself" was Jon's own choice.
Back in July
, "I Believe She's Lying" got Jon so riled up that he kicked over the electric piano. The song got the same sweeping treatment tonight, but I guess it worked out fine. The only antics we saw were the musical variety, as Jon built up the song to an orchestral, multilayered bridge, followed by a shredding guitar solo that not only sounded more aggressive than usual but also resulted in yet another broken guitar strap.
The piano hosted the next few songs, including the one tune I really wanted to hear: "More Than This." He prefaced it cryptically with a short comment about realizing not long ago that he wasn't as clever as he had thought, and for whatever reason, this was the song that came out of that epiphany.
Last month, I claimed that the song was "almost folksy" in
Jon and Benmont's able hands
. I take it back; as long as Jon emulates Bryan Ferry's yearning, searching vocals, folk won't be the focus. At the Hideout, Jon threw one more non-traditional element--the vocoder--into the inspired hybrid of exquisite piano and longing melodies. I've been struggling to come up with a succint summation of the overall effect, and the only description I can come up with is that it sounded a bit like solo Lennon, with a touch of Cher thrown in. Kinda.
Another thing I can't explain is why I
totally
lost it during this song, to a degree I couldn't have predicted. I mean, I love the song, but it's actually the third or fourth time I've heard Jon do it, and quite honestly, last month's version might've been my favorite. I suspect, however, that the song's impact had everything to do with the fact that I was sharing it with a great group of friends.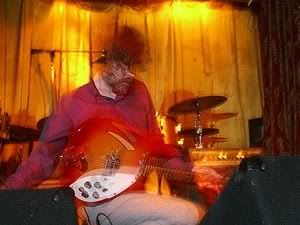 A couple of audience members joined Jon onstage for the epic "Not Ready Yet," though not before he told a nice story about his cowriter, E from the eels. He also happily pointed out how easy the song is to learn (
not for the first time
) and unleashed the fanboys on the low end. Meanwhile, he went to town on the guitar, roaring into its pickups and breaking multiple strings as the song progressed.
A Bee Gees request inspired Jon to inform us of the incongruous lyrics ("We can try to understand the
New York Times
' effect on man") in "Staying Alive" and to embark on a fairly straightforward medley of the band's hits. It wasn't the staggering
prog tutorial
we got back in December 2005, but then again, we didn't get to sing along to that one.
Eno requests had been flying willy-nilly at both shows this weekend, and Jon finally acknowledged them as he closed the night's main set. But instead of going with the "hits" ("Baby's on Fire," "Burning Airlines Give You So Much More," or "Needles in the Camel's Eye," for example), he embarked on a medley of the entire second side of
Here Come the Warm Jets
. Well, so I hear--I picked up most of the songs, but a few escaped me. If this strikes you as indulgent, I won't argue, but hey, where else are you going to hear this stuff?
We weren't going to let Jon go so soon, and he returned to the stage amid our applause. For the encore, Jon finally picked up on Kris's request for "Day Tripper" on acoustic guitar with our strong (to quote Maudie) vocals behind him. He also related a friend's half-joking suggestion to mess with the song's time signature, then proceeded to turn it into "country prog"--to hilarious effect--right in front of us.
Now that we were firmly ensconced in "Coversville," Jon took his pick of the ditties thrown his way. The Leonard Cohen song required Jon to disappear behind the chamberlain for a bit as he tweaked the piano and keyboard loops to his liking. The request for "Tusk" led to "Albatross," but it soon gave way to an early Fleetwood Mac song. "Need Your Love So Bad" was slow, slinky, bluesy, and heavy--that is, the last things you'd associate with the band in its most famous incarnation--and it came with the highest of recommendations from Jon.
"Here We Go" has been strangely absent from Jon's recent shows, so I was glad he played it tonight, especially for the newbies in attendance. I don't know how anyone can resist that song.
Three-plus hours after he had initially taken the stage, Jon decided it was time to close the show, and he did so by harnessing the crowd's energy for a singalong of "Boys Are Back in Town." He played ukulele and took lead vocals, while we threw in harmonies, which brought more than a passing grin to his face.
Setlist
--
Thax Douglas poem
--
Thax & Jon
--Fooling Myself
--The Good, the Bad, and the Ugly/Tell Me Why/The Way It Went/Girl
--Girl I Knew/Everything Works Out if You Let It
--Strings That Tie to You
--Life on Mars
--Pipeline
--Why Do You Do This to Yourself
--I Believe She's Lying
--Maple Leaf Rag
--The Way It Went
--More Than This
--Dayton, Ohio
--Love of My Life
--Jazz Odyssey Like We Did Last Summer
--Not Ready Yet
--To Love Somebody/New York Mining Disaster 1941/How Deep Is Your Love
--Dead Finks Don't Talk/Some of Them Are Old/Here Come the Warm Jets/Jesus' Blood Never Failed Me
encore
--Day Tripper
--Famous Blue Raincoat
--Albatross
--Need Your Love So Bad
--Here We Go
--Boys Are Back in Town
See also:
»
always counted us as lucky
»
the power of suggestion, the element of chance
»
nothing lasts forever
»
her little heart it could explode
»
let your heart be light