Is it too nerdy to admit how long I've been waiting to write up this particular Jon Brion concert review? Is my cred shot?
Bwahahahaha.
Jon Brion, Intonation Festival, June 25, 2006:
It was the moment of truth, the date that had been circled in triplicate in red and surrounded by little gold stars and rainbow signs on my calendar since the beginning of time--Jon Brion's return to the stage, in the midst of his unexpected bout of tendinitis. I can't even remember when Heidi got the tickets for us, but the only thing that mattered was that we were here now and that Jon Brion was playing. Even better, Brianne, Chandler, Gina, Paul, Sam, and Sooz deigned our histrionics reasonable enough to endure.
As it was a festival, the set changes took place in front of our eyes, and we ate up every second that Jon was present, regardless of whether he was playing actual music. We worried for Sami, who--sporting a summertime Mohawk--faced the unenviable task of setting up the equipment in a mere 40 minutes instead of the leisurely pace of a typical Friday night set at Largo. Along the way, Jon joined him onstage (looking uncharacteristically pulled together in a lovely light gray pinstriped suit), accompanied by the always welcome Benmont Tench. Well, I guess that was one surprise out of the bag.
Together, Jon, Sami, and various local crew members tried out the loops, pedals, and mics, though seemingly not to full satisfaction. In between testing out his guitars, Jon turned his eyes and ears to Blue Cheer on the other stage, smiling approvingly at various points. The festival had started out late but had somewhat caught up over the course of the day; Jon must've set them back another 15 or 20 minutes in all. He definitely didn't start out on time.
We were spared the "comedy" routines that had preceded every other performer that day. Instead, one of the Intonation bigwigs took the self-proclaimed honor of introducing Jon. To his credit, the same guy stood at the back of the stage through Jon's set and seemed visibly moved by the music. I think there's been a lot of speculation on why Jon accepted an invitation to this festival, a far cry from Largo; this guy's earnest appreciation may give us a hint.
At the very start, during Jon's extended hello to the crowd, those of us in front could see him wringing, massaging, and stretching his stricken hand--not a good sign. It was perhaps just as telling that the set didn't begin with the piano noodling that normally opens his Largo shows. Instead, he took up the guitar and stayed on it for most of this performance.
In no surprise to me, he opened with "Same Thing," which I always love to hear. Sure, we didn't get the hammer/piano treatment I adore, but the outro is my favorite part anyway. Somewhere in there, he threw in different guitar licks, but that's as much as I can say and not feel like a complete fraud. He remained on guitar for the next song, "Just Fooling Myself," bringing Billie Holiday to the festival masses in grand style.
The stage was no Largo, but Sami and company had set up the drums and a small electric piano, and it wasn't long before Jon took advantage of them, jumping to the drums for a song build of the infectious "Happy with You." From there, he layered the piano, followed by, of course, guitar. At this point, I was just happy that Jon was going for an uptempo set, not one of those brooding meditations we sometimes endure in Los Angeles.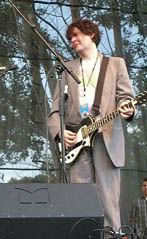 Next, Jon brought the
preternaturally unflappable Benmont
onstage, and the two greeted each other warmly. While Jon tuned his guitar, Benmont improvised a charming piano tune. Jon was so taken by it that he pretty much turned the stage over to Benmont and supported him. With the ice thoroughly broken (not so much between them but with the audience), they went into "Why Do You Do This to Yourself." At Largo, Benmont tends to join in on the second set, so we usually hear him on odd covers, not on Jon's own songs--score another one for Intonation. Jon also announced his appreciation of Benmont, saying that playing with Benmont was like getting to see a concert for himself.
From the Vice stage, Robert Pollard's band could be heard soundchecking, and Jon incorporated the drum beat into a couple lines of "Tell Her No" by the Zombies. But that gave way to a build of "The Girl I Knew," another unreleased gem.
A voice from the audience requested "Knock Yourself Out," to which Jon nodded, but it looked to me that he already had his acoustic guitar in hand anyway. He donned the harmonica headset as well and checked with the sound guy on a couple of points. When it seemed that he wasn't happy with the first question, he opted for the second option--it turned out to be a sexy, understated, and gasp-inducing "Don't Think Twice It's Alright." I think I spent the first half of the song staring at Sooz and Heidi in disbelief. Fortunately, I had somewhat returned to earth by the time he seamlessly segued into "Knock Yourself Out," which saw Benmont's return and a respectable audience sing-along.
The easy hook for pimping Jon Brion is to tell the prospective fan of all the amazing musicians who've worked with Jon in the studio or joined him onstage at Largo. But those of us who've braved workplace obfuscation, transcontinental flights, and Largo "cuisine" know that Jon needs no hook. Still, the guests are a treat, especially when that guest turns out to be the drummer in your other favorite band. We had been speculating and whispering of the prospect among ourselves, but seeing Glenn Kotche of Wilco join Jon at Intonation was beyond a thrill. And once again, I'll pointedly gloat of having had the honor of
witnessing this commingling of talents
before. Neener neener neener.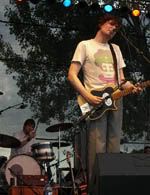 Benmont and Glenn accompanied Jon for two consecutive covers: "This Will Be Our Year" and "Baby You're a Rich Man." The latter brought out a robust sing-along from the audience and Jon's exhultations of "More!" to his cohorts. If that weren't emphatic enough, he set his attention solely on Glenn and coaxed a lengthy, wild drum solo from him. It was no "Star Spangled Banner," but we loved watching Glenn unleashed in a manner that we don't usually get to see with Wilco or at
his solo shows
.
Jon closed with a build of his own "I Believe She's Lying," a song rife with possibilities, especially during the guitar outro. Throughout the show, Jon seemed to be in high spirits, even with the occasionally faulty equipment. His energy took another turn during this song, culminating in his kicking over the electric piano. The keyboard went flying--we went agog.
Though Jon had far exceeded his allotment, the aforementioned promoter/fan boy took a cue from our wild cheers and brought Jon back for one last song, joined again by Benmont and Glenn. From the moment I saw Benmont onstage, I had my suspicions, and this one came true too, as the trio crafted a dreamy, otherworldly "Waterloo Sunset." By coincidence, the sun was waning, and you could see Jon look to the western sky.
As for Jon's hand, it looks like problems persist, and the piano may be the more vexing instrument, as he barely touched it. Sure, "Here We Go" would've been a treat, but then again, my friends probably wouldn't have wanted to pick me up off the lawn after the set.
I'd be lying if I said it was enough, but the set was just right--for now. In the meantime, we'll keep checking Largo's schedule for Jon's eventual (we hope) return.
Oh yeah, the rest of the festival. We took it easy on Saturday but managed to catch part or all of the Stills, Roky Erickson, the Boredoms, and Ghostface Killah. I'll single out the last one for a song equating women with ice cream--which I've defanged to a criminal extent with that description. Sunday, we were glued to the Virtue stage, where we saw excellent sets by Bill Dolan and the Constantines, as well as endured Annie and the Sword--at the least, the latter was a lot more interesting. Oh, Neil Hamburger turned up too!
The setlist:
Same Thing
Fooling Myself
Happy with You [song build]
Benmont's piano improv while Jon tuned
Why Do You Do This to Yourself *
Tell Her No [snippet]
The Girl I Knew [song build]
Don't Think Twice, It's Alright/Knock Yourself Out *
This Will Be Our Year **
Baby You're a Rich Man **
I Believe She's Lying [song build]
encore
Waterloo Sunset **
* = with Benmont Tench
** = with Benmont Tench and Glenn Kotche
If you've read this far, you certainly deserve to check out a video from the festival (thanks to Ariel for the clip):
See also:
»
As long as I gaze on Union Park sunset
»
how can I deny what's inside
»
i'll be out on the town
»
public service announcement
»
top 5 Largo memories