Happy Father's Day!
Aimee Mann/Seu Jorge, Stern Grove, June 19, 2006:
It's a joke (I hope) among my family and friends that I operate on full throttle when it comes to shows, but that's not entirely true. Granted, my more zealous episodes are well documented, but I occasionally show up at a venue right right when the band comes on. Or I misfire and am overwhelmed by throngs who arrived much earlier than me. And sometimes, I throw in the towel and sit out a show altogether.
That was the case Saturday night, when I skipped the Aimee Mann gig in the North Bay, thanks to a foot injury I can blame on only personal ineptitude. But I knew Aimee would be in San Francisco for a free show on Sunday, so I opted for the more local appointment and the podiatric relief, though I knew I'd be trading in the intimacy and comfort of a small club. Them's the breaks.
Fast-forward to Sunday morning, when I drove over to Stern Grove on an uncharacteristally sunny day right after fulfilling my duties at the Fillmore box office. I've seen Aimee in San Francisco in the past, and it's always been totally mellow. I figured if I could get to the Grove by noon, I'd be OK.
Boy, was I wrong. At 11, just about every nook and cranny of the lower grove was occupied, though I managed to find a tiny spot for myself. I overheard the woman behind me saying that she had arrived at 8 a.m. It worked out fine, though. They opened up some of the benches in the front, and I was able to get a decent seat for the actual show.
Stern Grove's concert schedule had been announced months ago, so it was a happy accident that Seu Jorge and his band were welcomed by flocks of sexy Brazilians (and those who aspire to be such) decked out in the familiar green and yellow and celebrating the beautiful weather and their home team's World Cup victory that morning. We all danced along to the slinky, seductive rhythms, and I could hear plenty of voices singing along to the more famous songs. Alas, he didn't do any
Ziggy Stardust
tunes, but I respect him for not giving in to the easy hook. His band was fun-loving and energetic, performing various feats of tambourine. I couldn't help but wonder how Aimee's introspective, finely wrought tales of crushed hopes, abject failure, and crippling delusions would go over with this party crowd.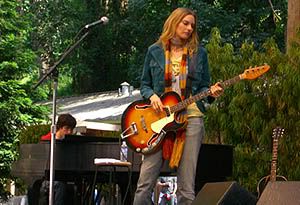 A couple of months ago, I saw
the best Aimee Mann show
I've had the good fortune to witness. As it turned out, her appearance at Largo was a warm-up for her summer tour, and this show was the road version of it. That is, start with the Largo show, then strip away the intimacy, the respect, the interaction, and Flanagan's hair. Voilà--you have the Stern Grove appearance!
OK, maybe that's too harsh. Free gigs are notorious for apathy and opportunism on both sides of the stage, especially if you're a fan who wants to hear a full set of music. Aimee and gang put in a solid effort, even as the crowds streamed out and/or talked over the music. It was certainly no contest for my ringside seat from April, though I made it all the way to the front by the halfway point of the set. We got the solo acoustic "It's Not Safe" again, as well as "One," which I hadn't heard before. We also saw Aimee on the baby grand for "Nothing's Good Enough," and she celebrated her victorious turn on the keys by triumphantly throwing her arms in the air.
If impending unemployment weren't part of my near future, I'd consider catching Aimee in another town on this tour, just so that I wouldn't have to think back on this show as my last view of her. But I won't be doing that--at least, unless she comes back to Largo. Them's the breaks, indeed.
See also:
»
i'm the stuff of happy endings
»
you're my favorite faith healer
»
the Book of Brion 2 has landed