I'm like 99% done moving! And I have high-speed Internet at home! And I got a new laptop! Woot! More on that later, let's file the concert report first.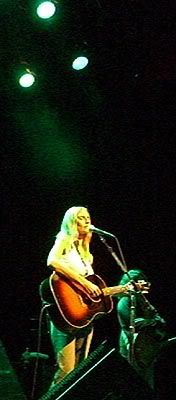 Aimee Mann, the Fillmore, August 12, 2005:
Over the course of the last couple of years, I've come to love Aimee Mann. I think she's one of the best lyricists working today, and she consistently crafts great albums, not just individual songs. I'd be lying if I said that my Jon Brion thing hasn't contributed to my appreciation, but I look forward to Aimee's releases, regardless of whose name shows up in the liner notes. It also helps that she's playing the Fillmore again, after favoring venues such as the Mountain Winery in Saratoga. It's pretty much a no-brainer when she's in town.
Kathleen Edwards opened, and she was quite lovely. Her voice was really pretty, and she (like most people who play the Fillmore) seemed suitably honored to be gracing the stage of the hallowed hall. She was joined by a guy on an electric guitar, while she stuck with the acoustic; he also contributed harmonies. Unfortunately, I can't remember his name, but they seemed to be a good fit. She's very much a singer/songwriter, with the acoustic guitar, the sensitive songs, and the stories, but I've always enjoyed them more than, say, flash-in-the-pan ingenues.
Aimee used to say that she was horrible at stage banter, but the times I've seen her, she's always managed to keep us entertained. Granted, I've never followed her from show to show, so I don't know how her conversations with the audience vary, but for a one-shot deal, she conveyed great enthusiasm and enjoyment to the crowd.
Tonight, Aimee was in a great mood: chatting up the crowd, showing off her new tattoo, and raving about some kickboxing gym she found in the Mission. I thought the tattoo might be fake at first, but you could tell that her skin was raised from the needle injecting the ink. It was an image of an anchor, a tribute to her sailor father, she said.
She did the new album
The Forgotten Arm
pretty much in sequential order, narrating the story of the two lovers and their doomed relationship along the way. She sprinkled in a bunch of her oldies but goodies, such as numerous selections from the blockbuster
Magnolia
years, but she always returned to the story of the boxer and his girl and their highs and lows.
I thought she chose a fine selection from her back catalog, including "Save Me," "Sugarcoated," "One," "It's Not," and "Humpty Dumpty." I think the band did two encores in all. The first was noted on the setlist, but for the second, they took requests from the audience and, in the case of "Pavlov's Bell," Kathleen Edwards. Someone requested "The Scientist," but fortunately, no one in the band knew the song, and Aimee could barely remember it. Fortunately, she kept her promise to close with "Deathly," still my favorite of her songs.
Then there was the crowd. Fortunately, Trish joined me this evening, but not before two women who obviously did not see a lot of shows had "befriended" me and talked my ear off. They were nice enough, but they were getting progressively drunker and talking loudly through much of the opening and Aimee's set. They finally left about halfway through Aimee's set, though they claimed to be such a big fan of hers.
On the other side of the stage, there was some guy jumping up and down and waving frantically throughout the beginning of the show. Maybe a third of the way into her set, Aimee said something to him, and he calmed down a little. Neither of them took away from my enjoyment of the show--which was great, in so many ways--but they were somewhat distracting at first.
Way too late, I checked Aimee's Web site and saw that she played two more shows in the Bay Area: a free gig at Amoeba and something at the Robert Mondavi Center in Sonoma. You know, I was in Amoeba just last week and saw Aimee's album with an "in-store" sticker, but I didn't see any other notice of her appearance. As for Mondavi, I probably could've made it today, though it would've been a stretch to squeeze it in among today's activities. Grrrr, I gotta try harder.