New Pornographers, Amoeba, August 24, 2005:
So-called supergroups are always a crapshoot, aren't they? The commingling of talent is no guarantee that the resulting group will be any good; it could be some horribly indulgent affair of yes men, devoid of the tension that makes many great bands. On the other hand, it could be awesome, and you may grow really attached to them, with no guarantee that they'll ever surface again.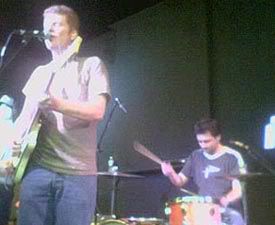 The New Pornographers are sometimes referred to as a supergroup, though you'd be hard-pressed to find many people who've heard of the various bands that comprise the group. But with their growing popularity, the NPs seem to be in the process of becoming a more regular gig, good news for us power-pop lovers. Even better, they came to town on their promo tour, coinciding with the release of
Twin Cinema
, the new album, and I made it over to Amoeba in time for the show.
Carl solicited requests for their public soundcheck, starting with "The Laws Have Changed." Unfortunately, I can't remember the second song they did. After leaving the stage for a short break, they were officially announced, then reemerged onstage.
I know a lot of people are complaining that Neko Case isn't on this tour, but as much as I dig her, this isn't her baby--it's Carl's vehicle, and his songs make up most of their albums. I have no problem with Carl's niece (?) stepping up to the plate. She doesn't have Neko's distinctive vocals, but she chips in on keyboard and tambourine. Her voice is sweet and clear. I suppose my ears have yet to really be able to judge her. Until I see them on the proper tour, I won't get to hear how she handles the more female-lead-heavy tracks, but for now, she filled in nicely.
True to form, the band had a goofy energy onstage, again asking for requests, then batting a few of them down, as well as admitting they were still trying to remember some of their songs. At some point, the band started debating where to find the best burrito in San Francisco (deja vu--didn't the Decemberists have similar banter?). They had some technical difficulties with a buzzing amp, and Carl broke a string on one of his guitars but maintained that he was rock enough to play a number of songs on only two strings. They took some catty pot shots at Green Day, but I like those kind of fighting words. Overall, I think they did about six songs, mostly from the new album, as well as a couple of older ones, including "Jackie" from the first album and "Slow Descent into Alcoholism," which would've been my request.
To tell you the truth, I can't say the sound was great; I was too close to the stage, and Amoeba isn't exactly set up for great shows, at least not while waves of humanity are shopping in the background. But based on the sight of the masses streaming out after the show, I'd say they drew an impressive crowd. I'm looking forward to their gigs here next month.
See also:
»
listening for too long to one song