Back on the horse, as they say. Oh, it feels so good to return to the land of fog, even if our BBQ scene is nonexistent. At least I got one night at home before I went straight back to what I know: the front row.
New Pornographers, Bimbo's, September 27 and 28, 2005:
First things first--Neko Case is touring with them again. I know that's what everyone wants to hear. I stand by my conviction that she isn't the band, but now that I've had a chance to compare and contrast, I understand what she brings to the group besides that wonderful voice. She's a good foil to Carl Newman in terms of banter, and that's part of the fun of a New Pornos show. Otherwise, Kathleen remains with the band in a backup role, and we even got Dan Bejar for a few songs.
Immaculate Machine opened, a three-piece out of British Columbia. Among its members is Kathleen, Carl's niece and the newest touring member of the New Pornographers.
She filled in this summer
when Neko wasn't available. They have other ties to the NPs as well; a couple of NPs produced their album, and I think they mentioned they were in a video for one of the offshoot bands as well. The NP stamp is notable in Immaculate Machine's poppy songs, though they were nowhere near as polished as the supergroup. The second night, they pulled off a decent cover of "Good Vibrations," though a few more harmonies might've helped.
Destroyer was also on the bill, making for a veritable BC love fest of a tour. Again, the incestuous relationship: Kurt and John from the NPs took the drums and bass, respectively, for Destroyer's set. The band had its own cheering section, and Dan seemed somewhat reticent during the set. Dan Bejar's songs and voice are so distinctive; I find it odd how he ever came together with Carl Newman, except in that they both write really smart lyrics. However, Carl's pure pop sensibilities are a far cry from Dan's arch, glam-infused songs. I liked about half the songs, but let's face it, I'm a pop girl at heart.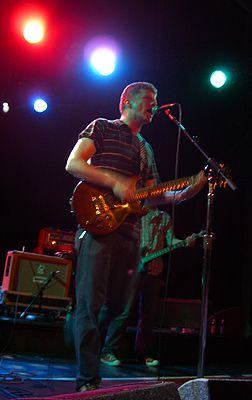 I tell this story ad nauseum, but it bears repeating. The last time I saw the New Pornographers, they just about killed me, the show was so much fun, but the indisputable highlight was the point where 10 audience members were invited to join the band on the smallish Bimbo's stage to play air instruments. It was
that
cool.
Alas, no such antics this time, but maybe you can pull that off only once in a while. Over the two nights, we got most of the songs from
Twin Cinema
, and it was great to hear Dan Bejar join in for his tunes. He got progressively drunker over the course of both nights, though in a good way. Neko sounded her usual amazing self, and they did more of the songs that highlight her vocals. And then there was Carl, being his self-proclaimed sardonic self. This time, he compared the Shins to Journey, and he may have taken some shots at Nirvana too, but I can't recall now. The second night, he dragged out a laborious comparison between the NPs and the Chumbawumba song, "Tubthumping"--it didn't exactly work out, so I really shouldn't try repeating it. He also denied my request for "July Jones," which he claimed they don't know how to play. However, they attempted some AC/DC, Nirvana, and Steve Perry tunes, though none to completion.
More good news, both nights had sold out a little ways back. It gives me hope that this supergroup will keep it together for a while longer. And maybe next time they're in town, I'll convince myself that $15 is worth it for New Pornographers panties.
See also:
»
salvation holdout central