Here it comes at last.
Reading in '99 was the last full-blown festival I've done. In the interim, my enthusiasm for UK music has cooled considerably, and my appreciation for American bands has grown accordingly. By coincidence, the American festival scene has blossomed over the years, due in no small part to Coachella's success, I'd say. I've resisted so far, given that most of the bands I want to see head to San Francisco sooner or later, but this year's lineup at the Austin City Limits Festival was too strong. The deal was sealed when the stages were announced, and Doves, Arcade Fire, and Wilco were set to play one after the other.
Paul and I got into Austin on Friday afternoon. The festival was already underway, but we had to kill some time before we picked up Kristina from the airport, so we decided to drive around downtown and get a feel for the legendary clubs. Cruising down 6th Street, we immediately confirmed that, indeed, Austin is a magical place. On the corner of 6th and Congress, we saw Chris Martin of Coldplay ambling down the avenue with an older gentleman (a manager?). Watching him walk away, I realized that Jason Lowenstein, formerly of Sebadoh, was waiting to cross the street at that same corner. And a mere two blocks later, we saw Mike of Wilco strolling by as well. Music Capital of the World? No arguments here.
By the time we fetched Kristina, checked into the hotel, and made our way to the festival grounds, it was fairly late in the day. As we reached Zilker Park, I heard Spoon playing "My Mathematical Mind," the last song of their set. They were ostensibly the one band I wanted to catch that day, but I've been far from deprived of seeing the band live, and it seems that they're coming back to San Francisco in November anyway. But we were in time for Kristina's pick for the day, John Prine. Ordinarily, he's not my kind of singer at all, but that's what festivals are for, right? During the quieter parts of his set, we could hear the Allman Brothers blasting away from way across the huge field, but John soldiered on with his patented blend of heartfelt and densely imagined songs. That was pretty much it for the first day, as we had to catch the Arcade Fire show back in town that night.
I think Keane was on that same night, and we had to hear parts of their set, though it was far away enough that it wasn't traumatic. On our way out to catch the shuttle, we heard Lyle Lovett and his Large Band. They sounded like a great time, and the newspaper reports the next day confirmed that they were a pleasant departure from the rest of the lineup.
The second day had, in my opinion, the weakest lineup, but we had bought the three-day pass, so it was stupid to not show up for at least a short while. It turned out that the one performer I wanted to see, Kathleen Edwards, couldn't make it to the festival. I don't know who her replacement was; regardless, we stuck around for half of Built to Spill's set. Unfortunately, they're one of those bands who were coming up in the scene around the same time I was obsessed with Pavement, so I never got around to really listening to them. What I heard sounded great, and the guitar work was absolutely scorching.
During the day's wanderings, we managed to bump into Scott, who was there with his wife, his parents, and many friends and who looked like he was dressed for a safari. But with the heat and humidity, he had the last laugh.
And then there was Sunday. The heat had certainly pressed down Friday and Saturday, but perhaps the only good thing to come out of Hurricane Rita was that it kept the temperatures slightly below average and had brought about some of the breezes. It all ended Sunday. The weather reports claimed that we would reach nearly record high temperatures, the one day that we anticipated standing in front of the stage for the entire stretch. Oh, the other good thing to come out of Rita paranoia: we had brought umbrellas, though we were now using them for protection from the sun, rather than the rain.
So yes, it was beyond unbearable, and for long stretches of the day, it felt like my body was one huge pore. The early hours were the toughest, when the sun was directly overhead, and we put up with the musical stylings of Eisley, a family affair out of Tyler, Texas. They were supercute and had sweet voices, but after about half an hour, I thought for sure that I was going to fall asleep on my feet. The end of their set was perhaps the highlight of my weekend, as it meant that the next three bands were on their way.
Doves, Austin City Limits Festival, September 25, 2005:
I missed the Doves back in June because of *ahem*
other commitments
, and they're playing the Download Festival in Mountain View next month at the freaking Shoreline, my least favorite place in the Bay Area. Sure, a festival is far from a cool club experience, but at least I'd be able to see the band from a decent distance, rather than from some lame seat at the sterile local shed. Doves are easily one of my top five or so at the moment, and
Some Cities
is among my favorite releases of the year.
The last time I saw them
, I missed the train coming back from Cambridge--that's how much I dig 'em!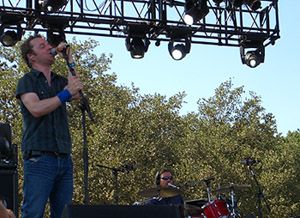 I admit that Doves are perhaps more of a studio band than a live band. Their music is layered and always surprising, with sonic touches that you don't hear until you're wearing your headphones at a certain hour of the day or the night. While their live experience doesn't always deliver, they sounded great in Austin. At the risk of completely contradicting myself, they know how to fill a room with music, if not stage banter. You could hear the distinctive U2-like guitar touches in parts, but they also evoked Motown and New Order, yet all the while maintaining their own sound. Jimi Goodwin referred to the deadening heat, apologizing for their lack of choreography, but to make up for it, he did one little snake/caterpillar move that will strike a chord with anyone who's watched
Electric Boogaloo.
They did an abridged version of their standard setlist, mostly stuff from the second and third albums, with "Here It Comes," featuring Andy Williams on lead vocals, and (of course) "Cedar Room" from my favorite
Lost Souls
. They had no technical difficulties either, from what I could tell, which is something you can never predict with them. Best of all, the sun dipped behind the stage around the end of their set, so the worst weather-related misery was over.
I saw a lot of enthusiastic listeners around me, though I was probably the designated dorky fan in the front who knew all the lyrics. I doubt that Doves will ever become a huge band in the States, but at least they stand a good chance of sustaining the numbers and continuing to come back to our shores. They had a signing session at the Waterloo tent immediately after their set, but I was already scheduled to dig my heels in for the current indie darlings.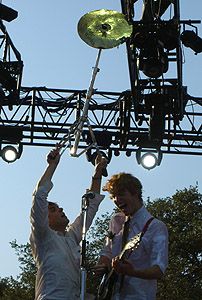 Arcade Fire, Austin City Limits Festival, September 25, 2005:
How much more can you say about the Arcade Fire that hasn't already been printed, analyzed, rebuked, and reprinted some more? Hell, I feel like an idiot writing anything now, but that's hardly stopped me before.
Let's see, the crowd noticeably thickened after Doves, but the fairly well-behaved audience didn't push or jostle too much (at least not where we stood). Arcade Fire's set drew the most photographers of the day at our stage; the media pit between the stage and the audience must've held dozens of 'em. Oh, and the Martin-Paltrow clan (Chris Martin, Gwyneth Paltrow, and Apple Martin, with huge headphones on her adorable head) watched from the side of the stage. From all reports, Arcade Fire made quite an impression on Chris, and he couldn't stop raving about them during Coldplay's headlining set on the other side of the park.
On to the music: the band played up every aspect that the public has grown to love. Opening with "Wake Up," they stuck with the more spirited songs from their oeuvre, so no, say, "Crown of Love," but they belted out "Five Years." As for antics, Win abused his mic stand, this time nearly assaulting the poor camera guy with it and breaking at least two stands during the course of the show. Will and Richard were up to their goofiness, and the kids around us loved every second of it, becoming instant fans. The band also threw out bottles of water to the heated audience, though they commanded the recipients to drink them immediately, lest they show up on eBay.
I'm an admitted venue snob, but oddly enough, this was my favorite of the recent Arcade Fire shows I saw. They don't exactly compare to
the shows from last winter
, but I don't recall so many people singing along earlier this year, and it's hard to deny the passion spewing out of the audience. Festivals aren't my favorites, but every now and then, they deliver.
Wilco, Austin City Limits Festival, September 25, 2005:
Am I an idiot for bothering to see my favorite band with tens of thousands of people, in a ridiculously hot, dusty field three states over immediately following a couple of incredible smaller performances? Well, yeah, but so what? At least I'll keep this report short.
The set was very standard, but they favored the more upbeat songs, on the whole. They even did the new one, "Walken." Jeff was in a fantastic mood, chatting with the crowd and getting us to clap and sing along. The voices around me were loud and clear, and I hope they loved the set. Jeff messed up a verse of "Always in Love" and sheepishly grinned at us in acknowledgement of his boo-boo. Nels was less goofy than he had been at the previous two shows, but his intensity never wavered. I actually got to see more of Glenn this time, for the first time in a while, and make no mistake, he is as fascinating a drummer as ever. At the very end, Nels even spoke into the microphone, pointing at the AMD stage and uttering exactly one word: "Tortoise." I would've loved to heed his recommendation, but my tired, dirty, and hungry body implored me to hop on the shuttle instead. Thank you, ACL, even if we never meet again.
Gawker alert: We saw Luke Wilson and members of Doves crew watching the band from the side of the stage--take that, Gwyneth!
See also:
»
you change all the lead sleeping in my head
»
i won't be denied