I got my hit counter thing working again, so now I can keep track of both of you. Heh. I've said it before, and I'll say it again: I is smrt.
Let's get this out of the way: I'm going to blog about Jon Brion. So those of you who are sick of it can click to your tried-and-true
time-wasters
now. Thanks for checking in, though.
I take away something new from each Jon Brion show I see. In fact, I'd go so far as to say that the reason I see so many shows by
certain musicians
is due to the fact that I can take away something new from every gig--but enough rationalization.
For the past week, I've been thinking of Jon's second set at the most recent
Largo show I attended
. Oh sure, it was certainly the night of 1,000 singer/songwriters and, for that reason, bound to not be forgotten soon, but beyond that, it was illuminating to see Jon take a backseat to other musicians. If you read reviews of his work, you may have noticed that many critics claim that he has a way of forcing his sound on other musicians, especially in his production work. But at Largo last week, he was very much in the background, deferring to his guests repeatedly, albeit he also claimed about a dozen times that he had checked his brains at the door. With Fiona Apple, it was all about her voice, while he played acoustic guitar and contributed only a tiny bit of backing vocals. He always seems to have good banter with Robyn Hitchcock and Grant Lee Phillips, but they were very much in charge of their portions of the show. When Grant tried to get Jon to jump in with a suggestion, Jon turned the floor right back to Grant. And Sarah and Sean Watkins were busy negotiating between themselves for Jon to grab the reins.
I guess one of the reasons this has been swirling in my brain has to do with the
Kanye West record
and my listening for all the hints of Brioniana. I have to confess: I'm not a huge soundtrack person, though I grasp at them for my JB fix. But I like pop music, with its vocals, hooks, choruses, and medleys, and in that respect,
Late Registration
is almost as exciting as a new Jon Brion record for me. Kanye and friends provide the frame on which Jon hangs his musicality, and together, they deepen my appreciation of the songs. I'm no hip-hop expert (my youth was spent listening to decidedly unfunky pale British guys), nor will I pretend to be, but Kanye and Jon's talents complement each other in a way I couldn't have guessed before I heard this album. I can't get enough of the track "Gone," and I'm not even ashamed to admit that I adore the song with the guy from Maroon 5.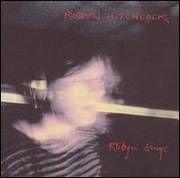 Back to the original point of this post: Here's a version of "Visions of Johanna" with Robyn Hitchcock, from the album
Robyn Sings.
I believe Jon is on electric guitar, and you can hear a tiny bit of his vocals at one point. Grant Lee Phillips also pitches in on bass guitar. I absolutely love Robyn's interpretation, and maybe it'll give you an indication of
what I had the great fortune to witness a week ago
.
Listen: "
Visions of Johanna
" (MP3)
Update:
Pitchfork did
a nice write-up of Jon's work
, but I still prefer my Book of Brion mix (volume 2 in the works). :P
1. Coming in to Land--Badly Drawn Boy
2. Millbrook--Rufus Wainwright
3. Waltz #1--Elliott Smith
4. Like a Diamond--Tom Petty
5. Dark Princess--Robyn Hitchcock
6. Same Thing--the Grays
7. This Is What I Do--Rhett Miller
8. Stop My Head--Evan Dando
9. Backfire--Aimee Mann
10. Chicago--Sean Watkins
11. River, Sea, Ocean--Badly Drawn Boy
12. I Feel Beautiful--Robyn Hitchcock
13. My Beloved Monster--eels
14. Terrible Vision--Rhett Miller
15. Save Me--Aimee Mann
16. Everybody Needs a Little Sanctuary--Grant Lee Phillips
17. Happiness/The Gondola Man--Elliott Smith
18. Voices--Jon Brion
See also:
»
unplug the jukebox and do us all a favour
»
top 5 Largo memories
»
let your heart be light