Tonight's exciting agenda: groceries, laundry, and sitting at home.
Yipppppppeeeeeee!
The Decemberists, the Fillmore, September 11 and 12, 2005:
The Decemberists once again kicked off their tour in San Francisco, what they call their second home, and were welcomed with two sold-out nights at the Fillmore. You can argue until the cows come home about what comprises the real Fillmore, considering it's been closed, torn down, burned, rebuilt, and exploited who knows how many times at this point. But it still has some cachet, and it must be satisfying for any performer to get up on that stage and be greeted by an adoring audience.
I've said it before: I'm not a huge Decemberists fan. I can't remember many of their song titles, much less their lyrics, but fortunately, they're incredibly fun live and much less precious than their records would have you believe. The costumes they wear in promo shots and album art seem silly even to me, but onstage, they add to the charm and the convivial atmosphere. I think we've all seen the somber, serious songwriters onstage who strive to keep it real, so to speak. There is no such agenda with the Decemberists; reality is vastly overrated.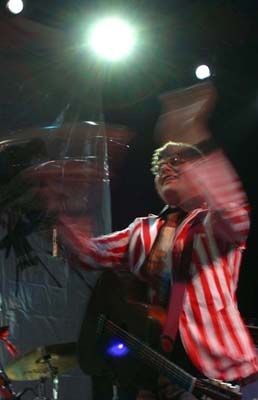 The stage was decorated with small fake birds. They nestled atop the mic stands and instruments, and in the back of the stage, a huge drawing of what looked like a mob of birds rushing determinedly toward some unknown destination framed John Moen's drum set. The amps were adorned with drapes bearing crudely sewn-on bird pictures, drawn by the band's favorite sketch artist, Carson Ellis. This was in reference to the name of the tour: the Flight of the Mistle Thrushes.
The sets over the two nights were surprisingly light on
Picaresque
material and dipped into the first EP more than I would've expected. If you've seen them more than once, you know they have a few fun passages, such as the
Deliverance
-style guitar duel between Colin Meloy and Chris Funk during "Chimbley Sweep." They did that both nights. The first night, that song devolved into a jam, with the band switching instruments and dragging a couple of audience members onstage to man instruments they obviously had no idea how to play. The second night, the "duel" segued into a lightsaber fight between Jenny Conlee and John Moen--Jenny kicked his ass.
As usual, the second night was the looser show. It started off with "The Tain," a hell of an opener and not one I could've anticipated. There were lots of
Star Wars
references, inspired by the band's trip to Skywalker Ranch earlier that day. And finally, they capped off the night with "The Mariner's Song," which saw Chris Funk wielding a huge fascimilie of a whale's jaws in an attempt to wheedle more blood-curdling screams from the audience. He didn't really need to; everyone seemed more than willing to make themselves heard. In between, they managed to squeeze in some of my favorites, including the sublime "Grace Cathedral Hill." Oh, and they tackled ELO's "Mr. Blue Sky" the second night too.
We had two opening acts both nights: Sons and Daughters, and Petra Haden and the Sellouts. The former are from Glasgow, Scotland, with a huge range of sounds, everything from rockabilly to postpunk. The singer reminded me of Siouxsie Sioux so much in parts, and her voice took on a Lene Lovich/Nina Hagen air too. Petra Haden and friends performed
The Who Sell Out
a capella. I have to say it was a bit rough the first night, but they seemed more confident the second.
Next up for me:
Banyan, Arcade Fire
, then
Austin City Limits
.
See also:
»
down the hyde street pier
»
it's been a while