Pictures from a few of the recent shows will go up this weekend. For now, I'm rounding out my 10 days of intercontinental rock tourism.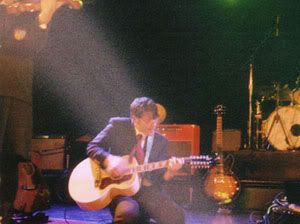 Decemberists, Bimbo's 365 Club, March 22 and 23, 2005:
I'm not the biggest Decemberists fan. There are plenty of other people who are much more qualified to claim the title, but I like the band an awful lot, and it's great to see them find a following. Still, I had no qualms about catching their two-night stand in San Francisco.
The first night, they came out in vaguely Civil War-era-looking jackets, which Colin later revealed were created especially for them by their friend. Almost as soon as he said that, he removed his robe--they looked like they could warm up considerably when you're onstage. Unsurprisingly, they highlighted songs from the new album,
Picaresque
, which came out that day, but they threw in a number of older songs and album tracks. I was curious to see how the new band members, Petra and John, would fit in. Petra has a beautiful voice and obviously serious chops, but she looked uncomfortable through many segments of the show, as if she didn't know what to do with herself. John, however, threw himself into it from the get go. He played drums, of course, but also added harmonies. Thus, he had a microphone--and knew how to use it. He bantered with Colin throughout the night, and at many points, the two of them seemed to be playing to each other. During the epic "Mariner's Revenge Song," he placed his bass drum (?) between his knees and got so into the action that he ended up falling on his ass--
without losing possession of the drum
. He reminds me a lot of Bob Nastonovich, obviously because of the Malkmus association, except that he's a much better musician all around.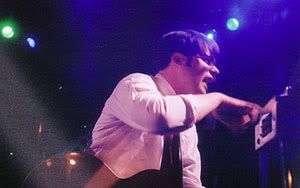 So by my rules of concerts, the second night was supposed to be better. And in a lot of ways, it was. The band came out in their school outfits from the "16 Military Wives" video (ooh! costume changes!) and mostly stuck to the same set, with a couple of variations ("Grace Cathedral Hill" and "Red Right Ankle," to be exact). But the crowd was much more energetic, and the band seemed to feed off that energy. Crutchy (a.k.a. Chris Funk, the guitarist) spoke up a number of times, and Petra seemed much more relaxed. She even pummeled Colin a few times and sang a great cover of "Wuthering Heights!" I love that this band is into the '80s Anglophilia (the Smiths, Kate Bush), which is probably why I dig 'em so. I wish John had shown more of the goofiness from the first night, but then again, it's probably a good thing that he knows to hold back now and again. And suffice it to say, but Jenny was as awesome as ever, especially on the accordian. Unfortunately, she was way on the other side of the stage, so I didn't get to see much of her. Though Colin mentioned the unfortunate disappearance of their instruments, they seemed to make do with their borrowed goods.
I'm so jealous of the people who will get to see them later on this tour, when they'll certainly be a tighter unit. And I wonder what sort of hijinks they'll perpetrate in other cities. Regardless, I'll be tuning in to find out for myself.
See also:
»
a writer, a writer of fictions
»
it's been a while