I need to do this before I fall asleep, but maybe it's a good thing that I'm staying awake--to regulate the jet lag and all. Perhaps. So let's get this thing rolling, in chronological order.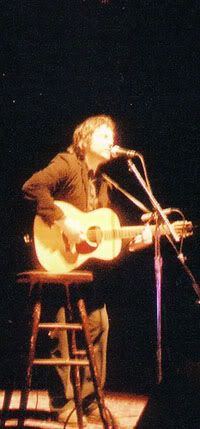 Jeff Tweedy, Vic Theater, March 4 and 5, 2005:
Heidi waited for me at Midway, and we made the trek to the S'n'S. On our cab ride from the El, I saw the remnants of a bunny rabbit costume (Flaming Lips style) in the doorjam of a building, right there on North. Mind you, this was about 11:30 p.m., on a cold Chicago night. I said to Heidi, "Look, a bunny!" She scoffed at me until she saw that I meant a bunny costume and not a living, breathing creature. It looked so sad, that big rabbit head and the tattered body. When we told Sam about it after we arrived, she wanted to go get it, but alas, we didn't want to venture outside again, and it was gone by the morning. :( Boo hoo.
To no one's surprise, we got there bright and early the next morning, to find a couple from Indianapolis at the front of the line and Brianne and Gina right behind them. Kevin and Amy arrived shortly after us, and before you knew it, we were celebrating the day! I admit that the line thing is very silly to anyone who's never done it, but I swear, we enjoy each other's company. Besides, if we weren't in line, I think we'd be too consumed by worries of being in the front that we couldn't enjoy alternative activities. As it stood, I got to eat at delicious Sinbad's, where Paul and I made very loose plans for the Great Wall's European invasion.
Once inside, I took my place at the barrier between Amy and Heidi, with a comfy cushion of tons of our buddies nearby. The Vic is a cool theater for Wilco, but it looked rather big for Jeff solo, and when he arrived, it looked even bigger. It was very strange for me to see him alone onstage at such a venue, though I knew it wasn't his first time there. The other solo shows I've seen have been at much more intimate clubs, so I had to wonder how this experience would differ. Well, he didn't seem that comfortable early on, but he warmed up considerably after he could hear us singing right back at him. The setlist was delicious and obviously based in large part on the list we originally submitted for the private show. Later, we found out that our own Dr. J was responsible for the song selection. Heck, I was just happy to hear "Blasting Fonda" again, as well as "ELT" in its entirety.
We didn't do much that night, but after we secured our spots in line, we headed over to Kristina's for brunch the next day to welcome Judy, Jerod, and Miles. I brought over cookies, but they already had a full setup going of all kinds of goodies. This was likely the highlight of my weekend--just hanging out with my friends, eating yummy food, playing with the beautiful baby, and coming together for a big old singalong! Miles is a lovely, adorable baby, and his parents are the cutest pair, as well. That Mart is every bit as talented as I had suspected, and he warmed up our vocal chords nicely.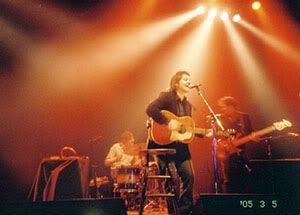 Which is a good thing because sing we did on Saturday night, nearly from the beginning. Saturday saw a bunch of Golden Smog tunes and just a generally relaxed air. For the final encore, in a not very surprising (but very welcome) move, the other members of Wilco minus Nels joined Jeff onstage. Jeff and Glenn kicked off with "Laminated Cat," and when the rest of the band came on, Mike was sitting right at the front, in a new position for him. I finally got my chance to hear "John Wesley Harding" with the full band, and I hope they do that one more often because it sounded great. I missed Nels in many parts, but it was the corker to a great weekend.
Doves, Cambridge Corn Exchange, March 12, 2005:
I ended up shopping in London for longer than planned, so I didn't get to Cambridge until after 6 p.m., as many parts of the town were shutting down. But I took a quick swing around the area and got to the venue about 15 minutes before doors opened. Oh my, a young girl at the front of the line had written "I heart Doves" on her forehead with black marker. I'm not exactly one to speak, but it didn't strike me as being the smartest thing to do.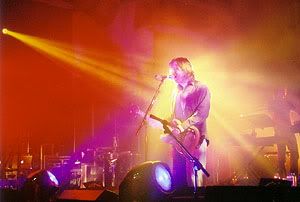 The Corn Exchange is a decent-size room, with huge stone walls in the main area. The stage had been set up with at least a dozen lights for a major light show, which is not that different from what the band had brought to the States on the last go-around, but at least it looked more appropriate in the bigger rooms. I felt a little bit of trepidation about the show. Obviously, I love the band and the new record, but I still had that nagging voice in my head that told me they weren't
great
live. Also, the people around me seemed to be such amateurs. Over here, it takes a little bit more effort to find bands such as Doves, whereas they are chart-toppers back in the UK, so of course, people are going to be more blase about them. Still, I was trying not to get offended by the fact that some of the people around me barely knew any of the songs. Argh!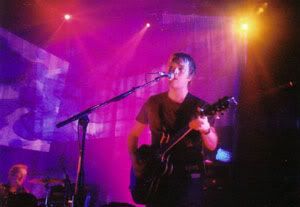 My fears were gone as soon as they started with "Pounding," which filled every nook and corner of the club, and it made sense to me that
this
was how they were supposed to be heard and felt and experienced. They played a pretty good mix of all the albums, though I was surprised there wasn't more of an emphasis on the new one. As I recall, they didn't do "Some Cities," which happens to be my favorite track, but they hit "Ambition," a song that might be passed over by fans. As always "Cedar Room" rocked my world, and they even had a new intro.
The concert ended a little before 11, but unfortunately, I got totally lost in the windy streets of Cambridge and missed the last train back to London. Fortunately, I'm not a panicky girl, so I found a cheap room at a B&B and stayed there for the night. I caught the first train back to London and onto...
Wilco, Nottingham Rock City, March 13, 2005:
Fortunately, I had little problem finding Paul this time, though I killed a couple of hours at the hotel waiting for the group to return from Ye Olde Road to Jerusalem. Then again, I've already been there, and they needed to see the place more than I did.
Paul and I stoppped by Wagamama for dinner before the show, and we noticed that the Concert Hall across the street was hosting Tony Hadley vs. Martin Fry at the end of the month. Eeek! We thoroughly enjoyed our dinner and even picked up a copy of the Wagamama cookbook for our favorite improv guitarist genius dude.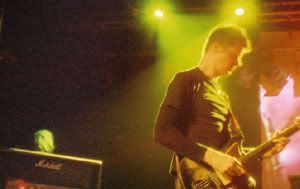 Back at Rock City, the club's steps were already overtaken by the city's disaffected youth, who were destroying copies of such classics as the Bachelors records and other hits from the '50s. The club itself is a little dumpy but very cool; it reminded me of the Paradise in Boston. We were very much pinning our hopes on these tiny venues, so we weren't disappointed. The main set was fine, but the encores really made it for me. I finally got to hear "Outtasite" again after all these years! We bestowed our gift to the tall guy and in return got to hear a long tirade about Iron Chef Flay, among other things. I was also able to clear up some info about my name. Best of all, after the show, the Hilton's lovely beds awaited us. I didn't want to get up the next morning.
Wilco, Carling Apollo, March 14, 2005:
As this was a seated show, we had plenty of time that day to get down to London and even to wander around a bit before the gig. We made it to the Wolseley (recommended in
Gourmet
) for afternoon tea, and it was a divine affair. The desserts were delicious, the scones were adorable, and the clotted cream was dreamy.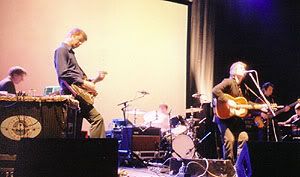 Back at the show, we saw Martha Wainwright's opening set again. I don't recall how many times I've seen her, but it would certainly include a series of shows with Rufus. The title track from her EP,
Bloody Motherfucking Asshole
, is a great Dylan-esque number with one of the most memorable choruses in a while. I like her, but I prefer her folksier stuff, as opposed to the whispery numbers. It's good to see her get some attention, and the London crowd was very respectful of her.
The Carling Apollo is not a small club; by my estimates, it probably holds around 2,500 seated. We had decent seats on Nels's side, but they didn't help a whole lot, as the crowd stayed in their chairs for the entirety of the main set. Then again, Wilco's set was based heavily on the last two albums, so there weren't too many surprises. I wanted to jump around during "Shot in the Arm," but Paul made me sit down. Grrr!
Hands down, the highlight of the show was the last song, where Jeff cited Bill Fay, who was in the audience that night. It's rare to see your rock idol meet his rock idol, and Jeff was obviously very moved by the opportunity. I was glad that I was there to hear it for myself.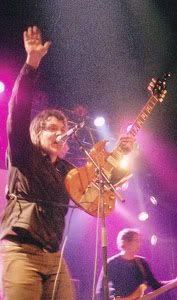 Wilco, Elysee Montmartre, March 16, 2005:
We had a travel day and a day to hang around Paris, and we used our time wisely. We ate, drank, and saw a number of monuments. I really dug strolling down the Champs-Elysees on such a fine morning.
The day before, we had passed by the Elysee Montmartre to see a small line of people waiting to get into the sold-out Mars Volta show. However, this didn't worry us, as we figured it wouldn't be the same for Wilco. So we showed up not too long before doors opened and met Andrew from the UK. He's a dead ringer for Stephen Colbert, even if he has no idea what I'm talking about. Inside, the Elysee Montmartre is not unlike the Fillmore and about a million other clubs I can think of--that is, it's a great place to see a band. And this turned out to be my favorite of the shows. As with the rest of our trip, there were tons of Americans in the audience, but for whatever reason, the band and the fans really clicked this time, and the energy level was awesome. On the downside, there were more obnoxious people at the show, but we managed to not let them affect us too much.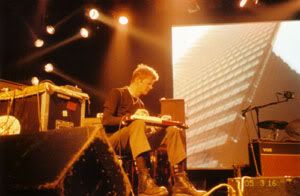 After the show, we hung out, and I got a chance to say good-bye to everyone before I headed home. I think I got a great pic of the Valet and his esteemed Master in a man-kiss, and we designated a couple of honorary Great Wall peeps for photographic purposes. I also admitted that my rock tourism wasn't quite at an end yet. In return, we got to hear about the meeting with Bill Fay. Ahhh, it was a night to remember.
Jon Brion, Largo, March 18, 2005:
I always have this fear that I'll show up at Largo and be told that there's no record of my reservation. I gotta work on that, as it hasn't happened yet. Here's the setlist, as far as I can recall:
1. Same Thing
2. I Thought About You (jazz standard)
3. Maybe You're a Different Girl
4. bluegrass song ("It's a long way to heaven")
5. Here We Go
6. Get Your Freak On
7. Over Our Heads
8. Who Loves the Sun
9. The Love of My Life So Far
10. Same Mistakes
11. rocking song ("So I fell in love with you/So what/Big deal")
12. I'm on a Roll with You
13. Moonage Daydream/Sexy Sadie/New York Mining Disaster 1941/Nothing Between Us
Set 2
14. theme from
The Sting
/long piano interlude/Ashes to Ashes
15. Someone Else's Problem
16.
Jeopardy
theme
17. Walking through Walls
18. ???
19. I Was Happy with You
20. Voices
21. Pop Life (w/ Kanye West dropping in for a freestyling stretch)
Overall, it was a great show, with lots of energy and a good amount of crowd participation, though Jon seemed to have strong ideas of where he wanted to go. He said that his fingers weren't doing what he wanted them to, but my companions (including two first-timers) were stunned by his ability to simultaneously play the guitar and tune it for the next segue. It was nice to see Jon do a lot of his own songs, old, new, and so far unreleased.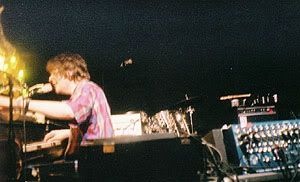 I love that Jon continues to play "Same Thing" yet tries different approaches to it every time, especially in creating the rhythm that kicks off the song. But more surprising and delightful was "Nothing Between Us," which I haven't heard him play for ages. "Here We Go" had a different intro, which Annie's friend says was music from
Eternal Sunshine
. I can't remember the score enough, but I recall that the piano instrumentals sounded familiar, even if I couldn't place them. "Voices" was relatively brief, compared to Jon's previous renditions, when he used the wind-up music boxes as instrumental accompaniment (one of my favorite memories ever). Then again, maybe he knew that he had to keep it short and bring on Kanye before we hit 2 a.m.
Truthfully, "Get Your Freak On" lasted only 20 seconds or so, but it was a fun attempt. The highlight for me was probably the Bowie/Beatles/Bee Gees/Grays medley, and the normally comforting sounds of the tack piano took on a spacey, distant air for "Ashes to Ashes," but Kanye's appearance brought the house down. I've heard Jon cover "Pop Life" before, but tonight's version was a deeper, more soulful take, complete with fuller drums and warm piano backing, unlike Prince's cold, hard critique of '80s lifestyles. In the middle of the song, Jon grabbed Kanye from a dark corner of the room and brought him onstage. No introductions--just a bit of a Vanna-style flourish. Kanye started rapping over Jon's tracks, namechecking his host, himself, and Jay-Z in the process. Again, my friends were flabbergasted, as was I. And for the full starfucker rundown, my friends told me that Kanye was rolling with John Legend at the show.
See also:
»
my cousin's account of the evening
»
top 5 Largo memories
»
get a load of the lengths I go to