I was from Canada.
I think I was 14 or 15 when that song was played on the radio. I was already firmly established as a rabid Anglophile, yet that tune managed to percolate through my consciousness at a time when I swore left and right that American music sucked and my friends looked down on anything that wasn't from the United Kingdom. That line, in particular, has always stayed with me. And now, all these years later, I finally saw Paul Westerberg onstage.
Well, back up a little--I managed to wander into Virgin after his notorious in-store a few years ago, when he left the stage to put some heckling "fan" (?) in a headlock. He wasn't playing, just signing autographs. Since then, my appreciation of his work with the Replacements and as a solo artist has grown, though I'll never reach the level of his most rabid fans.
Paul Westerberg, Great American Music Hall, February 21, 2005:
Even when this show was announced, I told myself to buy a ticket, but I wasn't emotionally engaged. Man, was I wrong. I could never feel the same level of excitement as his most fervent supporters, but he put on a show that managed to surprise and thrill me at many points. I have no idea exactly which songs he played, but I recognized a bunch of Replacements tunes, a few from
Stereo/Mono,
and a handful of covers. It's should be no surprise that the old songs got the biggest reactions, but Paul looked comfortable enough playing them. He and his band were endearingly shambolic. They veered toward chaos a few times, but they managed to hold it together overall.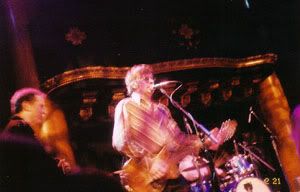 From all accounts, Paul was relatively well behaved compared to past shows. But unlike Cat Power, that didn't mean he had been neutered in any way. He came onstage looking overdressed in tuxedo pants, shiny wingtips, a green peacoat, a striped shirt, a striped scarf, a tie, and a hat. He finally lost the coat about five songs in, and you could see by then that his shirt was unbuttoned. He played like that for a few songs before straightening up while his band played stripper-worthy accompaniment.
Some highlights:


At the beginning, Paul said that he saw Tommy two weeks earlier but didn't recognize him.

Paul repeatedly picked on his guitarist. It sounded like it was a regular thing between them, though his jibes reminded me that his backup band is called His Only Friends. For "Skyway," Paul accompanied himself on acoustic guitar, but his guitarist decided that the song needed maracas. As the guitarist and the drummer quietly started in, Paul stopped the song and asked if Harry Belafonte was in the house. He also remarked that he could tell a white man was playing them. The maracas became a running joke through the rest of the evening.

During (I think) "Alex Chilton," Paul's guitar didn't work, and his poor tour manager/tech guy brought him two different *ahem* replacements, neither of which worked either. The first one, Paul literally threw back at him. The second one, he smashed on the amp.

By the end of the main set, he was bleeding from a cut somewhere around the ear. They managed to clean him up during the short break.

During the encore, he asked his bassist to try to kick in his guitar, but fortunately, the wood held.

There was a thankfully abbreviated attempt at "Stairway to Heaven."

After one ragged song, Paul commented that they sounded like a "drunken Holiday Inn band."

And of course, scattered throughout the evening, there was tons of profanity, forgotten words, and a touch of violence--good times all around!