Lest you think that three days of the festival weren't enough, we also found time for three separate shows. Check 'em out, dear readers:
Wilco, Cain's Ballroom, September 22, 2005:
This show immediately screamed out at me when I saw it listed on WilcoWorld, and fortunately, my buddies agreed. I flew in late Wednesday to meet with Heidi and to hold down the fort while our friends hung out in Columbia, Missouri, and made the long drive through the Ozarks. The next day, we all met up for the first time in a while.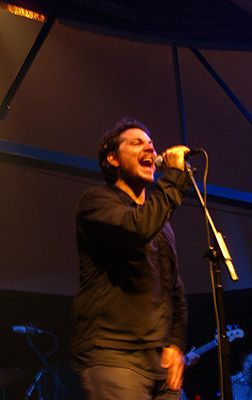 Cain's is an amazing place. Not only is it not a Clear Channel venue, it claims to be the home of Bob Wills and many other old country legends. The outside has a great neon sign, and the inside looks a little like a log cabin. Around the perimeter of the club hang a bunch of photos of old-time country stars. Kingsbury Manx, the openers, mentioned that they liked Tennessee Ford the most, but I wouldn't be able to pick a favorite.
The show is perhaps notable because Wilco played two new songs: "Walken," which has now been played a number of times, and something called "On and On," according to the set list. The former is a rocking tune featuring Jeff on the big, beautiful hollow-body guitar and Nels on a lap steel. The second one definitely sounds like a work in progress; I'm not sure it has much of a chorus yet, and the verses sound spare as well. Overall, the main set was very focused. Jeff didn't say a word, though Nels was incredibly goofy in the best way possible. For the encore, Jeff talked a lot about how great Cain's is, and he made numerous references to Woody Guthrie, one of Oklahoma's most famous former residents.
The crowd, however, stole the show. From the outset, the room had incredible energy, and not just from the drunk, loud guys in the front. It's been a while since I've seen a Wilco show with that much love in the room, and it truly makes a difference. If I never return to Oklahoma, I have very good memories of the town.
Kingsbury Manx opened; I've seen them before with Clinic and quite liked them, but apparently, my memory is shot because they couldn't have been more different from what I recall. To me, they were merely OK, as much as I wanted to enjoy their set.
Arcade Fire, Stubb's BBQ, September 23, 2005:
After John Prine's set
, we immediately left for Stubb's BBQ to catch the Arcade Fire show. We quickly discovered that Stubb's is a great venue. It's basically a BBQ restaurant with a backyard that hosts concerts. The floor is gravelly, and the stage is fairly small, framed with a bandshell-like awning. It really feels like you're just hanging out in your friend's back patio. It was already crowded by the time we arrived, so we stayed in the back. We missed the first opener, What Made Milwaukee Famous, but caught the Black Keys' opening set. I can see their appeal, but it's not my cup of tea, and the songs tended to sound the same after their cover of "She Said, She Said."
The Arcade Fire started with "A Hard Rain's A-Gonna Fall," referring to Hurricane Rita, which was still a threat at the time. Apparently, like many others, the band had a lot of problems getting into Austin on time, though they had obviously arrived, and it also served as a shout-out to Win and Will Butler's hometown of Houston. That went straight in to "Wake Up," and in a now customary event, I heard the voices around me lifting in unison to that wonderful intro. When I hear that song nowadays, I want to sing it in a Bowie voice. The other surprise of the set was David Bowie's "Five Years"--perhaps they had rehearsed it with him earlier but didn't get to play it. I'm way too suggestible, but "Crown of Love" immediately followed, and for the first time ever, I realized the eerily prominent Bowie imprint on it, especially the huge swooping chorus. I had been so blinded by the Talking Heads similarities that it had never occurred to me that they might've listened to other records.
Fortunately, their stage show is almost as good as their sound, and we got some of the same goofiness from the band members. The horn and string section tried to match the percussive faction in terms of violence, but it's hard to beat the terrible two on stage right. Will tried to climb some of the speakers, though Richard managed to not cut himself or his pants. At the end, Win threw himself into the audience, but I think he emerged at the end.
At this point, it had been less than a week since I saw the Arcade Fire from a seat halfway up the balcony
at the Warfield
, but standing up, jumping around, and belting out the tunes with two of my good friends made all the difference in the world. Sure, I had to crane my neck around the tall guy in front of me, but seeing the huge grins on my friends' faces and returning them with my own sense of joy and celebration took it to another level.
Wilco, Stubb's BBQ, September 23, 2005:
I have a bootleg of a legendary show that Wilco played in Austin at the erstwhile Liberty Lunch on November 7, 1997. Not only did the crew sing a hilarious and very out-of-tune version of "Won't Get Fooled Again," the gig was interrupted by a guy who (apparently) threw a beer at Jeff and was then reprimanded for his actions by being brought on to the stage, forced to sit there under the glares of the band and the audience. Needless to say, I wanted to be there. You can't turn back the clock, and I'm more in love with this Wilco lineup than any that's come before it, but based on that show and the city's reputation, Austin has loomed large in my mind. In fact, I had planned to go in the spring of 2004, but of course, those gigs didn't pan out.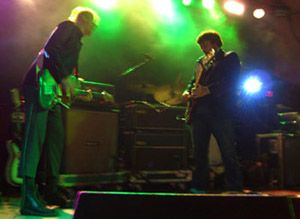 From the outset, the band and the crowd carried on a mutual love affair. The energy from both sides of the barrier was amazing. The band was in a great mood, and the audience roared its approval. I was a sweaty mess, but it occurred to me that maybe the heat loosened up southern audiences in a way that we supposedly sophisticated coastal people can't understand. I'm totally stereotyping, and I don't even know how many people were from Austin, but I haven't seen a reaction like that in many towns for a while.
Maybe it's pandering, but I loved hearing the lyrics of "Kingpin" altered to "living in Austin"--that's a no-brainer! To say I favor Nels is a laughable understatement, but he seemed even more intense than usual, nearly falling over his pedals stack during the end of "Shot in the Arm" and pretending to play Mike's keyboards at one point during the show. The encore started off with a "Monday/Outtasite" medley and Jeff mouthing the title to Kristina before the second song kicked in. They cut their set short, probably because of the curfew, and the "Should've Been in Love" we heard during soundcheck never materialized, but for me, the show was so full of energy that I didn't mind at all. Hopefully, it won't be another 10 years before I return to Austin.
See also:
»
i hear you sing a golden hymn
»
here comes the action/here it comes at last
»
it's been a while