Whoa, I have a lot of ground to cover this time. Another big update to follow.
Aqualung, Great American Music Hall, June 6, 2005:
I asked Lila if she wanted to go this show, as I figured it was right up her alley in terms of wimpy British music, but she didn't come. Granted, she might have been a little tired from her four-month Glasgow adventure, but I didn't sell the band too hard. I still think she would've liked it, but maybe she'll realize it later.
The opener was a guy named Cary Brothers--well, him and another guy on guitar, but the guitarist stated early on that they were
not
brothers. He too understood how confusing his name could be and commented on that early in the set. He played very earnest folky stuff, and he sounded pretty good. He seemed an odd match with Aqualung, but the guys from Aqualung joined him for his last song, so there must've been some connection.
I've heard a few Aqualung songs on KEXP, and I liked them, though I haven't run out to buy the albums. They've come to San Francisco a number of times now, but I've always had other plans, so this was my first chance to check them out. Overall, the show was OK. The faster songs were pretty good, but the quieter songs were precipitously wimpy. The main guy, Matt Hales, talked a lot between songs, but he never raised his voice above a mellow whisper--not exactly filling the room and almost encouraging me to fall asleep on my feet. One woman yelled out a request for a song he had written about the Castro last time they were in town playing the Swedish American Hall. Instead, he asked what neighborhood we were in and responded with a song about the Tenderloin, rhyming "meat" and "meet" in the process.
I hate lazy music journalism and the need to lump bands in with one another, but even as I took in the show, I realized how easy it would be to group Aqualung in with the current batch of post-Coldplay bands getting much more attention they deserve--Keane being the most disturbing example. I'm old enough to remember, for example, the supposed post-Oasis flurry of UK guitar bands and how bad they were, not to mention their overwhelming commercial thud in the United States. I'm reluctant to join the knee-jerk reaction of filing them in the same category, but then again, I can hear the similarities too.
Wilco, Greek Theatre (Berkeley), June 11, 2005:
It was as much a surprise to me as anyone that Wilco was coming back to California, much less the Bay Area, so soon and in so big a venue, but who am I to refuse when they're playing my former campus? It's yet another testament to my dementia that I willingly chose to see them in a amphitheater I have skipped many, many times in the last few years, even when bands I like have played there.
We had a good group of people at the show, including a visit from the Canadian branch of our sect, and I was so happy to see that we could welcome them to our fair city while the sun was shining and the birds were singing. It was a warm day by Bay Area standards, and I'm sure all of us got a nice glow from sitting out in the sun, waiting for the gates to open. I love Berkeley in the summertime, and we managed to squeeze in a trip to Caffe Intermezzo and the original Amoeba.
I was absolutely delighted to hear "Misunderstood" as the opener, just because I was back in my old neighborhood. Other highlights include "Sunken Treasure," which is the perfect song when you want those gorgeous, lonesome notes to hang in the lovely summer night air; and "Just a Kid," which was the first time I've heard a proper full-band version of the song. Jeff was in an incredibly goofy mood and started yakking from the get go, barely letting up through the course of the gig. Not surprisingly, he flubbed the lyrics to "Shot in the Arm," but in a completely unexpected move, he missed the first line from "Sunken Treasure," as well. Also, Nels was in a great mood, smiling and laughing quite a bit throughout the show. Because of the height of the stage, I could barely see Glenn or Mike. At the very end, after "Heavy Metal Drummer," Nels stood by, looking at Jeff and holding his guitar lead held out expectantly, ready to break into another song. Though we had 15 minutes left before curfew, they cut the gig short and left the stage. Ah well, I had a good time, and as a bonus, I got to show off my old campus.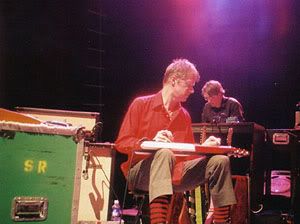 Wilco, Greek Theater (Los Angeles), June 14, 2005:
In recent years, I've been surprised at how much I really dig Los Angeles. As a Northern Californian, you're practically required to hate LA, but I've seen a lot of good shows there not spoiled by the supposedly jaded and self-serving crowd. Sometimes, it makes me think that our NoCal reserve is an embarrassment. I was hoping that by the end of this trip, Maudie and Paul would feel the same.
We got to the Greek Theater at a ridiculous time and, with nothing else to do, sunned and took in the gorgeous surroundings. Griffith Park is a huge, woodsy area slightly up the hill. I believe you can hike up to the Hollywood sign via one of the paths; however, according to the posted warning signs, you need to be careful of mountain lions and rattlesnakes. Eeek! I couldn't get over how gorgeous the weather has been lately. The Bay Area was warmer than I expected, and LA was cooler--both hitting the perfect equilibrium. I have no complaints on either end.
I had told my pals that, according to some old videos I've seen, the pit area is very, very close to the stage, and we would have a great vantage point. When they finally let us in, my prediction turned out to be exactly right. The pit was tiny, you needed to have your ticket stub and a staff-issued wristband to get in, there was no barrier at the front, and the stage was only waist high. We soon realized that despite the size of the venue, this was the most intimate GA gig we had seen in a long time. Yeehaw!
The Roots came on first, around 7:30. They were ostensibly the main reason I had chosen to hit this gig. I really wanted to check them out, and a double bill seemed like the perfect solution. They put on a great, energetic show, but the Greek was, at most, 1/3 full. We appreciated their set, but I can't say the same about many of our neighbors. I'd really like to see them with a crowd of their fans, someday. We had a great view of ?estlove, who called out musical cues to the rest of the band. The MC called him the "maestro," and there was no arguing with that. Also, Vernon Reid, formerly of Living Colour, joined them on guitar, and he was every bit as smoking as I remembered. It was a pleasure and a privilege to check them out.
I don't go into shows with expectations about what I want to hear and what the band is required to play. There are some songs I don't like, there are many songs I've heard countless times, and there are sometimes those transcendent experiences. But regardless, I try to take home a memory or two that is unique to that one show, whether it's an ad-lib, a different course of guitar noodling, or crowd interaction, and I believe that Wilco is still capable of that, regardless of the number of times I've seen them live. For this show, it had to do with the undeniably family-friendly atmosphere. Jeff dedicated "Remember the Mountain Bed" to Nels's mom because [paraphrased] she's his hero and to Nels, because he's the band's hero. Nels, ever so elegant, acknowledged the applause and did his usual amazing work on the steel pedal. Later in the show, you could see Jeff staring out into a specific point in the audience. He told the crowd that he could see that his five-year-old was asleep and apologized for what he had to do next, which went against all his instincts as a parent. With that, he launched into the scorching intro to "I'm the Man Who Loves You."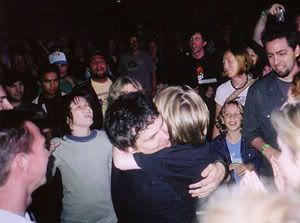 For the "second" encore, during "Hummingbird," Jeff jumped off the stage and into the pit, where his family had been watching the show. He took Sam from Susan's arms and danced around with him, kissing his forehead, and holding him gently. The whole family, along with their friends and extended family, danced as well. With some effort, Jeff came back onstage at the end of the song, but by then, Susan, the boys, and their crew had made their way to the front of the stage. Susan let Sam sit on the edge of the stage, and he looked very much like he had just been awoken from a sound sleep. Jeff commented that Family Services would be along soon, and those of us up front can verify that it was incredibly loud at the edge. Jeff pretty much played to them for the rest of the show, and at the end, he scooped Sam up in his arms and took him backstage, with Spencer trotting after them.
And once again, I stand by my conviction that LA can be a great place to catch a show.
Stephen Malkmus & the Jicks, the Fillmore, June 15, 2005:
I was back on the first flight out of LA, spent about 10 hours in the office, managed to squeeze in a 30-minute power nap at home, then off to the Fillmore to catch Steve Malkmus and the Jicks. Cuong decided to join me tonight--totally weird but always welcome. Can you believe it was his first time at the Fillmore ever? Who are these people, and how are they related to me???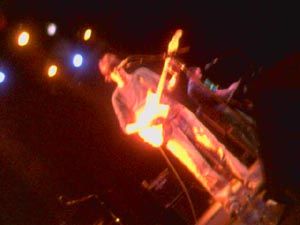 Martha Wainwright opened, this time with a full band. She seemed slightly out of it, but I quite like her, though I have yet to buy any of her music. It's funny how "Bloodymotherfuckingasshole" sneaks up on you. You think you're listening to some soothing folksy ballad, then you realize she's cursing up a storm. I wish her the best of luck. It's probably not easy trying to get a piece of the spotlight when you're in such illustrious family company.
I was so happy to see that the Jicks are intact. I thought that maybe they had lost John Moen for good after he signed up with the Decemberists, but it turns out that he was on the hook for only a temp assignment. They opened with "Jenny and the Ess-Dog," everyone's favorite. Obviously, there was a huge emphasis on the new album tracks, and the record has grown on me over the last few weeks, due in no small part to Cuong's appreciation of it. Even the
Pig Lib
songs sounded good. Steve started out sounding like his usual laconic self, but by the end of the show, I couldn't decide if he was stoned or drunk. I was delighted to see John take the mike and the guitar (while Steve played drums) for one of his own songs, though I think he admonished someone for being asleep during his turn at the front. He's a good foil for Steve, though there's no denying who runs the show. I came away thinking that Steve is a really cool guitar player, and his vocals have improved drastically over the years. Perhaps the tension that helped make Pavement so great to see isn't there anymore, but that's not a fair comparison, is it?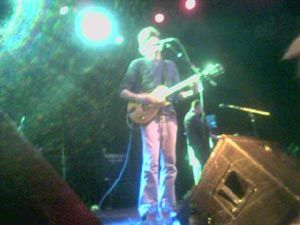 Whenever I see the Jicks or PSOI, I always wonder if this is how the old Uncle Tupelo fans feel about the split, that no matter how either player continues to evolve, it won't ever be the same as the original. I'll buy Malkmus and Kannberg CDs as long as they continue to release them, and I don't want to rain on any of the new fans' parades, but man, if they only knew the glory of Pavement when they were still around.