Pictures probably won't come until later this weekend, but here's the last dispatch from the southland adventure:
Jeff Tweedy, Spreckles Theater, February 11, 2006:
San Diego is the second largest city in California, but it's basically a tertiary market. In certain ways, it's a far cry from Los Angeles, which is probably one of the reasons so many people love it. I'm not one of those people, but it's a decent place to see a show, especially if you're already hanging out in LA and have many hours to spare.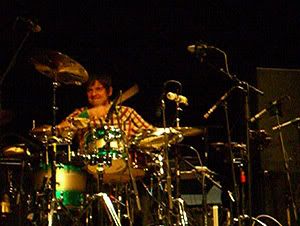 We met up with the McCormicks, took a quick spin downtown for dinner, then settled in at Spreckles, one of those old-fashioned theaters with a flashing marquee on the outside and regal box seats on the inside. For all its style, gravitas, and stellar acoustics, this sort of room is a killer for the kind of shows I like to see. And though I tried to keep an open mind, that's pretty much what happened. The setlist was nothing extraordinary other than "Sugar Baby," and the show felt rushed. Also, there was a big commotion over a woman talking in the audience, and the incident cowed the audience. Worst of all, the "cock" story was resurrected. Argh! I don't need another five years of people yelling that at shows and feeling unaccountably proud for doing so.
Coincidentally, the Disney Music Hall had hosted a McSweeney's evening that features John Hodgman, Patton Oswalt, and--drumroll, please--
Jon fucking Brion
. Unfortunately, tickets were completely sold out. Should I have tried to go there? The question will eat at me for a while.
Jeff Tweedy, Henry Fonda Theater, February 12 and 13, 2006:
The location for this show was perfect. Roscoe's Chicken and Waffles was half a block down, Ocean Way required a mere turn around the corner, and Amoeba couldn't have been more than a 10-minute walk to the west. Unfortunately, the staff wasn't as accommodating, and on neither night did we make it all the way to the front (well, I managed to squeeze in with my friends Dean, Adam, and Paul the first night).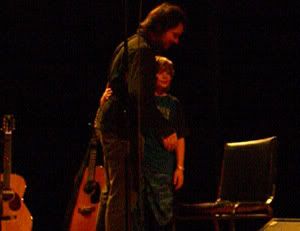 Sunday's show saw Jeff recovering nicely from the San Diego debacle, helped along, I'm sure, by the incredibly attentive crowd. Again, the setlist was mostly predictable, but the highlight was definitely Spencer Tweedy's turn onstage for "I'm the Man Who Loves You," dedicated to "mommy." Not living in Chicago, I've never seen Spencer play with Jeff before, so it was so cool to see how good he is! Wanting to give due credit to both sons, Jeff also told a cute joke by Sammy. LA isn't known for its charm, but it was in abundance that night.
The second night was even better, for lots of reasons. From the outset, Jeff made clear his intentions to play to Susan Miller, seated in the balcony, and his song selection shaped up to be a long valentine to his wife. He joked about it to mock the guys in the audience, but the tunes spoke louder than anything else in the room. Nels opened this show, and as in San Francisco, he and Glenn joined Jeff for the encore. No one seemed to want it to end, as Jeff coaxed song after song out of them. The highlights for me were "Dash 7" with Nels on the dobro and "Blasting Fonda," which may or may have not been triggered by my request. Even better, we didn't get "Heavy Metal Drummer." But best of all, both Paul and Brianne were namechecked from the stage, though for different reasons.
Our last night in town was just about perfect. As we said good-bye to the guys, we simultaneously celebrated Heidi's birthday. Many hugs, desserts, and hours later, we were in the hotel lobby, trying desparately to head upstairs and get some sleep but barely succeeding.
Each of these adventures is different, but I always hold the West Coast dates close to my heart, as they're my chance to show off my favorite places. I think we did OK this time? ;)
See also:
»
it's still beyond me
»
top 10 concerts of 2005