I'm not here too long this week, folks, but before I run off again...
Jeff Tweedy, the Fillmore, February 8 and 9, 2006:
A couple of years ago, when there were some whispers of a solo tour by Jeff Tweedy, I guaranteed everyone that his next San Francisco stop would be the Fillmore now that he had far outgrown the Great American Music Hall. Then again, with Wilco's phenomenal success over the course of the last few albums, Jeff could've moved on to at least the Warfield by now, so I was grateful to see him at the relatively smaller venue.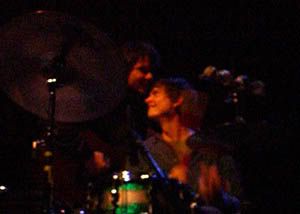 It may sound like an oxymoron, but there are rules when it comes to going to gigs, and one of the foremost is that the last night is always the best, though there are some exceptions. The first night was certainly good, especially during the encore, when both Nels Cline and Glenn Kotche joined in, but the song selection was more customary. Yes, I realize a night where Jeff plays "Pieholden Suite," "Summerteeth," and "In a Future Age" can hardly be called ordinary, but the majority of songs wasn't too surprising. As usual, Jeff told stories and faced down hecklers. In San Francisco, the hecklers tend to be affectionate, if sometimes clueless. We can be a reverent lot, and for the most part, we stayed silent during all the important parts.
The second night saw a handful of repeats but, more notably, a ton of older songs that justified our goofy undertaking. I kept turning to my cousin Annie in amazement and telling her that she was witnessing a hell of a gig for her first solo Tweedy experience. Judy got "Lost Love" (one of my favorites as well), we were far from the only people singing along to "Someday Soon," and "Gun" is always rousing. Capping off the two-night stand with a truly unplugged "New Madrid" to a rapt crowd--and without the camera crew in the room--was the perfect ending. Our group was in wholesale agreement that we had seen one of the best shows of the tour so far. It was going to take a lot to top this one, but if it was possible, we'd find out in the next few days.
For these shows, Nels Cline opened the first night and Glenn Kotche the second. On the first night, they both joined Jeff on the encore, but it was just Glenn on the second night (Nels was on tour with Banyan, I believe). I hadn't seen Nels entirely solo before, so I was excited to hear him for myself. As usual, he surprised me yet again. As I suspected, there was some crossover in Nels's solo set and the
improv nights with Jon Brion
, but Nels took it a step further by singing into the hockey puck-like device, which in turn distorted and projected his voice into an eerie, airy drone. There were jagged, discordant passages, along with soaring, melodic lines, but I'm the wrong person to try to characterize them.
The affection between Jeff, Nels, and Glenn flowed freely, and the interaction between Jeff and Glenn tickles me to no end. Toward the end of the night, Jeff came over and kissed Glenn on the head. It would be presumptuous to give all the credit to this fair city, but we'll take them any day.
See also:
»
it's still beyond me
»
top 10 concerts of 2005
»
i'll be back again
»
the other side of the mountain