I always say that Jeff Tweedy solo is the other half of the Wilco equation. Now that I've seen Glenn Kotche (more on him later) and Nels Cline on their own, I'm not sure my mantra holds, but Jeff's solo outings certainly offer a glimpse into the major factor driving the band, especially as they seem to be moving toward a more complicated sound.
Jeff Tweedy, Messiah College, November 12, 2005:
Three years ago, I pulled what was at the time a pretty goofy move by my standards: I dragged my friend Melissa to the Wilco show at Messiah College, an obscure school outside of Harrisburg, Pennsylvania. The show was fun for a number of reasons, but the venue was bizarre: the college gym. Regardless, when Jeff Tweedy's concert at the same college was announced, I didn't hesitate to pick up tickets.
Of the three shows, Messiah was probably the best, partly because it was general admission, partly because my buddies were there, and lastly because the energy level was great. You could hear the crowd singing along--an act I took for granted until the later shows on our trip. Jeff, as always, was warm and engaging, and in the end, the songs just sounded
so
good. Jeff tried to open up (jokingly?) a dialogue about religion, in reference to a Faith & Culture conference going on at the school at the same time, but a dark, cavernous gym is perhaps not the right place for the discussion.
Also, Jeff did the songs requested by Brianne and me, though we heard one of Brianne's selections only at soundcheck. I haven't been downloading recent Wilco stuff, so the new songs were surprises. Jeff has been playing the Loose Fur song at just about every show, but during soundcheck, we got another new title, presumably written from the perspective of a child welcoming a new sibling home.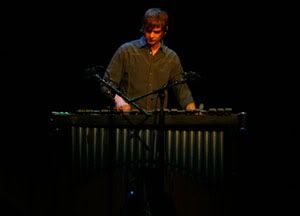 Of course, Glenn opened--the first time I've seen him outside of Wilco (not counting
the Largo appearance
that I will never shut up about). He was breathtaking, and I was beyond impressed. The first song, the title track "Mobile" from his forthcoming solo album, is incredibly melodic and varied. Then came the Balinese monkey chant, which was unlike anything I've ever heard before. He followed it with a vibes composition based on an African piece of music--I wish I could be more specific, but I'd be doing it a huge disservice to take a stab at its origins. After that was a enchanting João Gilberto cover, followed by Glenn's own "Projections of What Might." Glenn's influence on the current Wilco lineup is undeniable, but hearing and seeing him solo makes me realize how much I've missed. At each show, Jeff found new ways of making fun of Glenn (all in good fun, of course), but the respect and dedication between them comes through in their playing as much as their joking.
I hope Glenn somehow makes it to the West Coast. I'm lucky enough to see various Nels Cline projects, but I'd trade in a few of 'em for some Glenn Kotche shows.
Jeff Tweedy, Calvin Theatre, November 13, 2005:
We drove through five states the next day, and I got to take in the fabled Eastern fall foliage. In Northampton, we met up with Dave and Selene for a preshow meal. I could easily hang out with Dave for a long time--he's such a good guy. The best part of the gig was probably when Jeff asked for requests and pointed straight (in the dark) at Dave, who was prepared with his plea for "Fatal Wound." Alas, no luck there, but I give major props to Dave for trying. The Calvin show was good, though as a sit-down venue, it's already at a disadvantage. Still, we got in our singalongs and handclaps, and the people around us were notably moved and involved. After the show, I got confirmation that I'm regarded as the Jon Brion freak by more than a few people--now if only it would help my Google count. Grrrrr.
Jeff Tweedy, The Egg, November 14, 2005:
The Egg is like a venue out of a dated sci-fi movie, rising from the Albany landscape like the Vince Lombardi trophy. Inside, it was a very grown-up venue, a far cry from Messiah College just two days previously. Before the show, Sooz and Paul scurried about secretively, leaving Heidi and me to take in Stan's great between-set mix (the Zombies!). During the encore, their tricks became apparent, as Jeff played my remaining request for "Promising," a song that he was supposed to play at the basement show but didn't quite get to. He couldn't remember the first words, and I was too shocked to recall them, but he managed regardless. This was definitely my favorite part of the show, made all the more apparent in contrast to the abysmal crowd throughout the rest of the gig. The hecklers were ridiculous, and though Jeff visibly strained to hear us during an early song, we were bitchily urged to shush during our singalong to "Heavy Metal Drummer," a tune we don't even like! At that point, we sort of gave up and let the comatose crowd dig its own hole.
Mart Rivas and Craig Meyer, Slane, November 15, 2005:
Mart forgave us for showing up late after we explained to him that we had just came from an incredible meal at Babbo, where we saw Bruce Springsteen, Patti Scialfa, Michael Stipe, and Michael's boyfriend having dinner together--on the 30th anniversary of
Born to Run
, no less! But there was no way I was going to miss Mart's gig.
First off, I have to say that Mart obviously played to Heidi all night, doing just about every song that she requested! But I won't hold that against either of them, especially since Mart made everything sound so great, even a couple of Madonna classics and my favorite single ever released, "When Doves Cry." Bless Mart for putting up with our caterwauling, considering he can more than command a room with his soulful, sweet voice, no thanks to us.
See also:
»
i won't be denied
»
i'll be out on the town