Based on my fervent scanning of local club dates, it looks like we may already know some bands that may take part in
Noise Pop
2006, no thanks to the rarely updated official site. Mark your calendars now:
Supergrass:
February 23, Great American Music Hall
Robyn Hitchcock/Minus 5:
February 27, Slim's
And of course, happy Thanksgiving to you all! Nigella Lawson's cappuccino concoction easily beat out the pumpkin cream cheese tart. Next time, I think I'll make individual versions in ramekins. It's supereasy--try it for yourself. (Note: The image below is from the
New York Times
and is not a representation of what came out of my oven.)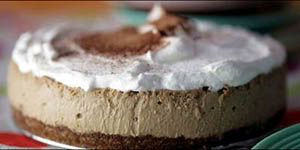 Recipe: Cappuccino Cheesecake
Published: May 18, 2005
Time: 1 hour 10 minutes, plus several hours to overnight for chilling
For the base:
1 cup graham cracker crumbs
1 teaspoon instant espresso powder
1 teaspoon cocoa powder
3 tablespoons soft butter
For the cake:
1 pound (2 cups) cream cheese, at room temperature
1/2 cup (packed) brown sugar
1/3 cup white sugar
2 1/2 teaspoons instant espresso powder
2 large eggs
2 large egg yolks
1 tablespoon Kahlúa or other coffee liqueur
For the topping:
3/4 cup heavy cream
1/8 teaspoon cocoa
1. Prepare base: In a food processor, combine graham cracker crumbs, espresso powder, cocoa and butter. Press into bottom of a 7-inch springform pan. Place in refrigerator.
2. Prepare cake: Heat oven to 325 degrees. Fill a kettle with water and bring to a boil. Wash bowl of food processor, and combine in it the cream cheese, brown sugar, white sugar, espresso, eggs, egg yolks and Kahlúa. Process to make a smooth mixture with no coffee powder visible.
3. Cover outside of springform pan with a protective layer of plastic wrap covered with a double layer of foil. Fill with cake batter, and place in a roasting pan. Pour boiling water into roasting pan to come about halfway up side of springform pan. Bake until middle of cake is set but not firm (it should still wobble), 40 to 50 minutes.
4. Remove cheesecake from water bath and place on a rack. Remove outer layers from pan and allow to cool completely. Refrigerate for at least a few hours, preferably overnight.
5. Remove cheesecake from refrigerator 20 to 30 minutes before serving. To remove from pan, slide a knife around inside edge of pan, then release sides. Place cheesecake on a platter.
6. Prepare topping: Whisk cream into soft peaks, and spread on top of cake. Push cocoa through a fine-mesh sieve to dust cake.
Yield: One 7-inch cake (6 to 8 servings).
p.s. I still like Jon Brion. A lot.