I
almost
made it to a show not related to my twin musical obsessions. Instead, I ended up selling my Supergrass ticket, Cat Power cancelled, and I hadn't intended to go to the Robert Pollard show anyway. No big whoop on any of them--I've seen them all, in one form or another, a million times. However, I managed to hit the gigs that combine my two favorite fixations. I'm nothing if not consistent (ha!).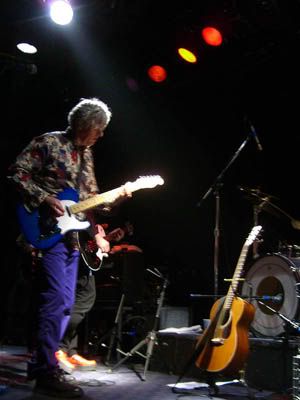 Robyn Hitchcock and the Minus 5, Slim's, February 27, 2006:
Robyn Hitchcock and the Minus 5 are, of course, very loose affairs at best; the latter consists of whichever musical pals Scott McCaughey can coerce into recording and/or going on the road with him, and the former is often a subset of the latter.
I finally saw the Minus 5 with and without Wilco a few years ago and was won over. Ahhh, that pajama-clad show at Cafe du Nord, my career-threatening injury at the Abbey Pub, and the ensuing 15 seconds of fame at the Bowery Ballroom--what's not to love? There's also the matter of their not coming around often, so you take what you can.
For this tour, they served as the openers and as Robyn's backing band. It's a seemingly unusual arrangement, but Scott and friends know the drill. On their tours with the Young Fresh Fellows and Tuatara, for example, the difference between the openers and the headliners amounted to a few swapped instruments and little else.
As openers, the Minus 5 played a longer set than the usual warm-up act, though they skipped a few songs on the setlist. Scott took lead guitar and vocal duties, John Ramberg and Peter Buck (on guitar and bass, respectively) re-inked their contracts, and Bill Rieflin manned the drums. Gone was Ken Stringfellow; Jim tells me he's with the reformed Big Star these days, but the band dedicated "A Thousand Years Away" to him anyway.
I gotta say: Peter Buck looked
hot
(sorry, Sooz!). His hair is shorter, he's lost some weight, and he sported some bling (two small gold hoop earrings). He seemed kinda louche on the bass, at times crouching on the floor, at other times contorting himself into
Karate Kid
-worthy shapes. Julie speculated that he's been doing yoga, but I detected hints of posturing.
Compared to the shambolic gigs I've seen previously, the Minus 5 managed to keep it together admirably. Scott didn't bear his usual fifth of Maker's Mark, though he had a glass of some doctored cocktail/elixir to treat his throat, and Peter drank mere tumblers of red wine, as opposed to taking swigs straight from the bottle; then again, they still had half a show to get through.
They played a lot of songs from the new album, as well as older tunes. I think all their songs should be hits and could listen to them delve deeper into the catalog, but that'll be another show. Scott namechecked Jeff Tweedy during the show for not being around to do his guitar solo on "With a Gun"; he also mentioned the
Amoeba story
. Personally, I missed Jeff's vocals on "The Town That Lost Its Groove Supply."
For someone who's not exactly a Robyn Hitchcock fan, I've seen him a lot, usually in association with someone that I really dig, such as the Flaming Lips,
Grant Lee Phillips
, and
Jon Brion
, to name three. In contrast, the crowd at Slim's was definitely there for Robyn. As usual, he wore an atrocious shirt (though it doesn't hold a candle to
Jon Brion's jacket
). He started off by himself on acoustic guitar, covering a Syd Barrett song. After a few more solo numbers, the Minus 5 (sans John Ramberg) joined him onstage. This time, Scott took the bass, and Peter grabbed the lead guitar.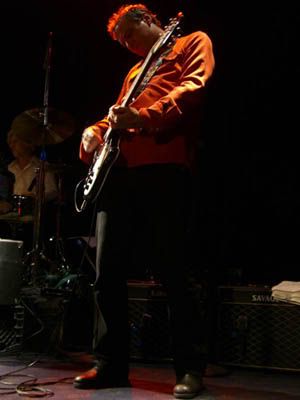 I can't compare Peter's performance to that other gig he's kinda known for, but to my ears, he sounded fantastic, churning out the jangly, melodic notes that made so many people fall in love with a certain band from Athens, Georgia, in the first place. My friend Joe mentioned what a treat it was to hear Peter cut loose, especially on the 12-string, and Jim said he was surprised that Robyn turned over so much of the lead guitar duties to Peter. My admittedly underinformed impression of Robyn's body of work is that he writes quirky, folksy songs, but with Peter on guitar, the tunes had a lot more teeth than I expected and could even pass for pop songs--in a perfect world.
They ended the set with the crowd pleasers: a cover of "Eight Miles High" and the Soft Boys' "I Wanna Destroy You." And when we thought that they had packed up, they invaded the stage once again for a final cover and a true Minus 5 moment. Scott took the lead guitar and vocals, Peter sat rather awkwardly on drums, Bill took bass guitar, John came back to the fold, and Robyn sang and flapped his arms around.
One down, one more to go. I can't wait.
See also:
»
unplug the jukebox and do us all a favour
»
Take Me Home, Country Pigeon
»
top 5 Largo memories