If I've said it once, I've said it a thousand times: The last night of any multiple-night stand will probably be the best. Mark my words.
Scott McCaughey, Thee Parkside, February 28, 2006:
The gig was advertised as "an evening with Scott McCaughey," but it was a badly kept secret that the rest of the Minus 5 would show up, and it took only a brief gander across the small room to see their faces. Alas, Robyn Hitchcock couldn't make it, but considering his ties to the Bay Area, he probably has a full schedule around town.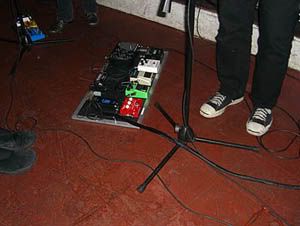 Scott McCaughey and Thee Parkside are meant for each other. You may know Scott; now picture a neighborhood bar far from the hustle and bustle of downtown. It holds no more than 100 people but probably much fewer. In the corner is a sliver of a stage that's raised about six inches off the main floor and barely fits a drum kit. In fact, the majority of the band has to stand at ground level, directly facing the audience, who watch from less than a foot away. Also, the band has to perform with no monitors, as there simply isn't enough space. Thee Parkside makes
Largo
look like the Royal Albert Hall. Of course, I love the place.
Last night's gig
was superfun, but it was definitely Robyn's show. In contrast, this was the Minus 5 I know and love. Surprisingly, they were nowhere as drunk as I've seen them in the past. There was no setlist, they took a ton of requests from the audience--though they passed over my call for "I Wish I Was Your Mother," as they couldn't remember it--and they invited Roy Loney (formerly of the Flamin' Groovies and the Phantom Movers) to the stage for a couple of roaring songs. Their choice of covers ran the gamut, but the majority could've been ripped right out of the liner notes from the
Nuggets
box set. My favorite was probably the Beatles' "You Can't Do That," but of their own songs, I loved hearing "Got You." If I had felt more enterprising, I might've requested "Great News Around You," but I was pretty happy with the choices. They did "Rifle Called Goodbye" for the first time ever, according to Scott, and they attempted "Aw Shit Man" as fast as they could.
Larger rooms can be cool, but I've found that the smaller the venue, the more intense the gig. At the least, I notice certain details more readily at these intimate shows. Maybe it was a product of listening to Joe rave about the rhythm section before the show, but at Thee Parkside, I heard Bill Rieflin's drumming loud and clear in a way that Jon Wurster hadn't delivered the other times I've seen the Minus 5. In turn, Bill Rieflin was a far way off from Glenn Kotche, who conveys a lot more subtlety and nuance than just about any drummer I've seen. John Ramberg was excellent as always, adding to the team at every level, whether on guitar or vocals (lead and harmony). Scott was his normal jocular self, making up stories and fielding banter. However, Peter Buck showed little of the fire he had
the night before
. It's kind of fun to see him on bass, but he didn't seem quite as engaged as the other guys in the band. Also, he wore head-to-toe black leather, including a ruffled shirt. Ummm, yeah. To his credit, however, I think he suggested "Teenage Kicks," which was loads of fun.
If the Minus 5 stays on track, they should be back in the Bay Area around 2010. See you then.
See also:
»
you won't have an atom left