I'm finding stray bits of confetti in my bag, my clothes, my apartment, and my cousin's car--and I couldn't be happier. The explanation follows.
The Flaming Lips, Bimbo's 365 Club, March 27, 2006:
Back in 1998, the Flaming Lips conducted one of their first Boombox Experiments as part of the Noise Pop Festival at Bimbo's. I recall wanting
so
badly to go and no one taking up my offer. That gig haunts me to this day. But even if it weren't for those regrets, attending this show was a complete no-brainer.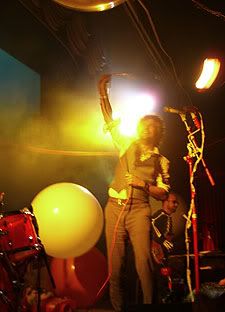 If you've checked out the Lips in concert at least once since 1999, you kinda know the schtick: fake blood, hand puppets, confetti, balloons, mayhem. And if you were less than enamored with their music, you might not care for the spectacle.
I've seen the Flaming Lips a number of times now, and I'm not one of those people. I've loved the last few albums, the energy of their performances, and maybe those crinkly laugh lines around Wayne Coyne's eyes. Heh. Of course, on the last occasion, I was in my pajamas and surrounded by a gaggle of some of my favorite people at Madison Square Garden. It would be a tough act to follow.
Bimbo's holds about 800 people, and its stage can support a good crowd. For example, it fit all of the New Pornographers and at least another 7 or 8 audience members who had been invited onstage to play air instruments. Thus, I was surprised that the Flaming Lips chose to use only the front 1/4 of the stage, squeezing in not only their equipment but all their accessories as well. In fact, they almost misplaced the nun hand puppet that accompanies Wayne at the end of "Yoshimi." But more on that later.
Before the music began, Wayne welcomed the Noise Pop organizers and an official from the mayor's office, who asked him to read an official proclamation for Noise Pop Week in San Francisco. From there, it was on to the favored Lips opening: "Race for the Prize," complete with all the usual goodies. The balloons, confetti, and streamers rained down on us, and I could only see smiling faces around the room.
They played most of the hits (I could've used more
Soft Bulletin
, to be honest), a few new songs, and their cover of "War Pigs." We also saw Wayne conducting a jerry-rigged Speak and Spell-like item on which he played the cow and the duck. "Do You Realize" doesn't make me cry anymore, but that doesn't mean I love the song any less. In between tunes, Wayne talked a lot about politics, taking a didactic approach at turns, though I never got the feeling he was speaking down to us.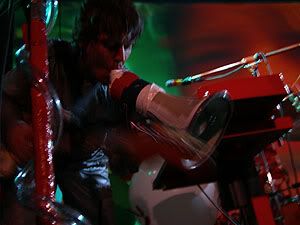 The Lips are so big these days, and it's been a long time since I've seen them at such close range. But for those of us who like to think that their favorite rock stars are really just normal people, it was pretty cool to watch them not only setting up their own equipment but also checking in with each other between songs.
We took a spot right in front of Steve Drozd, and it became quickly apparent that he is the musical maestro in the band, switching between instruments and adding backing vocals. Steve and Wayne have great chemistry, looking to each other for cues and encouragement. I hope they were having as much fun as we were.
As is the case with most Noise Pop shows, we got three openers.
The first was a local DJ. The second was Stardeath and the White Dwarfs, notable for the fact that their singer is Wayne's nephew. Let's just say they wear their lineage proudly. And after them was a band out of Denton, Texas, called
Midlake
who were truly excellent. They played against a backdrop of film clips, some of them taken from older movies and some of which seemed to be created especially for them. They made the wait for the big headliner very enjoyable.