I wasn't sad about missing Spoon on their last swing through San Francisco, but I was glad to see that Britt Daniel was returning for Noise Pop.
Britt Daniel, Swedish American Hall, March 29, 2006:
Spoon's normal setup is undeniably spare, but Britt's solo rig is almost comically minimal. As far as I could tell, he had one boombox, one amp, one guitar (a gorgeous brown Gibson hollow body), and maybe a few pedals. At least the boombox looked snazzy.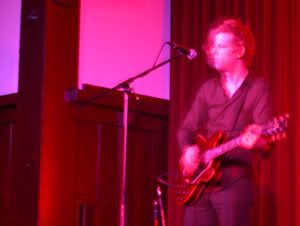 Britt carried along an informal setlist, but he said early on that he would play what the audience wanted to hear and, in fact, picked up many requests. To start, he launched into the awesome "Advance Cassette," and over the course of the night, he played a mix of Spoon's five albums. To my delight, he hit more older songs than I expected, though as you might've guessed,
Gimme Fiction
tracks had the edge. We got a great cover of John Lennon's "Isolation," and I'll never tire of hearing "Metal Detektor" or "The Agony of Laffitte." Finally, any night where you hear a song from the
Soft Effects
EP is a good gig.
Britt was surprisingly modest, apologizing and warning us about songs that he didn't think would work. Before "Me and the Bean," he commented that he wished he had written it, and he claimed that he couldn't carry off "Fitted Shirt" without the harmonies and the drums. As far as I'm concerned, I didn't hear a bad song in the bunch. I can't comment on the new songs just yet; they sounded fine, though I didn't love either one the way that, say, "Delicate Place" hit me as soon as I heard it.
At one point, Britt mentioned that he's played more solo shows in San Francisco than anywhere else other than Austin. It didn't sound like he had planned it that way, but I'm glad to have been able to enjoy the bounty in my own backyard.
The openers were all singer-songwriters, though with different styles. The first one was named Meric Long, and he wore his heart rather visibly on his sleeve. I liked his use of loops, and for one song, his friend played the chair (rhythm). The second was named Martyn Leaper, from the Minders. We noted that his songs were about 2 minutes each, and Annie and I nudged each other during his rendition of "Waterloo Sunset." The last was Laura Viers, who had
opened for Colin Meloy
back in January. She played a longer set this time, and I loved the part when she went completely unplugged and played her song while walking around the hall, like a true troubador.
See also:
»
i'll be out on the town
»
turn to crystal form