Say what you will about arbitrary dates, but there's something about the portents of the new year. I'm hoping that seeing Stephen Malkmus--perhaps my Socratic (if not platonic) ideal of the indie rocker--and the Jicks for my inaugural show of 2007 is a promising sign of great things to come.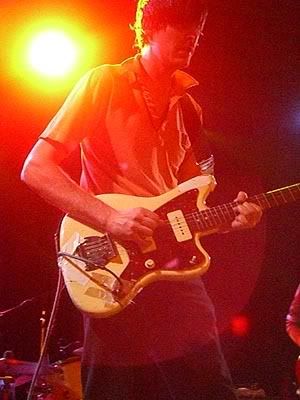 Stephen Malkmus and the Jicks, Bimbo's 365 Club, January 5, 2007:
If you've read this blog more than a few times, you've probably noticed that a large degree of the musicians/bands/artists I cover qualify as "must see" performers in my book. What can I say? Besides being prone to sentimentality, I've reached (surpassed?) the point where I'm more likely to spend my limited entertainment dollars on my true favorites instead of putting up with yet another flash in the pan that the teenagers will eventually spoil for me anyway. (Man, I'm going to regret admitting that.)
Pavement, though, enjoys a hallowed spot on my list of all-time faves. They were kind of my indie Beatles; though they certainly weren't the first or the only band I've loved, they sorta set me on the musical path I mostly follow these days. Heck, I even borrowed one of their song titles for the name of this blog. So when Stephen Malkmus comes to town, I'm there.
For all my adulation, I don't turn a completely blind eye. Case in point: I wasn't crazy about
the last Jicks show I saw
. Though John Moen was hilarious that night, Steve didn't seem particularly engaged, and that remains my overwhelming impression of the gig. Of course, it's not exactly the same band anymore, now that
John has joined the Decemberists
and Janet Weiss (formerly of Sleater-Kinney) has stepped in to replace him.
In fact, I think I'm going to have to get used to the fact that there's now more than one indie legend in the band and that she has her own adoring fanbase. Actually, Janet's devotees might be a little more rabid at this point, as Sleater-Kinney's run was recent enough that most of their fans got to see them in concert. Judging from conversations overheard at Jicks shows, I'd guess that a lot of the Stephen's current fans were too young to have seen Pavement. As it turns out, I'm just the girl to gloat that I have. (Man, I'm going to regret admitting that.)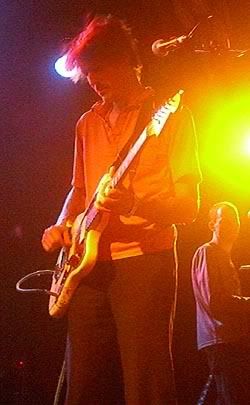 I was never a Sleater-Kinney fan, though I saw them in concert a couple of times. But you don't need to be a fan to know that Janet Weiss is a powerhouse on the drums, and her effect on the Jicks' sound was evident from the first note. Watching John Moen, even at his most intense, I could never shake the idea that he could step out midbeat and dance a little jig--not so with Janet. She was forceful, steady, and all those things that a drummer is supposed to be, and though she wasn't as playful as John (is anyone?), she joined in the festivities with rim shots and asides to Joanna, Mike, and Stephen. She truly anchored the heavier songs, and at times, hints of Led Zeppelin came through--something I've never heard from the Jicks before. She definitely passed the audition.
Oh yes, the man of the hour, Stephen Malkmus, my alpha indie rocker and forever my fantasy of the hot TA that you totally want to catch in office hours. (Man, I'm going to regret admitting that.) Since I've already embarrassed myself with too much attention to physical attributes, I'll damn myself a little further by reporting that there was some 'stache sportage. Oy. And his plaid boxers stuck out between his trousers and his polo shirt for much of the show. But the chiseled profile is intact. OK, enough of that.
The set was about evenly divided between old favorites and brand-spanking-new songs. I would love to offer some catchphrase to sum up the new songs, but I don't think any single statement applies. At first, I thought they might be poppier than the last album, but as the show progressed, we heard a lot of the longer, psychedelic jams that seem to pop up quite often on Jicks records. In short, they were all over the place. I'm just going to wait to hear them in their final form before I pass judgement.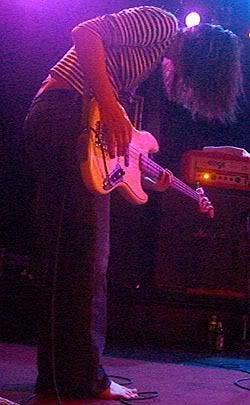 The old songs saw some inspired Malkmus twists, none more revelatory than a breezy, irresistible version of "The Hook." The version we heard tonight was so striking that I pressed Julie for a description of the song, and she suggested that it sounded almost like a '70s country rock hit, which was somewhat in line with my idea that Steve reminded me of middle-period Dylan on it (a pretty ridiculous statement coming for a Dylan dunce like myself). Regardless, it was cool. Later, we also got the band's attempt at "I Nearly Lost You" by Screaming Trees in response to a challenge by Joanna.
Stephen was in good spirits, with his typical successive non-sequiturs and supremely laid-back manner. The topics of discussion tonight included James Joyce, the Gettys, the SF MOMA and its current exhibits, sports (of course), and his facial hair. Stephen and Joanna are obviously the core of the group, now that John's gone, and she gave him hell as needed. In the intimate confines of Bimbo's, there was more banter with the audience than I recall from previous shows, and that's always a treat. Mostly, though, I was glad to see/hear that Stephen continues to follow his muse, wherever it may lead him and us.
The opener was a one-woman band called
St. Vincent
from Austin, Texas. She looked a tiny bit like Winona Ryder, and she switched between electric guitar and an old Rhodes keyboard. In lieu of a rhythm section, she stomped on what looked like an amplified wooden panel that sort of filled in for a bass drum. Her sound was fairly eclectic, and though I thought we might be in for another sensitive girl singer/songwriter, she quickly proved she had a sense of humor and knew how to use it.
See also:
»
penny rich & dollar dumb