I'm not usually a fan of going out on New Year's Eve, and of late, San Francisco's abysmal end-of-year rosters haven't helped either, but the close of 2006 saw the local bookers scoring some major shows. Still, I probably would've opted for a quieter night in if it weren't for Evonne's invitation to join her for My Morning Jacket at the Fillmore--and boy, am I glad for the offer.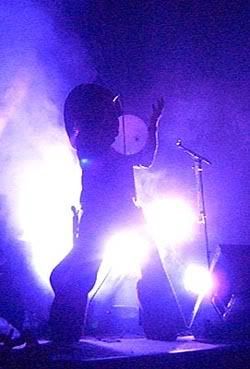 My Morning Jacket, the Fillmore, December 31, 2006:
I had heard much of My Morning Jacket before I heard a note of their music. The most striking description was from a coworker who said they were a cross between My Bloody Valentine and--errr, I forget, except that it brought to mind the unlikely idea of a shoegazing/dinosaur rock hybrid. Further pushing the genre-bending metaphor, I first saw them open for Doves in the kind of label-defying double bill you don't get often.
The staying power of that initial description has exceeded my expectations because even now, after having seen My Morning Jacket more than a few times, I can't help but think of the band in any terms apart from their seeming contradictions. Visually, it's all about the cock rock: the unfettered and unashamed head banging, the flying V guitar, and the hair--oh so much hair. But even the most perfunctory of listeners can easily pick out the sonic elements that place them apart from their more predictable counterparts. Yes, you have searing guitar solos, but they're paired with deep, rubbery grooves that bring to mind more Barry White than Great White. And I love that MMJ favors impressionistic, reverb-heavy singing in place of the screeching, histrionic vocals more often associated with "rock."
Generally speaking, you expect Americana-type bands to be (forgive my stereotyping) extremely earnest and authentic. And though both adjectives apply to My Morning Jacket, again they bring something different to the mix. The last time I saw the band, that wink and a nudge took the form of a fake parrot attached to Jimmy James's pirate-style jacket. This time, the joke extended to the whole room, not a corner of which had been left unturned in preparation for the night's theme.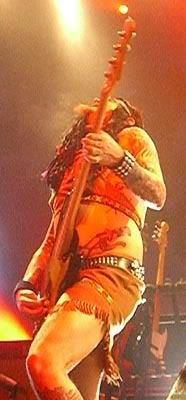 Of course, multiple banks of balloons hung from the ceiling, ready for the midnight drop, but we also saw (fake) rocks, taxidermy, and foliage onstage; huge decorative screens around the walls; and paper icicles hanging from the balconies. But amid this winter wonderland, the masterminds had inserted more jarring features: skeletons on the stage, a huge "Heaven" sign hanging from the ledge outside the band's dressing room, and the merch table in the back, claiming to be the Donner General Store.
And then the band emerged, hidden behind a scrim, in full Western costume and lip-syncing and hamming it up to a pre-recorded exchange between the members of the Donner Party. They ended up sacrificing their bass player to their appetites, but he miraculously returned--in a white suit, no less--on loan from Heaven (a.k.a. the aforementioned dressing room ledge). Only then did the scrim drop away and the show officially begin.
It's been a while since I've really listened to My Morning Jacket (though it's hardly a commentary on the band itself), but I recognized a bunch of old songs, including "Phone Went West" and "The Way That He Sings," among others. Much of the setlist was unfamiliar to me, but I didn't care, as I fed off the crowd's energy and the band's complete commitment and passion. I wasn't alone; even the guest list friends hanging off the balcony and the band's own staff, who can be notorious in their jadedness, threw themselves into the festivities. I especially couldn't keep my eyes off Bruce/Pocahantas, their tech guy who, when he wasn't tuning guitars, taking care of all matters electronic, and manning the bass on the band's cover of "Highway to Hell," danced the night away at the side of the stage.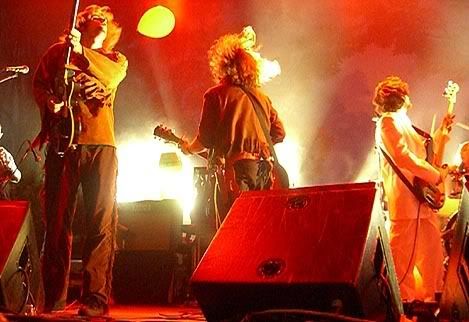 At midnight, we did the countdown, but the show was only half over. Instead, the band launched into a seemingly unironic selection of covers: "Celebration" by Kool and the Gang, "All Night Long" by Lionel Richie (which I'm ashamed to say I recognized
immediately
), "Careless Whisper" by Wham (an ode to bananas, according to Jim), and later, "I Could Never Take the Place of Your Man" by Prince--my favorite--as well as the aforementioned "Highway to Hell." Elvis Perkins's backing band, Dearland, also returned to contribute some brass action to a number of MMJ's songs.
I wasn't sure the show would ever end, nor was I sure I wanted it to, but even I knew that "Mahgeeta" signalled the evening's close. Coming full circle, Tommy exacted revenge on his cannibalistic pals, taking them out with a shotgun. But they were reunited in the afterlife, as their sound engineer ticked their names off St. Peter's list, allowing them to ascend to the dressing room to the strains of "Stairway to Heaven."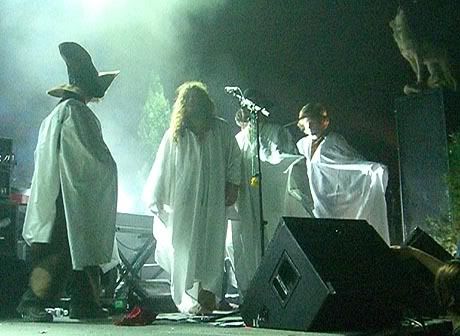 A band called Wax Fang, also from Louisville, opened the show. Like the headliners, they shared a serious debt to '70s rock, but they were more on the more traditional glam tip. But like just about everyone else under the Fillmore roof that night, they didn't hold back, coming out onstage in cheerleader outfits, complete with ponytails, pantyhose, and lots of makeup.
Happy new year, everyone. Thanks so much for reading.