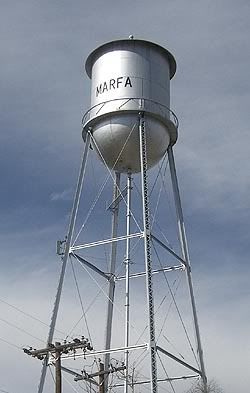 I'm not sure who most willingly took the bait to see Jeff Tweedy play a show in Marfa, Texas: Paul and Brianne, on a tip from Jeff; me, after an innocent inquiry from Brianne; or Evonne, after I casually mentioned I had an extra ticket to the sold-out show. I guess it doesn't really matter; we're total pushovers.
Jeff Tweedy, Liberty Hall, January 21, 2007:
Sometimes you think that you go to enough gigs that you know exactly what to expect from any given show, especially one by an artist you've seen far too many times to count. And then you hit a town like Marfa (population: 2,121) and the 200-capacity Liberty Hall. Of course, we had to make the three-hour drive from El Paso to get there and another three-hour drive to Midland/Odessa to get out, but fortunately, we boast a strong record of negotiating logistical (and logical) details.
I'm not sure I can convey the intimacy of this gig. Sure, I've seen
Jeff Tweedy in close quarters
, but that was with a very dear group of friends, not the general public and certainly not in the remote Texas town where they filmed
Giant
.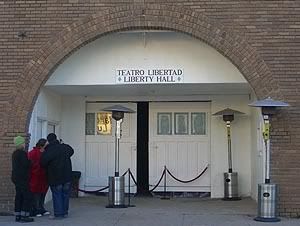 We were told that Liberty Hall is a venue behind Ballroom Marfa, but how could we have known that it looked sort of like a shack--perhaps even a converted garage? Aside from the heat lamps, there were no frills here: Staff members has to manually slide open the wooden doors to allow us and themselves in and out. The concrete floor turned out to be the perfect conduit to transfer the cold from the ground to our legs. And the stage couldn't have risen more than a couple of feet off the pavement. In keeping with the low-key feel of the evening, all lights were kept very dim, though there was a disco ball in place. And of course, we loved every inch of this spot.
Jeff kicked off the show with one brand-new song, a couple of more familiar selections, and a bunch of titles from deep in the catalog. But early on, he also declared his love for the venue and the opportunity, and he promised to go without the PA as often as possible. He also asked for requests from this crowd, and it was perhaps a testament to the size of this gig that the song request process didn't degenerate into an incoherent roar. Instead, people raised their hands and waited their turn to be called. I think Jeff managed to squeeze in about a half-dozen suggestions from the crowd via this method.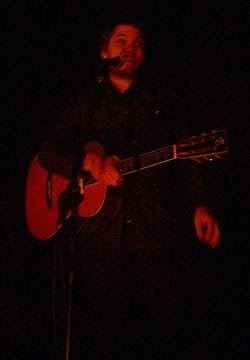 In the end, Jeff did three songs off the mic, since he claimed that most of our requests needed amplification, and when he flew without the PA, he basically stood smack dab in the center of our group--as if we weren't already freaked out by the promiximity of the stage. Along the way, he took care of a couple of Evonne's requests ("Radio King" and "Dreamer in My Dreams"). The banter was fun, with more local flavor than usual. He alternated between taking potshots at Marfa and vowing to move down there some day. He also unloaded a truckload of his Texan impersonations, which sort of made me cringe. Then again, I'm from California and a completely different set of stereotypes.
By now, it should be clear that there are
lots
of songs I don't mind hearing ad infinitum, but there were clear highlights for me. Of course, the unmic'd songs were a huge treat, especially "Dreamer in My Dreams." Also, I don't know if I'll ever get tired of "Blasting Fonda," though I sort of miss Nels Cline's touch on that song. And I'll never turn down hearing Uncle Tupelo or
Being There
tunes, which were fairly well represented among the requests.
Toward the end, Jeff promised that we should do this again every year, with the same group of people. Though we couldn't agree on the secret form of identification, I don't think a single person turned down the offer.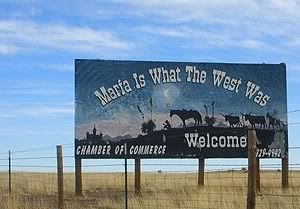 I hope that I'll get back to Marfa some day, though I can't guess when or why. Suburban girl that I am, I've never visited any other town as small or as remote as Marfa. Unfortunately, a lot of places seemed to be closed the one day we were in town, but we managed to swing around the perimeter a few times, just to take in the surroundings. And with a restful night's stay at the Hotel Paisano and a couple of delicious meals at local establishments, I think we did a decent job of dipping our toes in the water.
See also:
»
every day is dreamlike