Back home, my Christmas is shaping up to be The Year Without a Santa Claus, but at least some things stay constant--such as Jon Brion's last Largo shows (plural!) of the year.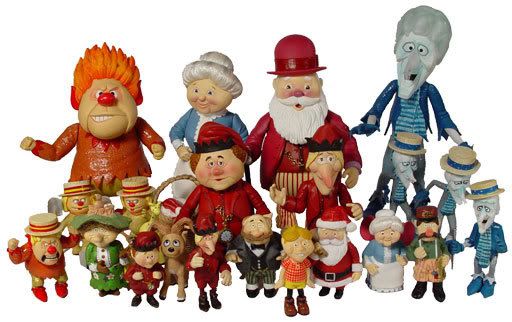 Jon Brion, Largo, December 21, 2007:
The cousin decided to fly off to Vietnam for Christmas and New Year, thus abandoning our--OK,
my
--self-declared holiday tradition of catching Jon Brion's last Largo show of the year. Fortunately, she'll be back next month to correct the error of her ways.
Before the show even began, we had already taken in a good measure of festivities. For example, the tables next to us filled up with a whole slew of Largo talent, some of whom don't drop in often enough for my tastes. And though we tried to play it cool, we were totally dorking out inside.
Meanwhile, under the spotlights, the Largo staff went to great lengths to mic a wooden stool occupying a good chunk of real estate onstage. We wondered if we should expect a Storytellers session (helmed by one of those aforementioned Largo singer/songwriters) in our immediate future, but apparently, we weren't thinking outside the (gift) box, as the spot turned out to be reserved for the first guest of the night: a singing Santa doll.
Jon watched with the rest of us before Santa's charge and welcome petered out. With that course exhausted, Jon sat down at the piano for a cacophonous opening that eventually meandered toward melody. From there, the audience requests kicked in. The separate calls for drums and the always awesome "Better You Than Me" dovetailed nicely, and Jon volunteered that the song was a prime example of the "self-indulgence" common of songwriters in their 20s (I beg to differ). Another mashup married Michelle's suggestion for the baroque style to someone's request for "Mystery Achievement," but that would be the end of the musical mix-and-match, as the cavalcade of stars was imminent.
Jon handed off the request for "Raspberry Beret" to someone he said would know it better: E from the eels. But unlike
last year
, they played it far from straight. E delivered the spoken-word version of the song, while Jon accompanied him on piano, celeste, and vocoder. Jon mostly took over the the choruses, to E's surprise, as it looked like he cut himself off a few times when he realized Jon had started in. I'd also like to mention that I tried to help when E forgot the "lightning seeds" line, but the two plowed on regardless.
E and Jon conferred shortly for the next selection, half-remembered by E and mostly improvised by Jon. In fact, after glossing over several portions of the lyrics, E closed it with the unforgettable line: "Blah blah blah blah blah."
I don't do justice to vast expanses of the Largo experience, and high on that "you have to be there" list are moments between Jon and E. I know there's a writer's strike going on, but you couldn't script the repartee flying between Jon and E even if you tried. E made a point of heaping praise on Jon and, per his yearly tradition, telling him that he loved him. E's deadpan delivery and reputation for dark humor beg you to assume he's kidding, but their mutual enjoyment trumps all. This lovefest, however, made for an awkward transition into their next attempt at Bacharach, the deliciously titled "This Guy's in Love with You," which saw Jon feeding E his lines.
The next run of titles were all eels originals, but just about every other aspect of the performance was up for grabs. While Jon remained on piano, E picked up an electric guitar, and Greg Leisz joined them on pedal steel for the kickoff track. The second tune saw Jon switch to drums, while Paul Bryan, cute as a button, sauntered in from stage left, bass guitar in hand to fill out the rhythm section. They joked about Paul wandering in from Canter's, a gag that E would run with later when he referred to Paul, whom I'm assuming he'd never met before, as "Canter's guy," but I, for one, love seeing Paul join the Friday night stable of guests. Then for the third song, it was Benmont Tench's turn to amble casually through the stage door.
This third number, "Not Ready Yet," shakes up the club every time, but I'm not sure it's ever been as entertaining as it was tonight. To begin, there was the rather mortifying situation before the song started when we learned that E doesn't exactly know how to tune the guitar. Pitching in, Jon stepped out from behind the drums, sidled next to E, and without removing the guitar from E's frame, tuned it to satisfaction. Ever helpful, Jon also instructed everyone on the three chords that comprise the song.
Greg was amazing on this song, bestowing upon it supple, penetrating chords that gave merit to Jon's quip that it was "about fucking time" he joined them on this particular tune. Benmont, meanwhile, rocked the piano so hard that he knocked over all of Jon's implements, including the massive analog synth Jon's been favoring for the last couple of months. Order was restored for the next song, "My Beloved Monster," just in time for Benmont to shine.
For some reason, E had been reluctant to delve deeper into his catalog, but he was persuaded to give the eels' Christmas song a go, and it turned out to be a wise choice. This last number gave us Greg's surprising but exceedingly harmonious touch, as well as Jon's "reprise remix," as noted by E when Jon unexpectedly led them back through the song. Oh, and Jon donned the Santa hat!
The movements onstage suggested that the band was about to break up, but rather, E and Jon simply switched places, and the group would, in fact, expand shortly. In the interim, the five-piece took care of James's request for "something from
Some Girls
," then welcomed Sara and Sean Watkins to the collective.
Now numbering seven, the players indulged in old and new selections. Highlights include the round robin of solo turns in "Paper Moon"; the Benmont-driven "Between the Devil and the Deep Blue Sea," which the rest of the band didn't seem to really know but were trying to figure out along the way; and the three-part harmonies on "She's Got You" and "If You Gotta Go, Go Now." And of course, there was "Jealous Guy"--enough said.
E, through this sequence, looked more comfortable behind the drums than he did at some points on the mic, and his ease with the skins provided the touchstone for the next songs. He and Jon went through a quick drumcheck, then dove headfirst into a Led Zeppelin medley. Jon and E pushed hard to amazing effect, but the more interesting measure may be the way the other players found places for themselves in the song, which clearly didn't include lap steel or fiddle in its original incarnation; then again, that's Largo for you.
The dinosaur rockers capped off the first set, and after a break, Jon picked up where he usually starts: with an improvisational piano segment touched by hints of "You Don't Know What Love Is," though not exactly the song itself. He ran through a bunch of his own songs, culminating in a build of "I Believe She's Lying" that started out primly but exploded toward the end.
Though Jon called the night "Largo in reverse" during the opening set, he brought back his friends to the stage. David Garza was up first, chanting "happy birthday" over an electronic beat Jon created, but the same band (minus E and the Watkins) reformed as David led them through a couple of songs. During "Kiss," a member of the Watkins's party threw a jangly bracelet onstage, and Jon incorporated it into the percussion, complementing the tune's signature scratchy guitar beautifully.
The last song of the night was a request for Mike, Largo's general manager, and though Jon prepped the band ahead of time that dramatic twists and turns were in store for them, they came through regardless. As I recall, they closed last year's show with this traditional tune, though in radically different styles. Still, a year on, it was the big, gorgeous bow atop a sparkling night.
Setlist
--
wind-up Santa
--White Christmas/Have Yourself a Merry Little Christmas
--Better You Than Me
--Mystery Achievement
w/ E
--Raspberry Beret [vox = E]
--We've Only Just Begun [vox = E]
--This Guy's in Love with You [vox = E]
w/ E and Greg Leisz
--Climbing to the Moon [vox = E]
w/ E, Greg Leisz, and Paul Bryan
--Railroad Man [vox = E]
w/ E, Greg Leisz, Paul Bryan, and Benmont Tench
--Not Ready Yet [vox = E]
--My Beloved Monster [vox = E]
--Everything's Gonna Be Cool This Christmas [vox = E]
--Beast of Burden
w/ E, Greg Leisz, Paul Bryan, Benmont Tench, and Sara and Sean Watkins
--Paper Moon
--Between the Devil and the Deep Blue Sea [vox = Benmont]
--She's Got You [vox = Sara]
--Jealous Guy
--If You Gotta Go, Go Now [vox = Sean]
--Good Times, Bad Times/Stairway to Heaven
Set 2
--You Don't Know What Love Is
--Knock Yourself Out
--The Way It Went
--Get Over Yourself
--Love of My Life So Far
--I Believe She's Lying
w/David Garza
--birthday chant [vox = David]
w/ Paul Bryan, David Garza, Greg Leisz, and Benmont Tench
--The Wanderer [vox = David]
--Kiss [vox = David]
--The Christmas Song
See also:
»
she's lived it 10 times or more
»
i'm offering this simple phrase
»
let your heart be light