For those playing along at home, I've reached the halfway point for gigs this month--only five more to go before the end of the year!
Richard Hawley, Cafe du Nord, December 12, 2007:
Let's get the Boorish Pedant portion of this blog post out of the way first. I've witnessed Richard Hawley in two other incarnations: as guitarist of Pulp at the Finsbury Park show in 1999 and, less famously, with the Longpigs, who ruled my musical world circa 1996 to 1997. With Pulp, Richard seemed to be biding his time with old friends, but I got the impression that the role was a good fit at the time--especially on the heels of his tenure with the Longpigs.
I loved the Longpigs, but if you're looking for earlier indications of Richard's troubador leanings, you'll have a tough time finding it in the group's jagged guitars and highfalutin wordplay. In the four-piece band, Richard was easily the most skilled and experienced musician on the roster, but the lead singer (and main songwriter) dominated the shows and the recordings.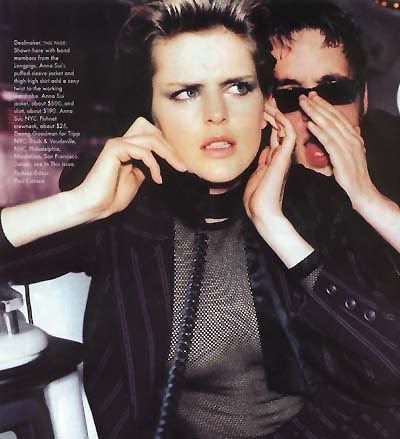 The Longpigs weren't unknown in the States, clocking several tours, charting with a modern rock hit single "On and On," and making their way into an Ellen von Unwerth-snapped layout in
Vogue
alongside supermodel Stella Tennant (pictured here), though their names are unlikely to register with all but the most dedicated Anglophiles these days. Add to that their supposedly unabashed pursuit of the rock star lifestyle, and you can understand why Richard has somewhat disavowed those years now that he's savoring his hard-earned solo acclaim. In fact, though he mentioned during the show that it's been about 12 years since he's played San Francisco
[actually, it's been almost 10 years exactly since the Longpigs' last tour here--Britpop Ed.]
, he didn't at any point refer to either his former bands by name.
Just to be clear, I checked all expectations at the door and knew not to anticipate a return to the mid-'90s. Besides, I've heard Richard's solo work, so I had an idea of what was in store. But just in case I or any other ex-Britpoppers in attendance still clung to decade-old ideals, Richard quickly dispersed them when he and his band took the stage, each age-appropriate member dressed in proper jackets or, in a couple of cases, suits. Of the lot, Richard, decked out in impeccable sharkskin and sporting a slick quiff, cut the most polished profile.
The '50s fixation ran a lot deeper and touched nearly every song in the band's set, from the atmospheric ballads to the rockabilly stomps. Richard's musical influences have been cited in just about every review and interview I've read, so I won't bother to rehash them here. The bottom line is that Richard and his band brought the songs to vivid life with gorgeous, eloquent notes and Richard's rich, evocative voice. And between songs, Richard engaged the audience with his patently Northern sense of humor, simultaneously caustic and affectionate.
Not to linger on the '90s too much, but I couldn't help but think back to Richard's work with the Longpigs. If I recall correctly, Richard contributed a couple of b-sides to the Longpigs' recorded output, which I now realize is a right shame. The other major realization was how much of his own muse Richard must have had to suppress in his time with the band and how much of a reward it must be for him to finally make the music he loves, complete with stand-up bass, lap steel, and even his own array of hollow-body guitars--instruments not commonly handled by British bands around the fin de siecle.
The band truly brought it home, appropriately, on the closing number, "The Ocean." Where they had beautifully serenaded us for the preceding hour, "The Ocean" placed them squarely in the here and now. The sprawling epic delivered what you hope for from every closing number: It was so enveloping and satisfying that you had to admit there was no way to follow it up.
Ferraby Lionheart opened the show, and for this, the second time I've seen him, he brought three other players to fill out his sound. Though we didn't get a Madonna cover for this outing, the warmth in his voice and compositions remained readily apparent.