Believe it or not, it's been six months since I've seen Wilco proper, and even Wilco-related shows have been scarce in the past few months. But the band is nothing if not industrious, and the fall typically brings a round of touring. It's been a while since I've had the chance to catch three general admission gigs in a row; that Heidi's home could serve as a base of operation sweetened the deal considerably, and of course, the company is always the clincher. Unfortunately, the trip also coincided with a crazy work week for me, but these hard-core credentials don't come free.
Wilco, Mountainlair, October 18, 2006:
Though Heidi was the only one of us who'd been to West Virginia before, seeing the university brought on a distinct sense of déjà vu. It reminded us a lot of
UC San Diego and the Price Ballroom
. That is, it was a flat conference room with questionable acoustics, though the Mountainlair was a little smaller. I'm sure the people in the back had a helluva time seeing the stage, but we had a great view from our spots along the barrier.
This show had a huge cloud hanging over it: an incident between Jeff and a drunk, overzealous fan from a couple of days before. The story had become an uproar, fueled by sensationalistic and erroneous reports of Jeff inflicting violence on the guy. We weren't sure how Jeff would handle the inevitable heckling, and we were a little nervous about finding out.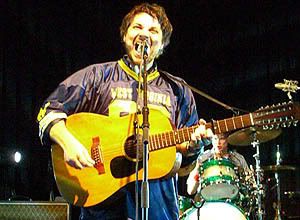 Of course, it went fine. The crowd wasn't bad at all, except for the dumb guy next to Paul and Heidi who repeatedly yelled at Jeff to kiss someone. And Jeff actually defused the situation himself; he didn't speak early on, but when he did, he assured everyone he wouldn't punch them. He obviously felt relaxed enough with the audience that he emerged for the encore in the university jersey, and they enjoyed his presence enough that they joined in the "Morganton" call-and-response for "Kingpin."
At one point, I had an idea of how many Wilco shows I've attended, but right now, I've completely lost track of that number. Obviously, it's a lot. And yes, even I ask myself why I continue to do this. Here's the short answer, which I didn't recognize until the Morgantown show: I love watching the band's chemistry onstage, especially Nels Cline's interactions with his bandmates.
I've made no bones about my Nels fandom, but in addition to being an amazing guitarist, he never looks bored onstage. Since I last saw them, Nels and Mikael Jourgenson have developed a charming little rapport on their half of the stage. Nels and Glenn even embarked on a coheadlining tour, and you could see their continually developing camaraderie as they play together.
But the best part of the show was hearing the new songs. Not long ago, I would've tracked down the new tunes as they hit the Internet, but I've taken a somewhat laissez-faire (for me, anyway) attitude with Wilco recently. I caught a couple new tunes on the Lollapalooza Webcast, but that's it. Technically, the only true debut for me was the closer, "Let's Not Get Carried Away," which turned out to be an AC/DC-style barn burner that features a
huge
drum solo. It's about the last thing I expected from the band, and I loved it.
There's been a lot of talk about the two-guitar interaction on the new Wilco songs, but--as surprising as this sounds coming from me--I have to acknowledge that all three guitarists in the band contribute to the new tunes, especially "Impossible Germany" and "Walken." I found myself looking to the
other
side of the stage a number of times and likiing it, which almost never happens.
Wilco, 9:30 Club, October 19, 2006:
This gig marked the fifth Wilco show I've seen at the 9:30 Club, and they've all been winners. Ah, I remember when I could show up at 4:30 and not see another soul for a good hour--not so much these days, but we expected as such.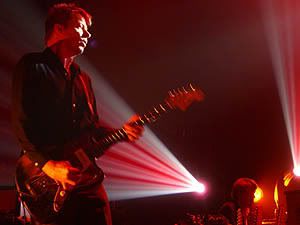 Before the gig, we reminisced a bit about all the great times we've enjoyed at the 9:30 in the past (except for Paul, who had never seen Wilco there before). Of course I met Heidi there a little more than four years ago, and the fact that we got to hear the band's first live rendition of "Poor Places," as well as the encore of "We've Been Had," cemented the club's reputation as one of my favorite places in the world.
Back in 2004, around the time
A Ghost Is Born
came out, a group of us embarked on an extended road trip that included the 9:30. I distinctly recall a series of heads turned to face Nels Cline as he worked his magic on "Radio Cure," and this memory came right back at me when the band opened the set with the same song.
The nonpunch still colored the show, but Jeff made quick work of it, and overall, he seemed a little more relaxed. The adoring crowd probably helped, and he took advantage of the love flowing in the room by delivering a long monologue about all the great stuff in Washington, D.C., and how it coexists with the scum in the district. Appropriately, we got "Political Science" that night.
Wilco is way too big for the 9:30 Club these days, but it's still one of the best places to see them, and this turned out to be my favorite show of the trip. It certainly taught me to not to miss another Wilco show at the 9:30 Club again.
Wilco, Casey Center, October 20, 2006:
Rock tourism is not for the faint of heart, and certain rules must be heeded. For example, shows at
small religious schools in Pennsylvania
tend to be winners. And that's how we found ourselves (turnpike ticket notwithstanding) in the gym at Saint Vincent College, the first Benedictine monastery in the United States.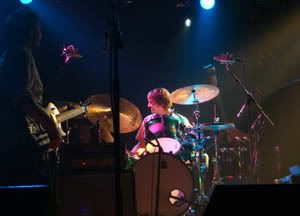 During soundcheck, we heard a new song that reminded me of the languid, stretchy pacing of Cat Power's "American Flag," though otherwise, they bear no resemblance to each other in any way. I'm not a big stickler for song selection, but the setlist itself was a bit anticlimatic, especially for a tour closer. We got only one encore; according to Paul, the crowds streaming out of the hall probably had something to do with the abbreviated set, so the rest of us missed "Say You Miss Me" and others.
But on the fun side, we heard Jeff pander to the local crowd for the third night in a rown by trying to cram in "Saint Vincent" instead of "Pekin" in "Kingpin." During "Hummingbird," Jeff also tried to give Nels a massage a là Buster Bluth. Instead, he mostly succeeded in making an already giddy-seeming Nels laugh out loud. And I'm already a total convert to "Let's Not Get Carried Away," if only for the opportunity to watch the rest of the band beaming at Glenn.
Afterwards, we chatted for a bit, even as the temperatures dropped far lower than comfortable, but the hugs made up for our shivering. We learned that we had breached the secret brotherhood of dry, bared teeth, that this coast might have some very cool shows to look forward to come February 2007, and that a certain very pretty nose nearly didn't survive what should've been a rudimentary instrumental passage.
I want to do it all over again.
See also:
»
from the books you don't read anyway
»
it's still beyond me