Whoa, I didn't intend to take so long with this concert report, but
the last entry
deserved some more time on the marquee anyway.
Badly Drawn Boy, Great American Music Hall, October 16, 2006:
Quite simply, I love Badly Drawn Boy. His show at Bimbo's in 2000 on his first tour of the United States remains one of my favorites of all time, and I go back to
The Hour of Bewilderbeast
repeatedly. Between then and now, there've been a few other funny stories regarding Damon, and of course, the collaboration with Jon Brion helped cement both of their reputations in my book. Finally, I get to blog about him.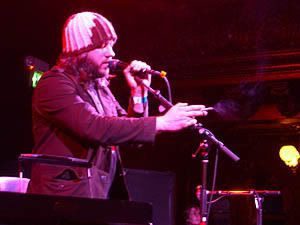 Before the show began, I overheard a few people around me discussing the last Badly Drawn Boy gig in San Francisco, the details of which I'd totally forgotten. That time, he had broken up the show into two sections: one half for the new stuff, one half for the hits, with a break in between. As I recall, he had a couple of string players, and his manager handed out "pretty girl passes" to (surprise surprise) pretty girls in the audience. These are among the reasons I love him, though friends haven't been found him as charming.
Well, we certainly saw his pricklier side at the show. Near the beginning, he told the chatterers to shut up, and as the show progressed, he took out some of his frustrations on a harmonica holder that didn't quite fit. His mood reached its nadir when he called a short intermission, lamenting his latest single's low debut on the U.K. charts. Over here, we're inured from those concerns, though I can see how his former (?) cockiness might take a beating from the diminishing commercial returns. Sure, he's not Coldplay, but like many of his U.S. fans, I'm just glad that he's back in the States doing what he does best. I should say, though, that his occasional surliness isn't a surprise, but as it was happening, I wasn't sure we'd see the playfulness that endeared him to me in the first place.
But that's not to say it was all gloom and doom. I loved the addition of a small xylophone to the band's repertoire. Since I was standing nearly exactly in front of it, I could hear it quite well, but I'm not sure it came through to the rest of the crowd. And once Damon's mood lifted, we saw some of the goofiness return. After coming back to the stage, Damon and the guitarist did a gorgeous, spare song that he claimed had never been done onstage (I can't remember it now). Later, Damon took the mic off the stand to serenade and greet the audience. I'm glad to report that Julie's was the first hand he kissed!
As much as I love him, I have to admit he seemed to run hot and cold at this show. Will I be back? Of course I will, but for maybe the first time, I can admit that maybe my naysaying friends have a point.