I'm deathly afraid (well, as much as a woman who proudly maintains a
pristine, 20-year-old

Star Hits

collection
can be) of falling prey to '80s nostalgia, but every now and then, I can't resist catching a band from my teenage years. I mean, you'll never find me at a Cure or Depeche Mode gig, and I even gave up on Duran Duran years ago, but when Scritti Politti--on their first-ever tour of North America, no less--announces a show, I have to be there.
Scritti Politti, Slim's, November 2, 2006:
It's probably a good thing that Scritti Politti didn't come around when I was younger, as there would've been no way for me to see them live, and I would've been left stewing for the last 20-odd years. Instead, I watched the videos, pored over Green Gartside's Derrida- and Lacan-inflected interviews, and drooled over the singer from the comfort of my own home. Apparently, "Perfect Way" was a huge hit all over the country, but in my backwater, non-Brit-loving corner of San Jose known as Sylvandale Junior High, I had no idea it had any hold on the populace outside of me and my circle of friends.
I struggle every time I blog about '80s music, though not for lack of words or material. Rather, I wrestle with two decades' worth of recollections, distractions, and chagrin before I approach anything resembling relevance. I also find it difficult to feign impartiality about the era; it was only around the turn of the century that I realized not every song needed huge drum fills and glossy Fairlight samples. Seriously, I just assumed that was the way modern music was supposed to sound.
Bwahahahahahahahaha.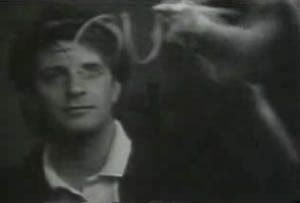 Still, I maintain that
Scritti Politti's "Perfect Way"
is a pristine slice of '80s pop culture. Music writers much more knowledgeable than myself have defended the tune's production values, but I can assure you that the video, directed by the team of Peter Kagan and Paula Greif, marked a major turning point for the decade's promo clips.
You may not know Kagan and Greif by name, but most likely, you're no stranger to their artsy, quick-cut style, which was a huge antidote to the overarching mini movies such as "Thriller," "Like a Virgin," "Let's Dance," and *gulp* "Hungry Like the Wolf" dominating MTV at the time. Their videos alternated between footage that was supersaturated and black-and-white, unfinished and polished, shot in slo mo and real time, and they featured the beauties who would later comprise the first (and greatest) wave of supermodels: Christy Turlington, Tatjana Patitz, and Veronica Webb, to name a few.
In fact, Paula Greif was one of the creators of the anti-video look on the Smiths' groundbreaking "How Soon Is Now," and that clip's grainy texture and discordant feel would be common elements in the duo's videos. Ironically, the team would go on to direct videos for Steve Winwood ("Higher Love") and Duran Duran ("Notorious," "Skin Trade," and "Meet El President"), among others, but "Perfect Way" hit the airwaves before the big names came calling, and it showed off all their visual trademarks. Unfortunately, nearly every metal video from 1987 on would bastardize this look, but for a brief window of time, it was solely the calling card of style-savvy bands.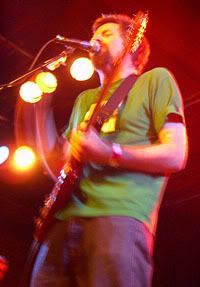 The point of this detour: such is the power of the "Perfect Way" video that I didn't realize Green Gartside played an instrument! Deep down, I
probably
knew that he did something other than button his shirt to the top (
such
a fashion statement of the time), push his preternaturally floppy hair out of his big blue eyes, and make teenage girls sigh. Perhaps.
So the sight of Green playing a guitar (adorned by, appropriately, a big Philosophy sticker) at Slim's was a bit jarring, but it was overshadowed by other revelations. For one, he's now on Nonesuch--home to
a certain band I like so much
, as well as the label that released a particular movie soundtrack containing one of my favorite songs of all time by
my preferred working film composer
.
Also, never in a million years could my 14-year-old self have anticipated that the handsome Welshman would become a respected and evangelistic hip-hop acolyte in the '90s. We got a few of the hip-hop collaborations at this show and a Jeru the Damaja cover, with Green apologetically filling in for the absent rappers. I think my favorite song of the night was "Die Alone," a slinky duet with Me'Shell NdegéOcello (not present). Then again, Scritti Politti has always had a funkier bent, and even the band's pop-era singles have displayed a reggae lilt; I had no business being so surprised.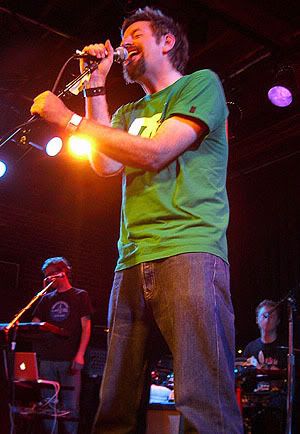 Backing Green was a five-piece band with a fairly elaborate setup. The drummer had two different kits: one analog (?), the other electric. I counted no fewer than four Apple laptops onstage. And one player, besides filling in on percussion, keyboards, and bass guitar, seemed to have been primarily entrusted with switching out Green's lyrics sheets. They all looked like they were having fun, though, and Green seemed as relaxed as he could be around them.
They played a mix of old and new, and Green understandably afforded more exposition to the newer songs, such as "Mrs. Hughes," about a former English teacher who told him that he wouldn't amount to anything and her equally dire husband. He seemed fairly pragmatic about the old songs, and of course "The Word Girl" and "Wood Beez" got huge responses from the audience. My mind was seized by an alarming image of a room full of aging '80s dancers flooding Slim's main floor, but the familiar synth opening and that one shimmering guitar riff in "Wood Beez" brought my mind back to the music. As I understand it, the band has sworn off "Perfect Way," but I didn't mind the absence.
For all the reports of Green's stage fright, he seemed to have a firm handle on the situation. He was self-deprecating and charming, and he brought in the other players often. His singing voice is exactly the same in concert as it is on the records, but his speaking voice is, for lack of a better word, normal--and posh. The only small blot was that he wasn't feeling well and skipped four songs on the setlist, though he begged off in a ridiculously sweet manner. A few songs in, he even asked the club management to bring him a banana to eat so that he wouldn't black out (they obliged). At the end, he told us that we were the best audience ever. It might've meant more if he weren't notorious for never touring, but after 20 years of waiting, we're easy that way.
Since I've already been so inelegant and heavy-handed in my gushing references to Green's appearance, I might as well come clean and devote a whole section to it. The floppy, frosted hair has been replaced by a much shorter and more natural crop and a goatee, but he looked at least 10 years younger than his age (51?!?). Following a fervent round of YouTubing/Googling a bunch of old clips and interviews (did you know Miles Davis covered "Perfect Way"?!?), I decided he was far too pretty in the '80s--very generous of me, I know. Now, with his blue hoodie, green DC Shoes t-shirt, and matching Converse, he's the epitome of the hip, attractive older man.
Sigh.
And if that isn't a sign I need to stop right now, I don't know what is. Thanks for humoring me. Please join me again when I return to the 21st century.
See also:
»
Star Hits: a tribute