It's always kinda funny when rock tourism trips piggyback each other. Less than a week after
visiting the Appalachians and the Eastern Continental Divide
, we were on the other edge of the country. There are worse fates in life.
Jeff Gauthier Goatette, LACMA, October 27, 2006:
How convenient that Nels Cline was playing a free show on the Miracle Mile on the same night we had a reservation for Largo! We slipped into our seats not long before the music started. We had warned the poor man of our attendance the week before, but he still seemed surprised to see us in the audience.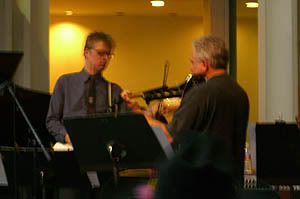 I believe the Goatette comprised the same people who
played at Yoshi's back in May
, and they hit at least one of the same songs: "Solflicka," which elicited a similar response from Heidi as it had from me when I first heard it. Sadly, Alex Cline didn't play the gong this time, but we got a couple other wonderful Jeff Gauthier compositions--namely, "Clea's Bounce" and "Enfant."
We took off for Largo during the first intermission but only after delivering the Andrew Hill football shirt I had long intended to get to Nels. He claimed it wasn't goofy, and I thank him for accepting it so gracefully.
Jon Brion, Largo, October 27, 2006:
Before we left the LACMA, Nels mentioned that he planned to drop in at Largo that night to say hello to his old friend, Jon Brion. I don't know if our constant reminders had anything to do with it, but it was great news to our ears. And in fact, we saw Nels's familiar profile in the back of the room before the show began. He and Jon seemed to share a short chat and a heartfelt hug before Jon took the stage--charm all around.
But first off, Greg Proops opened the show. His monologue covered some familiar territory, but he managed to make them sound new. He seemed to think that he was bombing and turned it back on us, but he seemed to be doing OK from where I was sitting. His best line of the night came from a riff on the McCartney-Mills divorce, but that's the last thing I can say about him. Just see him yourself.
Back to the show: There's been no official proclamation (as if there ever is one), but it seems that Jon's tendinitis is currently at bay. Of course, a couple of weeks ago, he played a big part in what may be
my favorite Largo show ever
, and he even entertained at Largo the Friday before.
In retrospect, the clues were out there right from the beginning. When the crowd responded fairly positively to his top-of-the-show greeting, he commented that at least some people had enjoyed a good week; his tone clearly indicated that he didn't align himself with the cheery folk.
For his opening noodle (thanks Heidi!), he embarked on his trademark long-form piano improv, but this week's exercise sounded more ominous than usual. At the end, he said something about it being a "pro-suicide anthem," though he also joked that those chords would later become "Stairway to Heaven." Much later, Heidi noted that she suspected it was an opaque spin on "You Don't Know What Love Is," and I wouldn't argue with her.
I think it was at this point that Jon mentioned he had missed soundcheck but not by his own design. Rather, he had been stuck in a hotel elevator. Though he was only a couple of floors off the ground, the hotel had given him free drink tickets to placate any potentially litigious urges.
For the next selection, he mentioned a conversation he had with a friend about drug-influenced music from the '70s and said that he didn't want to do too many covers that night. Neither point stopped him from what was a debut for me: a song build of "Boys Keep Swinging." Jon read most of the lyrics from the songbook I-Ching, but he took care of all the instrumentation himself.
He stayed on electric guitar for two of his own songs: "Why Do You Do This to Yourself" and--more surprising--"Trouble." I hadn't heard the latter in a while, and it was a treat.
Jon sat down at the piano for "If I Only Had a Brain." He plays it as incidental music quite often, but he actually sang a couple of verses this time, and with a small grin on his face, at that. The song morphed into "Same Mistakes," still on the piano.
Around this time, the requests started flooding in from the audience, but the downbeat titles weren't working for him, and he said he needed to rock out. Thus, we got "Happy with You," which definitely lifted the mood.
The effect was temporary, as the next song build turned into an extended instrumental that resembled a coalescing storm. Throughout the night, Jon had technical difficulties, and the mechanical shortcomings reared their head prominently on this composition. We suspect that he was trying to take it one way but that it didn't work out. Instead, we got "Walking Through Walls" with a murky backing track instead of the roaring syncopation and the clean pacing that usually accompanies the song.
It was back to basics for "Knock Yourself Out," followed by a long song build that took forever for me to figure out. When I finally put the pieces together, I wanted to jump out of my chair in anticipation of what is perhaps the greatest guitar solo ever. It was "Heroes," which I haven't heard at Largo for far too long. Jon's singular twists on the song included a gorgeous little piano trill and a country-and-western-style guitar bridge sprinkled gingerly throughout.
Jon asked Nels to come up to the stage, but alas, we'll never know what they might've concocted, as Nels had left by then. Instead, Jon chose to close out the set with a singalong. He asked us for requests and took a long time considering our suggestions. Upon hearing "Dancing Queen" bandied about, he opined that most of us didn't really know that or many other popular songs and dared us to come up with the second verse. Oddly, he didn't give us a chance to prove or disprove his theory; after he agreed to "Daydream Believer," he did all of the verses himself anyway. I'm happy to say we didn't let him down on the choruses.
The true closer was the
Cheers
theme, another first for me. And it was very appropriate, as everyone really does know Jon's name at Largo. It'd be foolish to think Jon escaped the cloud hanging over his head during the course of his show, but bless him for putting on a show anyway.
The setlist:
--Greg Proops opener
--Casio + piano + celeste noodling
--Boys Keep Swinging [song build]
--Why Do You Do This to Yourself [electric guitar]
--Trouble [electric guitar]
--If I Only Had a Brain [piano]
--Same Mistakes [piano]
--Happy with You [song build]
--stormy instrumental
--Walking through Walls [song build]
--Knock Yourself Out [acoustic guitar + harmonica]
--Heroes [song build]
--Daydream Believer [piano]
--Cheers theme [piano]
See also:
»
mask
»
Gillian, David, Sean, Sara, Jon, Greg
»
don't want to hurt no pandas