Thanks to
Josh from the Lylas
for recommending this show to me. I definitely don't get out enough in this city these days, and I'm always glad when I can support a deserving band.
Prabir and the Substitutes, Rockit Room, November 16, 2006:
When a band opens with an original composition called "Brian Wilson I Love You," you gotta have an idea of what their influences might be. Prabir and his band certainly knew how to work the multipart harmonies, but they showed off a whole range of other styles as well, such as garage pop and even an a cappella treatment. Some of their songs were more smart-alecky ("Everybody Has Someone to Fuck But Me"), but they showed real emotion and poignancy too. They promised a free MP3 of a song called "Slow" to anyone who joined their mailing list, and to hear it, you'd have no problem guessing why they wanted to pimp out the tune. It was a cool, catchy rocker, the very definition of power pop. If there were any justice in the world, it'd be a huge hit.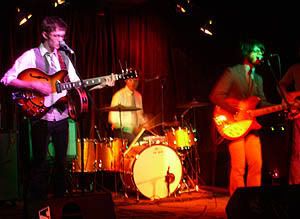 The thing that really struck me about them, besides their great voices and well-constructed tunes, was how tight they were. When I see these up-and-coming bands, I sort of expect them to be loose and mellow. But Prabir and the Substitutes had to hit some pretty unforgiving marks--and at least to these ears, they met them all.
Oddly, Prabir and the Substitutes went on last, though I thought they were second on the bill. The supposed headliner was actually the middle band, the Parties. As a local group, the Parties got a huge reception--apparently from the singer's coworkers in attendance that night. They were fun, actually, betraying a huge nod to the British Invasion. But this meant that Prabir and friends faced a diminishing crowd by the time they hit the stage. Unfortunately, I was unable to scare up any pals (from my ever shrinking circle of candidates) who wanted to come along, so by the bitter end, the audience seemed to mostly comprise people in the bands who played earlier that night. The guys still played their hearts out, however, and reminded me of how important it is to catch these young bands when possible.
See also:
»
Prabir and the Substitutes official page
»
Prabir and the Substitutes on MySpace