It goes without saying that I would--and perhaps already have--cut back my gig schedule severely if it meant I could see as many Jon Brion and/or Wilco shows as my heart desires. But not living in Chicago or Los Angeles, I have to figure out other ways to bide my time. So though it seems as if I've devoted myself to
Wilco
-
related
activities
, I haven't seen the entire band in action since
last September
. It took that long for my schedule and my rock tourism requirements to come together and allow me a trip back east to this bizarre venue.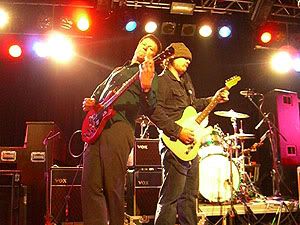 Wilco, Starland Ballroom, April 21, 2006:
After a mostly smooth drive and a nearly disastrous line procedure, Heidi, Paul, Sooz, and I took our usual places inside this wood-panel bar. For all our misgivings, though, I think we have to admit that we love these places, even the ones in the middle of
Soprano
-land.
I'm subject to doubts too, and I often wonder how long my fascination will hold, but "Hell Is Chrome" silenced those thoughts as a familiar shiver and sense of elation came over me upon hearing the song's delicious two-guitar volleys. From there, we enjoyed a relatively loose set that even had some small surprises. I didn't expect to enjoy "Forget the Flowers," but Nels's guitar changed everything, and there's no way I'll pass up "Monday," especially with horns.
During "Shot in the Arm," Jeff stared angrily and intently into the audience at a loud, obnoxious fan who wouldn't shut up. Sooz and Paul warned us that with his haircut, Jeff looked like his 1995 self, but this episode made me wonder if we'd see the 1999 face as well. Fortunately, he eventually turned it into a joke but not before giving us a fright; it also helped that the band followed his tirade with the warm, fuzzy "Jesus etc."
Highlights of the show include the always lovely "In a Future Age," a somewhat reworked "Spiders" (hey, I haven't checked out the band in seven months--cut me some slack) that saw Mike momentarily losing and breaking his glasses, and a short tribute to Bruce Springsteen. Ordinarily, I'd defer to Master P(aul) on these matters; he said the show was OK, though a bit on the short side. But I had a blast, and even better, we visited Mart and Patti afterward. I left my heart in New Jersey!
The openers were called Morricone Youth, and their band members had ties to both Mike and Nels. They claimed that their sound was influenced by films and film soundtracks, as their name might suggest. They had a great song about Mothra, as well as tributes to James Bond, cop, and sci-fi movies. Their CD turned out to be great road-trip music, as well.
Wilco, College of William and Mary, April 22, 2006:
It bears repeating: For a while now, Wilco shows have been about much more than seeing the band or even hearing a lot of the songs. Instead, we use the gigs as an excuse to see each other and to visit new places and to try on new adventures. And that's pretty much all you need to know about this show, though I'll explain further.
Heidi and Paul bestowed upon me the onus of deciding the day's fate: driving five hours to see what we knew would be, at best, an average show or stopping in DC to gorge ourselves at some wonderful foodie destination. I doomed us to the open road, though none of us had high expectations for the gig. Even more telling, we were in full casual mode for the show, Heidi and I without makeup, and Paul wearing his glasses instead of his contacts, even as the students surrounded us in their Saturday night best.
We already knew that the college's students got first crack at the floor, so we took our seats a little behind the soundboard. By the time the staff opened the floor to the hoi polloi, it wasn't worth fighting the mobs to gain a crappy, cramped view, so we stayed put, though to our relief, the standing/sitting question was put to rest early on, with tons of people taking to their feet from the outset.
We were suspicious with the first song, "I Am Trying to Break Your Heart," but as veterans, we knew that the second song, "War on War," sealed the deal: This would be Wilco Setlist 101. I know why the band does these things, but it was easily the most vanilla setlist I've heard from them. Still, the show had its highlights, the most prominent of which was Nels's transcendent solo on "Ashes of American Flags." Overall, Jeff seemed to be in a better mood than the night before, pulling goofy faces during the show, and the crowd ate up the entire performance, even turning in a great sing-along to "Hummingbird." And more importantly, I got some quality time with wonderful pals.
I never regret going to these shows, and I've been to enough of them to know that they can't all be intense club experiences. But collectively, the gigs give me a reason to come back and try again, the former reminding me of what a show can be, and the latter egging me to not let that memory be my last of Wilco.
The opener was a three-piece out of DC called French Toast. Heidi's friend said that one of the guys in the band was in Fugazi, and they delivered impassioned, strident music. They even made a full rotation, switching instruments and vocal duties, and I heard hints of '80s-era British guitar bands in their music. But they lost me after the fifth song or so, as it sounded not unlike most of the other tunes they played.
See also:
»
every day is dreamlike
»
i don't want to leave this waking dream
»
you change all the lead sleeping in my head