For all my hustling and bustling and
sleep deprivation
, I made it back to San Francisco at a decent time Sunday--only to find out that the concert I had planned to attend that night was sold out! D'oh! I'm kicking myself, but to tell you the truth, I'm not sure I would've been in the moment. At least I managed to get out the door the following night.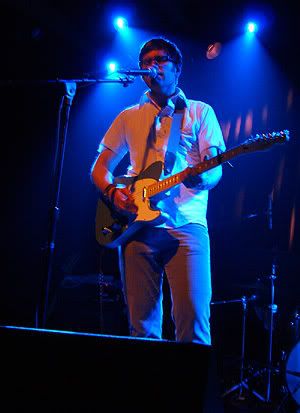 Fruit Bats, The Independent, April 10, 2006:
It's true--I'm not the concert goer I used to be. Besides the incident listed above, I missed the Fruit Bats the last time they were in town. This night, I had no excuse, as they were basically playing only a couple of miles away from my apartment, and the skies held their ground for a few hours. Frankly, I was shocked that the Fruit Bats were playing the Independent. The two other times I've seen them were at Bottom of the Hill, and the club was far from full. But by the time the band came on, a decent crowd had turned up.
Previously, I've seen the Fruit Bats with a very spare setup; on one occasion, it was just Eric and his then (?) girlfriend. I believe it was at that show where he closed with a moving and surprisingly viable cover of "Purple Rain."
Now, there was a whole band onstage, and as it turned out, they brought the rawk. In fact, if it weren't for Eric Johnson's sweet voice and lovely tunes, you might be forgiven for not recognizing the band. Eric played electric guitar for the entire show (no acoustic!), and he made a couple of jokes distancing himself from "bittersweet folk rock" and comparing himself to Jimmy Page. The energy level was a far cry from the very low-key shows at Bottom of the Hill. At one point, while emphatically bending his chords, Eric's glasses flew off, and in that endearingly awkward indie rock way, they had to take a moment after the song to locate them.
They played a couple of songs from the first album and a lot from the new one, but to my delight, they did a bunch of tunes from the divine
Mouthfuls,
my favorite, though differently than the last time I heard them live. Besides the electric treatment, most of the harmonies came from a dude (the drummer). And it's worth repeating: I
love
Eric's voice. He kind of reminds me of Neil Finn, not so much in sound or even style but in warmth and emotion. And I don't say that about very many singers.
Often, I see a really good band and wonder if they'll ever gain a foothold in the industry. Fruit Bats were certainly in this category, but I'm glad their move to Sub Pop seems to be paying off; I'll be back if they will.