Regular readers may have noticed that the month of
April
was unusual around these parts. Granted, I saw a lot of great gigs, thanks to the Coachella overflow, but my twin obsessions were entirely absent from the calendar. Now that I've taken care of the
Jon Brion quota
, it's time to address Wilco's balance of the equation.
Wilco, Shepherd's Bush Empire, May 20 and 21, 2007:
I remember when I went to Britain to see British bands. Ha! Well, Wilco, unlike many bands (from the United Kingdom or otherwise), doesn't really operate on the album-tour-album model, so on any given tour, you're likely to hear new/unreleased material mixed in with the more customary tracks. The period prior to the release of
Sky Blue Sky
didn't stray from this formula, but these European shows, officially kicking off the tour to support the new album, required some changes to the setlist.
Before I file the concert report, I need to back up a little to talk about
Sky Blue Sky
itself. Technology is wonderful (and it's helped pay my bills for the last 10 years), but when it comes to music, I've come back to the old ways. I mean, I'm not giving up my iPod or my BitTorrent clients any time soon, but I'm much less likely to download albums before their release date. These premature leaks were sapping my attention span and expectations, and ultimately, the albums in question didn't get the attention or credit they deserved.
So despite my usually hyperbolic ways with Wilco, I listened to
Sky Blue Sky
only once before its release date, and even
that opportunity
came as a complete surprise. Waiting was right for me; I've really savored the music since the official CD arrived. I'm not going to pretend to be impartial, but I love this album, and I was excited to hear how it would sound live.
As Wilco die-hards know, Shepherd's Bush Empire is the site of a notorious show from back in 1997, when Jeff heaped all sorts of abuse on the audience. Standing at the front of the stage, I got an inkling of the awkwardness of that night. Shepherd's Bush, at least on the floor, does not feel like a big venue at all. The interactions between the band and the audience would be either intimate or intimidating, depending on the delivery. We, fortunately, got a much more appreciative crowd and band for these gigs.
In the course of these two shows in London, the band understandably highlighted the new material, though they didn't quite hit every song. On both evenings, "Side with the Seeds" was phenomenal, especially in that build-up to the introduction of Jeff's impassioned vocals, and as on the album, the harmonies on "You Are My Face" are so natural that you'd think they're your inner voice. I also loved the tiny wash of guitar Jeff kicks in at the end of the song. We got what's turning out to be my favorite track on
Sky Blue Sky
, "Hate It Here," on the second night, and it was worth the wait. On the first night, "Impossible Germany" was so beautiful that it brought tears to my eyes.
It struck me that these news songs were neither mellow nor soft in the live setting; instead, they were very close to the Wilco model of the last number of years, alternating between melodic, rolling passages and loud, emotional peaks, all tied together by Jeff's gorgeous voice, before coming back down to earth.
For "Sunken Treasure," the band offered their take on Jeff's stripped-down solo treatment, but with at least one difference from past shows: Nels took to the lap steel. In the process, he (along with Pat) took the song in a psychedelic, almost Eastern direction before Glenn's galloping beat swept them all up toward the resoundingly Western climax. Think Sergio Leone with a touch of Ravi Shankar (or not). I'm not sure I liked it as much as previous treatments, but it was a striking chapter in the development of the song.
"California Stars" gets mixed reactions from my group of friends. I'm in the pro camp, but I can understand why eyes start rolling and bladders start calling during that song. I didn't expect much from it in London, but it too emerged as a reinvention, as the three junior members of the band each took their own soloing turns: first Mike, then Pat, then finally Nels. I don't know how Nels gets such twangy sounds out of that beat-up Jazzmaster, but I suspect we have his innate talent--as opposed to his choice of gear--to thank.

If God is in the details, so is the whole point of rock tourism. One band, one venue, two nights--what could possibly change? Not necessarily a lot, but any report from these London shows would have to mention the participation of Bill Fay.
Two years ago
, Jeff announced from the stage that Bill Fay had come to see the show that night. This evening, Bill took a major step forward and took to the stage for the first time in 30 years to joined the band for the final song, Bill's own "Be Not So Fearful." Bill and the band looked incredibly happy to be up onstage; I think Jeff had the biggest grin of all. Bill, meanwhile, seemed modest and a little shy, not too far off from what you'd expect of a man who'd write such a delicate, understated song. Apparently, he couldn't make it the second night, as he had to see his brother in Dorset, or so Jeff claimed.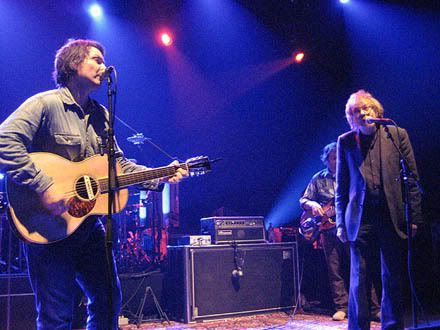 We got two different openers over the two nights. Ruarri Joseph, carrying only an acoustic guitar, played for us Sunday. He reminded me a lot of Ray LaMontagne and Alexei Murdoch, though slightly less serious than his more famous counterparts; then again, maybe it's because they all have thick beards. For one song, he went entirely a cappella, using his feet for percussion, while the crowd clapped along.
The second night, a (surprise) singer-songwriter named Catherine Feeny warmed up the crowd, but she had both another guitarist and a keyboard player in tow. At first, I thought she was British, which led me to ruminate on the appeal of Americana to the Brits. As it turned out, she was from Los Angeles, so my wonderment lost some steam.
See also:
»
turn our prayers to outrageous dares
»
i won't be denied