The first thought that occurred to me as I stepped into the McDonald Theatre: Dammit, I should've seen
Jeff Tweedy
here! Nonetheless, I realized I was in for a treat--at least I had a Jon Brion show to look forward to (but still!).
Nickel Creek/Jon Brion, McDonald Theatre, May 8, 2007:
There are lessons you learn as a Jon Brion fan. One: Don't expect Jon to follow the same masterplan for albums, tours, or any aspect of the business as other musicians or artists. Two: See him live as many times as you possibly can. Three: Did I mention you should really see him live?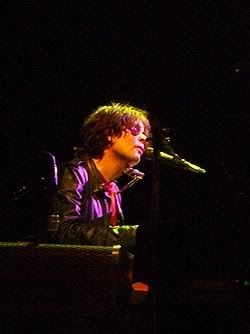 For this, my third and last show of the tour, I finally made my way to the front of the stage to take in what started off as business as usual. That is, Sara Watkins provided the loving introduction, and Jon took to the stage for a Billie Holiday number. The next song, however, was somewhat unexpected.
Not that Jon hasn't covered Thelonius Monk before, but so far on this tour, Jon had been sticking to crowd pleasers that made quick work of winning over the mostly unfamiliar audiences. "'Round Midnight," however, did not aim for that warm, fuzzy feeling. Au contraire. Though it wasn't as *ahem* laborious as some of the versions I've heard at Largo, it didn't sacrifice much in terms of moodiness or introspection.
It also answered for me the biggest question of this tour: how Jon's contributions would depart from--or stay true to--his Largo shows. The answer came in the song; he wasn't changing a thing, no matter who was listening.
Monk turned out to be a bit of a hiccup, and Jon returned to a more jovial track. "Piano Man" came from a call for audience requests, but of course, Jon made it into both a group bonding exercise, then a Hungarian folk tune.
Sean and Sara Watkins jumped in next with a variation on the songs they favor for the Watkins Family Hour. Unlike the previous night, Sara served as sole vocalist. And who could blame them when her voice is so lovely?
After they left, Jon took a request for "Strings That Tie to You." For the first time, I noticed Jon had loopers after all, and he used them to build up layers of electric guitar. The overall effect was delicate and subtle, exactly as the song requires.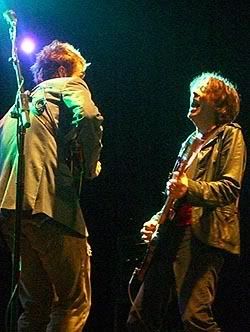 Chris Thile's number came up, as he took his place alongside Jon for the last three songs of the opening set. I don't recall hearing mandolin accompaniment on "Happy with You" before, so that was a treat. Jon also did us the service of providing a title for the instrumental he and Chris have been playing (and with which they've been amusing themselves greatly in the process, it seems) on the tour. It's "Croatia," the song that always reminds me of Fleetwood Mac; it probably sounds disingenuous now, but the thought had hit me in
Sacramento
. But I'm used to hearing it as a song build, with huge, reverberating drums, so the acoustic treatment threw me off.
As this is now my third post on this tour, I figure it's about time I devoted a few more blog inches to the headliners. Confession: Several years ago, a friend asked me to come to a Nickel Creek/Glen Phillips show in San Francisco. As I recall, I looked at her gravely and warned her earnestly that Nickel Creek was--gasp!--bluegrass.
[Insert feeble and overused alibi invoking former Anglophilia.]
She went without me, and I'm sure she'd get a good laugh from this now.
There's a lot to like about Nickel Creek. They change up portions of their setlist and their banter from night to night; if you're so inclined, you could hear a lot of different tunes if you drop in at random shows. Also, I never got the feeling that they're anything less than engaged, driven artists. They enjoyed an easy, authentic rapport with the audience, driven by both their actions (repeatedly coming to the lip of the stage to play their parts) and their words. It also helps that my tastes have changed over time so that a twangy tone no longer sends me scurrying.
Ultimately, though, I realized that I feel the same way about Nickel Creek as I do about a lot of the dance music I used to listen to. I genuinely like them, but they don't quite connect with me. It doesn't take away from my in-the-moment enjoyment, but deep down, I know it's not my passion.
The show, however, delivered more than a handful of highlights. Their powerhouse instrumentals, such as "Ferdinand the Bull," commanded attention and awe, while their range was lovely to behold. At one end of the spectrum, they could play a song such as "If You're Gonna Leave Me" by Chris, a sugary, playful ditty about being dumped; add a dash of celeste (who could possibly help out in that regard?), and it'd be the perfect pop song. At the other end, they also pulled off nearly a cappella numbers highlighting Sara's gorgeous vocals.
Last but not least, Jon returned to the stage to help them close out the show. All five players joined in on "Trouble," and even Jon looked pleased at the multipart harmonies they added. Jon turned in a sterling piano solo on "Jealous of the Moon," and in between the two songs, a bit of banter became the basis for a full-band minor-chord jam (and lots of bad jokes about musical notes). Before they left the stage, they brought out "Anthony," which Jon graced with the celeste.
For the encore, they started with a traditional number drawn from the Watkins repertoire before unleashing "Helter Skelter" on us. Bluegrass and the Beatles' most incendiary number might seem like an unlikely match, but they didn't hold back. My only concern: I had to wonder how many of the young fans around me knew the song.
It hit me that they would only get better and have more fun with each other as the tour progressed, and for a moment, I got a little sad about going home the next day. I consoled myself with the thought that, in the course of these three shows, I caught the equivalent of either one very long Jon Brion solo set or 1.5 of his typical gigs these days. That should hold me. For now.
Jon Brion's opening set
--Me, Myself, and I
--Round Midnight
--Ruin My Day
--Piano Man [crowd singalong]
--Piano Man [Hungarian folk tune]
--Why Can't He Be You *
--I Go to Sleep *
--Same Mistakes *
--Strings That Tie to You
--Happy with You **
--Croatia **
--Meaningless **
accompanying Nickel Creek [main set]
--Trouble
--
minor-chord jam
--Jealous of the Moon
--This Side
--Reasons Why
--Just
--Anthony
accompanying Nickel Creek [encore]
--Hop High My Lulu Girl
--Helter Skelter
* = with Sara and Sean Watkins
** = with Chris Thile
See also:
»
some people gonna get ideas
»
there's so much here to see