Supergroups are a music geek's dream. Just when you can maybe--just maybe--admit your favorite artist might not hold your complete and undivided interest until the end of time, said musician goes and hooks up professionally with another vaunted musical figure. Thus, you get a whole new venue to examine and deconstruct your hero's musical roots, breakout moves, and songwriting inspirations. Long may you run.
Golden Smog, the Fillmore, September 12, 2006:
One of the problems with supergroups is that because their members tend to have other commitments, you never know if they'll tour and who'll eventually show up onstage. So, as with the
New Pornographers
, who sometimes tour without Neko Case, the Golden Smog roster didn't include
Jeff Tweedy
this time. As readers of
easily fooled
might guess, I kinda missed his presence and definitely missed his songs. But it was far from a deal breaker.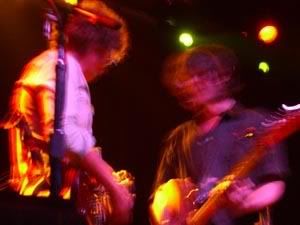 Instead, we got Gary Louris in a clear leadership position, Kraig Jarrett Johnson as top homoerotic foil, Dan Murphy also on guitar, Marc Perlman mostly on bass, and a supporting drummer and keyboard player. Unfortunately, I've never seen Golden Smog before, so I can't compare past performances, but I was struck by two main things. For one, I was surprised by Gary's sizzling guitar licks, though I blame this on my own stereotyping of the Jayhawks as strictly a
folksy, jangly
band. Also, I'm not sure why it had never occurred to me that he would be the main mover in Golden Smog; hell, they only recorded the album at his home in Spain.
Kraig Johnson--and not just his chiseled cheekbones--made the other resounding impression on me. I'm guilty of lumping together the songs not penned by Tweedy and/or Louris in the Golden Smog oeuvre, even the ones I like, so it was a huge eye-opener to connect Kraig with so many great tunes in such a range of styles. There's a song, "5-22-02," on the new album that sounds like a total Go-Betweens paean to me. Who'd have thought that it would show up on a Golden Smog album and that it would be written by Kraig?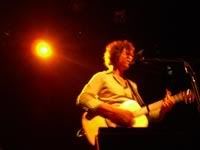 Overall, the band played a lot of older stuff, including all the favorites such as "V" and "Looking Forward to Seeing You," and they turned in a lovely "Starman." For a supposed Americana act, they sure betray their glam rock fandom pretty often, not that I'm complaining. For the closer, they brought out Jim Boquist to lend a hand on the anthemic "Until You Came Along" (a song I've been known to play on repeat for hours on end), a huge hit with the crowd.
If I have any complaints about this show (again, this might be my own stereotyping) is that it was neither as loose nor as tight as I expected. I mean, I don't think anyone expected a tight show, but I thought they'd engage in more goofy banter. Still, I've been listening to Golden Smog almost nonstop for the last few days--thankfully, my other senses override those pesky doubts.
Tim O'Reagan, also formerly of the Jayhawks, opened the show with another Twin City-heavy set of players, including the aforementioned Jim Boquist. I like his voice, but he could've rocked out a little more for my tastes. He joined the headliners on "Jennifer Save Me" for a mini Jayhawks reunion.
See also:
»
the whole damn crowd seemed so far away
»
every day is dreamlike