Along with Massive Attack and Tricky, DJ Shadow pretty much wrote the book on '90s trip-hop and made me hate almost every other band/performer who tried to capture that seductive sound. For a long time, Shadow's masterful
Endtroducing
was my favorite soundtrack during hazy, heady Sunday morning drives home, and I still put on the album every couple of months, just because I love it so much.
Thus, I drooled when I first heard of the Massive Attack/DJ Shadow double bill at the Hollywood Bowl, but my venue snobbery kicked in when the same ticket came to my neck of the woods. I guess Shadow picked up this vibe too because he signed up for two separate in-stores at Amoeba Records in the Bay Area instead. That's a true homeboy for you.
DJ Shadow, Amoeba Records (San Francisco), September 21, 2006:
In terms of hip-hop time, Shadow was fairly punctual. He arrived only 15 or 20 minutes late, and during his absence, we were entertained by an MC from the Berkeley Amoeba store. He asked for three volunteers from the audience to play a game called Statue while he freestyled over their poses. It didn't quite work out as he had hoped, but he kept us laughing. He also turned over the mic to one of his Statue subjects, a.k.a. MC Hotsauce.
El hombre caliente
was less effective, but the crowd, at the least, gave him a chance.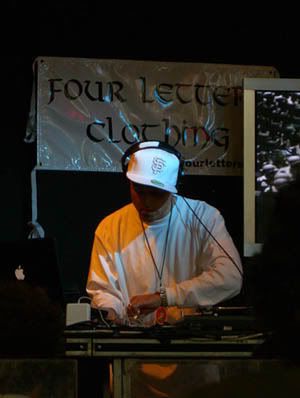 Meanwhile, I took in the assembled masses. I've been to only a couple of other shows at Amoeba, but the crowd seemed to stretch all the way to the back wall. And though the group unsurprisingly skewed young and ethnic, I was glad to see more than a few faces that looked at least as, er, old school (!?!) as my own.
I'm endlessly fascinated by the species known as
Fanaticus musica
and their mores and practices, including the way they first claim, then spurn any given artist. I guess the thing that gets me is the love affair, especially the early, giddy days and the eventual sayonara. You know that old cliche of breakups: "It's not you, it's me." But when you are no longer into a band/artist, it's
never
you, it's
always
them.
They
suck, and
they've
changed, while you, of course, remain blameless. I know it's only music, but the language of the disillusionment is a powerful dialect.
Which brings me to the current brouhaha around DJ Shadow and his new release,
The Outsider
, which many people are deriding as a sellout because--apparently--there's rap on it. First off, I want to say that I'm the last person who should share any thoughts about hip-hop, but after listening to
The Outsider
a couple of times now, I don't get the controversy at all. Yes, it has actual rapping on it, but it's far from the usual gangsta and hoes lyrics you find on MTV. Close to my heart, there's a shoutout to "Vietnamese patnas," whatever that means. Does the whole album work? Not on every level, but if you're willing to listen, you can still hear Shadow's trademark multilayered sound in many parts.
For this appearance, Shadow alluded to
The Outsider
's mixed reviews and thanked us for sticking with him. He made the case that he was, at heart, a music fan with evolving tastes and couldn't make the same album over and over again. But it might've been more telling that the biggest crowd reactions went to the old tracks, especially the always pleasing "Organ Donor." (I've seen Shadow at least a dozen times by now, and I still can't wrap my brain around how he can possibly coerce those incredible sounds from that collection of turntables, samplers, and widgets.) In between, he mixed at least a couple off the new one, as well as at least one tune off
Private Press
.
Through it all, DJ Shadow remained his usual low-key, generous self, sharing the stage with one of the rappers on his album and a singer named Chris James from Leeds, England, who's featured on two tracks on
The Outsider
. He lavished much praise on the Bay Area and its role in shaping his sensibilities. Call me silly, but details such as those will likely keep me in the fold for some time to come.