You wouldn't necessarily know it from this broken record of a blog, but I welcome the opportunity to check out new bands, and I'm delighted when they turn out to be good. Admittedly, I'm not as susceptible to their charms as I used to be, which is why it's all the more satisfying when truly exciting new talent comes along. Enter stage right: the Broken West.
The Broken West, Cafe du Nord, April 16, 2007:
Boy, did I luck out. Back in February, I missed the Broken West at this very venue--not due to my usual diversions (rock tourism) but because I completely lost track of time for one house-bound week, when I couldn't tell you what day it was to save my life. How pathetic! Even worse, I was in Chicago when they played there last month, but there was no way we could've packed any more music into
that already ambitious weekend
. Hooray for second (third?) chances and hard-working bands!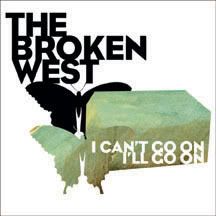 I Can't Go On, I'll Go On
has emerged as one of my favorite albums so far this year, but it didn't win me over right away. Rather, it snuck up on me via the Shuffle option on iTunes/the iPod. More than a few times, when an unfamiliar song came on, I'd note to myself how much I liked it, look to the display to see its stats (all along thinking that it might be some record I've owned for 10 or more years), and find that the Broken West was responsible for the lovely piece of songcraft.
It's pretty easy to play Spot the Influences on this record, so much so that I think it'd be pedantic to list them all here. Ultimately, influence-spotting is akin to talking about wine, roller coasters, sex, what have you: It's one way to get across the sensory explosion, but in the end, it doesn't compensate for the in-the-moment experience. Suffice it to say that with their mellifluous harmonies, jangly guitars, syncopated handclaps, and timeless songwriting, the Broken West follows in the tradition of many wonderful guitar bands both contemporary and classical, with maybe a surprise nod or two (Phil Spector?!?) thrown in. The result: a sublimely effervescent indie rock record, the kind that doesn't come around often enough for my tastes. By the way, if I sound smitten, that's because I am!
On to the gig: Since this was their first headlining show in a while, we got a longer set than usual that included a few songs they never do live; I believe these bonus tracks were "Abigail," "Slow," and "Like a Light," but don't quote me on that. We also heard a cover of Love's "No Matter What You Do," but the bulk of the set comprised the band's own glorious album tracks.
And how did
I Can't Go On, I'll Go On
's melodic mastery translate to the stage? Well, away from the mixing desk, the record's seamless vocals and multilayered guitars showed a little bit of fraying at first, but that's understandable. Besides, the band seemed to loosen up and gel as the night wore on. By the time they unfurled "You Can Build an Island," for example, I was totally swimming in the warm stream of their voices, and a day after the show, the song has supplanted "Down in the Valley" as my favorite tune on the record. Other times, such as with the more epic songs, they exhibited a raggedness that's absent from the record; it sort of humanized them as a band and showed that they aren't some superslick studio creation. Instead, you got a glimpse of four (actually, five, including the keyboard player they brought along) guys who started out making a racket in the garage and ended up with--well, still a racket but a beautiful one at that.
Two openers played tonight. Matt Lutz of the Herms took to the stage with an acoustic guitar, funny and deadpan tunes, and a few yarns about his in-progress horror movie screenplays (
Fat Camp: Time to Diet
, for starters) before he packed up to catch Willie Nelson's show at the Fillmore. Mezzanine Owls from Los Angeles were the other openers, and from the get go, they brought to mind many of the U.K. bands I've loved, taking a page from the poppier shoegaze bands, as well as one of my favorite movements: the gloomy guitar bands that came out of northern England in the early to mid-'80s (the Chameleons, Echo and the Bunnymen, Comsat Angels). It wasn't a bad way to spend a late Monday night in San Francisco.
Does the world need another indie rock guitar band churning out dreamy, earnest, irresistible pop melodies? I think you know my answer, but this time, I actually have evidence to support it: Go (Broken) West, young man or woman.