Regular readers of
easily fooled
may recall that I lagged approximately five light-years behind much of the reading public when I blogged about
John Hodgman's book

Areas of My Expertise
. Regular readers also know I'm a
creature of habit
, so when John Hodgman returned to promote the paperback edition of the almanac, I showed up this time.
John Hodgman and Jonathan Coulton, Cody's Books, October 12, 2006:
As
easily fooled
is primarily a concert journal, I could blog about Jonathan Coulton's performance, but that would leave a lot of white space on the page. He furnished John Hodgman's theme song, and he turned in a reading of "Big Rock Candy Mountain" with newly unearthed lyrics that proved once and for all that the children's classic is actually a hobo call to arms. His subtle rendition of "Battle Hymn of the Republic" also served as an apt background to one of John's long passages about the fate of the hoboes.
But obviously, John Hodgman claimed top billing, and he filled the slot well. Actually, he did better than that--he worked the room like nobody's business.
During the course of this reading, my brain came back repeatedly to two thoughts:
How could I possibly blog this?
I

gotta

blog this.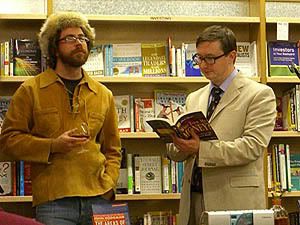 I mean, I could tell you about all the obviously funny parts, such as the fact that Jonathan Coulton could accompany him at all or the leisurely brandy break they took while we listened to a portion of his audiobook. I felt a little tinge when he disavowed the hardcover edition of his book for the new, improved, and updated paperback printing. We also saw John step out of character for the Q&A session, but to downplay the emotional nakedness of the situation, he made all interested parties pose their questions over a walkie-talkie. And even before the show started, he already had us eating out of his hand, as he pretended to disparage the smug San Francisco crowd while he tested the microphone backstage.
After reading the book and seeing him on
The Daily Show
, of course I expected him to be funny, at least when working off the written word. But I was surprised by his impeccable timing and the more off-the-cuff moments, such as his interactions with the audience. For example, he apologized to the teenager in the front row for swearing in front of him, then called him a bastard in the next breath. He talked a little about Dungeons and Dragons, simultaneously mocking the game and his own deficiencies in playing it. And when an audience member tried to initiate an extended conversation about Neil Diamond, John managed to cut off her ramblings in a manner that was forceful and hilarious but not necessarily unkind.
On the other hand, I think we saw a number of earnest moments too, most notably when he downplayed comparisons between himself and the late George Plimpton, as well as when he talked about working with They Might Be Giants, though he had very kind words for both parties. And while he joked about his more visible TV gigs, he acknowledged that he was in the nearly unbelievable position of holding several dream jobs.

Overall, this free reading felt more like a show (though without the "Freebird" requests, thankfully) than a literary gathering. And just when I thought it couldn't get better, John not only signed books at the end, he took his time in talking to everyone who approached him. Alas, I opted not to get a picture with him, brandy snifter in hand, though plenty of others made most of the photo op. Finally, in addition to an autograph for my book, I left with a box of Areas of My Expertise chalk (useful for posting hobo signs on barn doors, train stations, and other points as needed). Truly, reading is once again fun(damental)!
See also:
»
hoboes in the hizzy
»
Areas of My Expertise: the blog
» "
The (Wacky) World According to John Hodgman
," interview from
All Things Considered