It's a good thing I'm not working these days, as I needed no excuse to stroll down to Golden Gate Park and check out Elvis Costello, one of my all-time favorites. The Blue Angels, overcast skies, and secondhand pot smoke aside, it turned out to be an incredible day.
Elvis Costello, Hardly Strictly Bluegrass Festival, October 6, 2006:
One of the fun things about plodding on with
easily fooled
is that I finally get to blog some of my most beloved musicians, such as Elvis Costello. I'm far from the Elvis hardcore, but I've seen him many, many times, and I always look forward to his gigs. Venue snobbery is the main factor that keeps me from going to more of his shows these days, but when he's playing a few blocks from my flat for free, I can't refuse.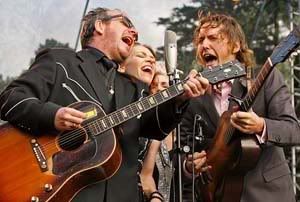 If I had been paying attention to the Hardly Strictly Bluegrass lineup, I would've seen that we were promised Elvis in both solo acoustic form and with a band, but my attention span didn't even need that much information. I saw the two magic words--end of story.
Elvis wasted no time, launching into "The Angels Wanna Wear My Red Shoes" and sparking off a nice singalong to the fan favorite. He carried us through a few more songs from all phases of his career. This set the tone for the next two hours, which featured a truly varied selection of his own classics, newer releases, and inspired covers that still has my head spinning.
I have no problem admitting I was out of my element at the festival, especially when I heard the name "Bill Kirchen" mentioned about a hundred times around me. It turned out that he was backing Elvis on electric guitar and that his upcoming CD,
The Hammer of the Honky Tonk Gods
, inspired the name of the band. They were joined by Pete Thomas and Davey Faragher, as well as local player Austin DeLone on keys. Though it was certainly Elvis's show, he turned over the mic to both Bill and Austin during the main set, and Austin's rendition of "Satisfied Mind" was especially moving.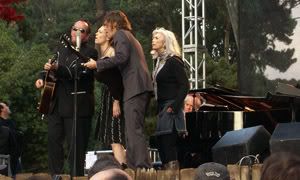 They weren't the only guest players we'd see, though apparently I was the only person who was surprised when Emmylou Harris joined in. Never mind that we'd already been treated to a sublime "Good Year for the Roses" (which I never thought I'd hear live)--they had "I Still Miss Someone" in store for us. As if that weren't enough, Gillian Welch and David Rawlings dropped in for a couple of titles, including my favorite tune of the day: "Mystery Train," a hootenanny performed around an old-fashioned mic.
I thought for sure that Elvis had given us everything we could ask for, but he returned for an encore of "There's a Story in Your Voice" and "(What's So Funny About) Peace, Love and Understanding." And gluttons that we are, we ate up the return of Emmylou, Gillian, and David for the closers, especially the magnificent "When I Paint My Masterpiece."
Five years ago, you wouldn't have seen me at the Hardly Strictly Bluegrass Festival. Though my tastes have changed since then, it's safe to say that the festival's has too. Elvis Costello's performance was a perfect example of the futility of dogged reliance on genres. It's funny to think I was listening to "Indoor Fireworks" and "Good Year for the Roses" at a time when I shunned nearly everything that didn't have a synthesizer or some kind of dance beat. Fortunately, truly excellent music knows no timetable.