Following Largo's move to the Coronet, I don't hit the speed-dial as much, but certain habits die hard. For example, I still check the club calendar far too often (hope they're not tracing IP addresses). This month, that nervous tic paid off when the Dave Rawlings Machine dates showed up.
Dave Rawlings Machine, The Little Room at Largo, December 12, 2008:
Bragging about a two-show night is up there with flaunting your vintage Luke Skywalker action figures in Tatooine
and
Hoth garb.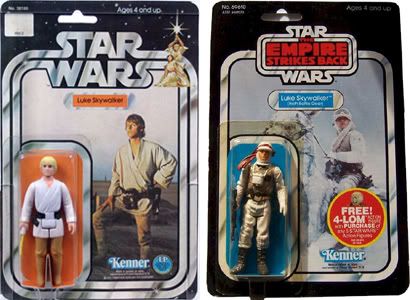 Let me just say, though, that the Largo crew made it extremely easy to carry off this feat. Kudos to them for setting it up so that, at the conclusion of
Jon Brion's show in the big room
, we merely traipsed across the courtyard to take in the Dave Rawlings Machine (a.k.a. David Rawlings and Gillian Welch) in the Little Room. Oh, that's a borderline boast, isn't it? You got me.
Though I tried to take notes, I quickly abandoned the plan when I realized (1) I was way out of my depth and (2) it's
really hard
to write anything in the Little Room. I figured out they opened with Dylan's "Copper Kettle," in homage to current astronomical events, and Willie Nelson's "Good Old Mountain Dew." I also recognized mainstays of their set, such as "China Doll," "Knuckleball Catcher," and "Tired Eyes," but someone with a deeper knowledge of David and Gillian's oeuvre will have to weigh in on how many surprises they sprung. I can honestly say the tunes were new to me.
I suspect their shows under Gillian's name aren't exactly chest-pounding, flag-waving affairs, but the duo's low-key humor suits this truly intimate space nicely. Gillian somewhat apologized for wearing the same outfit two weeks in a row, explaining that their supposed one-week stay in L.A. was now pushing on three months. David, meanwhile, owned up to their downbeat song selections and admitted that they tend to sell the most records in areas not associated with sunshine--so thanks San Francisco (represent!) and Scandinavia! And somehow, though they each use the exact same black capos, they can tell which one belongs to whom, as David demonstrated.
If you thought the stage at the
old Largo
was small, you haven't seen the doorjamb of a dais that holds the artists in the Little Room. Despite their minimal setup (one acoustic guitar each), David and Gillian negotiated for real estate and angled for elbowroom.
But if the room's coziness bothered them, they didn't show it; in fact, they invited more friends to crowd in. The first was Morgan Nagler from local band Whispertown2000, who sang with them on a tune I can't name (sorry). Then, to conclude the set, they recruited Jon Brion and Sebastian Steinberg, which I'd been hoping for all along.
The quartet started off with Dylan's "Dear Landlord," followed by the Grateful Dead's "Candyman." Jon and Sebastian took a little while to settle in (at the piano and bass, respectively), but they were in the thick of it by the time David dusted off "To Be Young (Is to Be Sad, Is to Be High)." Coincidentally, the song also belied David's earlier comments about all their sad hits.
When David and Gillian began discussing reverb, I knew exactly what we were in for--and I wanted to hear it. They closed out the show with "White Rabbit," and even without the effects, they had David's sly guitarwork to back them up. I could've listened to them all night, but there's always next week.
See also:
»
i was looking for a job
»
Gillian, David, Sean, Sara, Jon, Greg