I've missed several newish bands over the last year or so, because of--well, you can guess why. Dr. Dog is not actually one of these groups I intended to see, but they've shared the bill with some of the bands whose shows have escaped me. It's a good thing, then, that Amoeba intervened.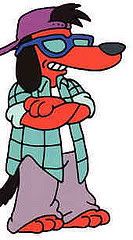 Dr. Dog, Amoeba Records, July 15, 2007:
I don't spend a lot of time analyzing band names (Tom, I'm looking at you), but I gotta say that Dr. Dog is one of the worst choices I've heard in a long time. That name can go in so many directions, none of them good. Invariably, I think of Poochie, the ill-conceived "edgy" canine companion on
The Simpsons
voiced by Homer (and killed off by the network suits).
If I'd managed to set aside my prejudice earlier, I probably would've enjoyed Dr. Dog's gigs at Cafe du Nord with Elvis Perkins and the Cold War Kids, or even at the Fillmore with Son Volt. Surely, I would've dug the healthy heaps of harmony, the slew of sleighbells, and the plink-plonky piano that marks my favorites among their tunes, as well as the Bowie and Lennon sound-alike tracks. In all likelihood, I'd even appreciate the bluesier, raggedy numbers that come close to what you might expect from a band called Dr. Dog.
Live, they sounded rawer than on the record, but a couple of major factors remained intact: the harmonies and the vintage keyboard sound. One of my favorite aspects of
We All Belong
is the warm, old-fashioned production that hearkens back to the greats of the '70s (please disregard my ignorance of the era's music). I don't think the band had any intention of regurgitating that sound in their show, nor is that what came through, but the keyboard bridged the studio and live experiences. The multipart harmonies were lovely too--not cloying or overdone, just unabashedly inviting--while the lead vocals were alternately scorching and worldly.
By the end of the show, my misgivings about Dr. Dog's name and appearance, along with any suspicions I had that they were a thinly disguised jam band, had mostly dissipated. If Dr. Dog continues to share the bill with other noteworthy bands, I'd gladly see them again (which may happen sooner rather than later, as they're opening for Wilco in September). The band on its own, however, might not be enough to bring me back.