Bob Mould Band, The Fillmore, October 14, 2005:
Ahhh, just what I needed this week--a show from one of my favorite musicians ever. Bob played here earlier this year during the Noise Pop festival, but I couldn't make it that night--the first of his local shows I've missed in maybe 10 years. I wasn't exactly happy with my decision at the time, but when I heard that he had a new rock album in the works, my regret doubled. As it happens, I love Bob's new one,
Body of Song
, but regardless, there was no way I was going to miss him when he came back.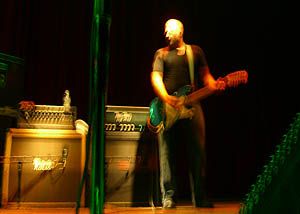 I got to the Fillmore a little after doors opened, and on the way in, I noticed the little stickers the staff wore said "Bob rocks," along with the usual info--perhaps a faithful Bob fan had gotten access to the printer. Inside, it was very empty. There were a couple of diehards at the front of the stage and a decent amount of people wandering around, but the Fillmore staff had set up tables on the floor, a sure sign that it would not be a capacity show. I don't recall a sold-out or even near-capacity Bob show in town for a long time, but I thought for sure there'd be a better turnout this time.
Bob solo vs. Bob in a band are two very different things, but both are incredibly intense. We got Bob in full throttle, starting off with three Sugar songs before touching anything from the new record. As the media has reported, Bob has been playing songs from throughout his career, including--as everyone wants to hear--Husker Du. Bob didn't say much, but he poured all his energy into the songs and even did his trademark heavy-footed pacing of the stage. I somehow ended up directly in front of Bob, so I got to watch all his guitar moves (if only I knew what they meant).
"Hardly Getting Over It" was positively epic, thanks in no small part to Brendan Canty, though the song itself is pretty much a scorcher to begin with. The electric, balls-out version of "See a Little Light" was a huge treat, and of the new songs, "Circles" and "High Fidelity" are probably my favorites for vastly different reasons. Richard Morel was a very cool presence on keyboard, and Jason Narducy was way cute (tee hee). It was great to hear all those harmonies again, which Bob obviously can't do when he's on his own. They did the usual three short encores, and I started to head out after I saw the roadie unplugging various instruments, but I guess the crowd managed to convince them to come out for the true finale, "Man on the Moon." I have vivid memories of a very happy crowd at Bob's last show with a band at the Fillmore (1999?) when "Man on the Moon" closed the night. It wasn't quite the collective scene this time, but it was still a delight. Most importantly, Bob looked so happy and so appreciative.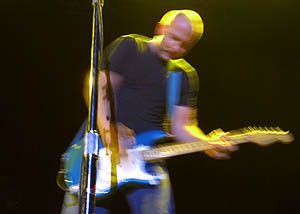 I can't conclude this review without touching on two subjects: the crowd and the opening band. Firstly, the crowd: unsuprisingly, there were a lot of older people and a lot of guys at the show. The drunk 40something dude behind us was a one-man mosh pit for a while, which was horribly annoying on its own. He managed to get others to join him, but the spectacle still looked very silly to me, especially when I noticed that the same guy was using the opportunity to cop a feel off the women nearby. Hmph. I noticed another dude but for a different reason. He was much younger, and--shocker of shockers!--he could dance, and I wondered if he was an old-school Bob fan or if he had discovered Bob in this later phase of his career.
Finally: the opening band, Shiny Toy Guns. They turned out to have taken a huge page from '80s bands, even going so far as to cover Depeche Mode's "Stripped" as the penultimate song. From the get go, they reminded me a lot of Information Society, and they definitely aped the hair and the clothes of the time. They were fun to watch and had huge stores of energy, but the music was definitely not my bag. It was funny to watch Bob's more predictable audience--the somber men--looking on without interest. I think there were a lot of confused Bob fans for that hour.