The ads for these 826 Writing Centers benefits claimed that the shows would address the age-old question of which is better: words or music. OK, maybe it isn't Sophie's Choice, but a lot of us would be hard-pressed to cite one over the other.

Revenge of the Book Eaters, Palace of Fine Arts, August 28, 2006: Maudie, Trish, and I speculated about the format of the evening's proceedings, but not too surprisingly, it rolled out a little like a variety show, only without dancers or ventriloquists. Even Jonathan Richman stopped short of turning on the twinkle toes.

What we did get was the perpetually hilarious Patton Oswalt as the master of ceremonies, opening the show and interspersing short comedy routines between acts. Over the course of the evening, he brought out Dave Eggers and Sarah Vowell for the literary content, as well as Zach Rogue, Mark Kozelek, the aforementioned Jonathan Richman, and Aimee Mann for the musical component.

To be more specific, Dave Eggers introduced a film about the writing centers, whereas Sarah Vowell read an essay about her new favorite explorer, with Patton Oswalt pulling overtime in the role of the beloved pioneer. During the intermission, the two publishing titans offered hugs (Dave) and buddy punches (Sarah) in the lobby for anyone willing to pay the price.

The musical guests were what really drew me in, and they ran hot and cold. I haven't seen Zach Rogue since Rogue Wave opened for Spoon a few years ago. Tonight, he was in good voice, and his indie pop definitely translated to the solo acoustic treatment. He even dared to subject us to a song with admittedly awful lyrics, and overall, he kicked off the proceedings with charm.

I can't say the same for Mark Kozelek, whose music and delivery, we all agreed, were way too soothing for a room of that size. He also confirmed for me that I need never see him in concert again, if the two previous shows I've seen hadn't already convinced me.

Patton was pretty gaga over Jonathan Richman, but to be honest, he's a taste I haven't acquired. To these uninformed ears, he sounded as he always does, and you either love him or you don't.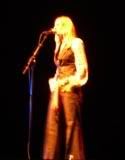 Patton had introduced Jonathan Richman as a living legend, and he poured on even more love for the headliner, Aimee Mann, whom he called one of the greatest songwriters we have. Considering he and Aimee have longtime professional ties, his words were somewhat expected, but he might as well have been reading my mind; in my highly suspect opinion, no other modern artist epitomizes the words/music balance as well as Aimee.

This is actually the third time I've seen Aimee since April, a pretty high concert count for me. Though I always look forward to her gigs, I'm wary of potential disappointment. I'm happy to say that the Palace of Fine Arts was a much more hospitable environment for her than Stern Grove, but of course, it was no contest compared to Largo. (I know, I know--always with the Largo! Make it stop!)

As the headliner, Aimee got a little more time than the others, so she and Paul Bryan (a fixture from her touring band) hit six songs, almost evenly distributed across her discography. In the hushed room, we didn't miss a syllable of her finely wrought wordplay, and tonight, her voice had more of a growl than I've heard before, especially during "You're With Stupid Now," thus better punctuating her barbed lyrics. Aimee herself said she was honored to do what she could for the writing centers, and among other compliments, she revealed that Dave Eggers was a "world-class whistler." Unfortunately, his wife and Sarah Vowell talked him out of joining Aimee onstage for a whistle solo.

I don't think we reached a definitive answer on the question that kicked off these shows, though I wouldn't say we expected one either. Maybe we'll just have to do this again before we find out.

See also:
» less a deluge than a drought
» i'm the stuff of happy endings
» you're my favorite faith healer
» the Book of Brion 2 has landed